May 21, 2019
by Ellen Rosen
RIT Dining, Humane Society partner to host plant-based culinary experience
Hands-on training prepares chefs for the growing demand for plant-based meals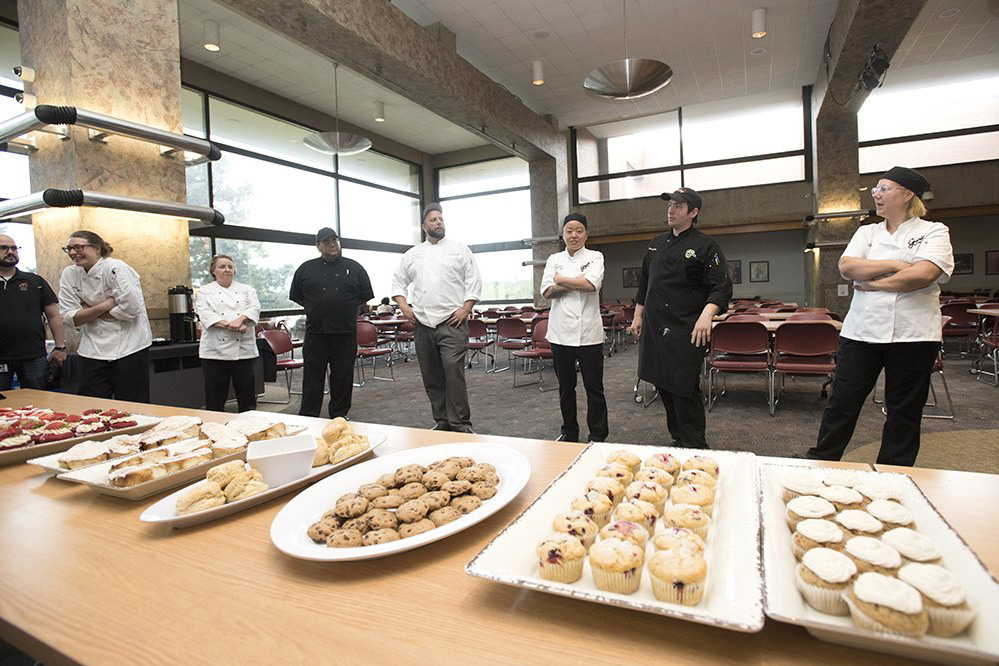 Black Bean and Sweet Potato Burritos, Carrot Osso Buco with Creamy Polenta, Aquafaba Meringue, Cauliflower and Golden Lentil Curry, Chocolate Cobbler.
Those are just some of the recipes the dining staff at Rochester Institute of Technology tried out as part of a three-day workshop entitled "Forward Food Culinary Experience."
The workshop, presented by the Humane Society of the United States, is in response to rising interest and demand for more sophisticated and enticing meal options made with plant-based ingredients. A recent survey by RIT's Auxiliary Services Marketing found that dining customers desire more substantial meal options beyond the typically offered tofu and chickpeas.
"We're seeing an increasing number of students, faculty, and staff asking for more plant-based options," said Kory Samuels, executive director of Dining at RIT. "Our team is excited to expand not only our offerings, but the different ingredients we use in our entrees, sides, and desserts."
This workshop was taught by HSUS, which is the only organization to provide plant-based culinary training to institutions throughout the country. The training program is part of the organization's efforts to improve the welfare of farm animals, which also includes working to eliminate the confinement of farm animals in cages and crates and encouraging consumers to make compassionate eating choices, such as reducing or replacing consumption of animal products with plant-based foods, and choosing products from sources that adhere to higher animal welfare standards.
The May 21-23 event offered hands-on training to RIT's chefs, dieticians, and dining managers on how to prepare plant-based meals that are not only delicious, but also cost-effective and sustainable. Training also covered health and nutritional aspects of food, ways of marketing plant-based foods to patrons and recipe development.
Research has found that consumers want to incorporate less animal protein into their diet, but most do not want to remove meat. Aramark, a food service organization, found that 65 percent of Gen Z are open to trying plant-forward meals with the primary motivation to improve their health.
"As the demand for more sustainable, plant-based meals continues to grow, the HSUS' plant-based culinary experience provides universities like RIT the unique opportunity to serve students delicious plant-forward food," said Stefanie Heath, HSUS food and nutrition specialist. "We look forward to seeing RIT include these new recipes at their campus plant-based station as they focus on increasing diverse, healthier and climate-friendly foods."