RIT Service Center answers the call — and questions — of thousands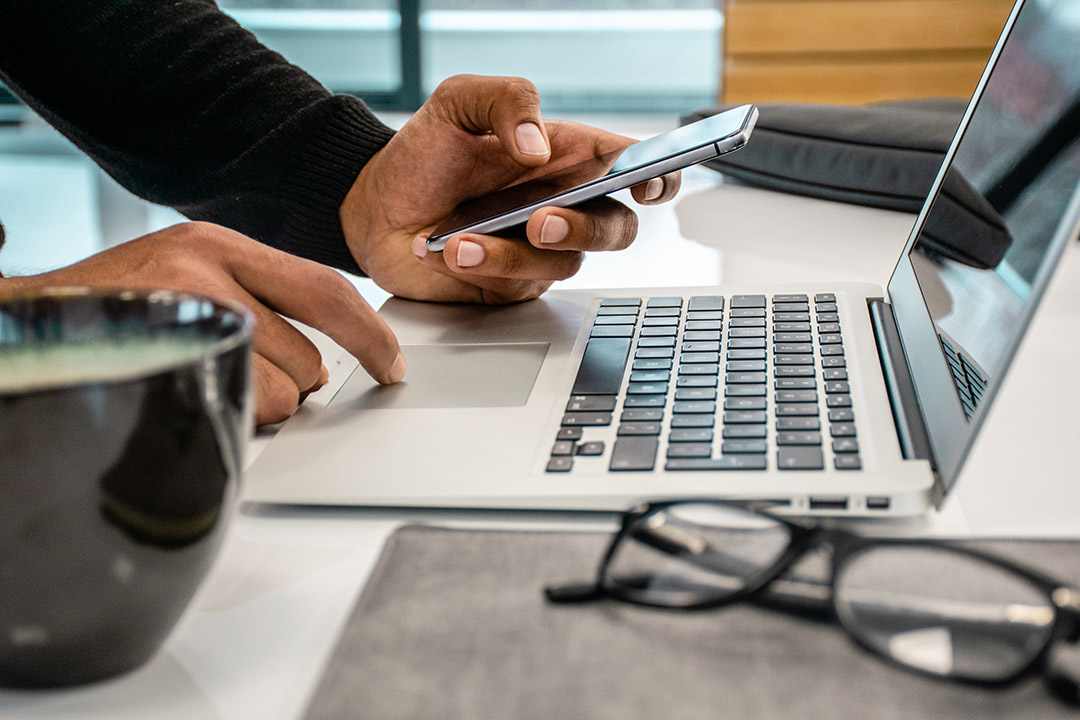 What began as an idea to provide a one-stop resource to provide technical support has become a center where Rochester Institute of Technology students, parents, faculty, and staff can find answers to so much more, including the latest COVID-19 guidelines.
Kelly McLaughlin, director of Enterprise Support, said the RIT Service Center had been a vision for more than a year to help answer questions about housing, human resources, food plans, transportation, and more, long before the COVID-19 pandemic began.
"We wanted to create a model that offered a one-stop-shop to provide service to the campus community, especially our students and their families," McLaughlin said. "Often, they don't know where to call or may have four different departments they need to talk with for different things. This way, everything is under one umbrella."
A strategic plan was put in place for Finance and Administration, with a proof-of-concept project for Human Resources launched during six weeks last fall. Approximately 500 questions were fielded regarding open enrollment for employee benefits.
"We were all set and planned to go live in March for the first set of services," McLaughlin said.
Then, everything changed.
"On Thursday, the 12th of March, we got the word to set up a call center to primarily provide answers about how the pandemic would be affecting the RIT community," she said.
That Sunday, seven people convened — physically distanced — in a conference room in the Student Alumni Union to take their first calls.
"It was all-hands-on-deck for the staff in ITS," McLaughlin said. "We had developers, project managers, and infrastructure engineers raising their hands to answer calls, seven days a week for 12 hours a day."
By the end of that first week, the decision was made not to bring students back from spring break and to have employees work from home if possible.
"We had to be sure our people could answer their phones from home," McLaughlin said. "With headsets and RIT computers, they could answer calls just like they were doing in the conference room."
And the calls to the center poured in as the pandemic evolved, and situations changed. Faculty needed to know how to teach remotely. Staff needed to know how to work from home. And students —who had been on an extended spring break — had a lot of questions.
"At that moment in time, housing questions were the bulk of the questions we were getting," she said. "Students wanted to know when they could come back to get their stuff, they wanted to know if they could leave it there until the fall. We worked to have folks from housing to be part of the call center to help us answer some of these questions."
More than 2,000 calls about COVID procedures were received that first month. The topics of the calls were noted, and McLaughlin worked with members of RIT's Marketing and Communications department to help provide FAQs that would answer as many questions as possible, so visitors to the RIT Ready site could find answers on their own without having to call in.
"Our goal was to do continuous improvement," she said. "How do we provide people with information so they don't have to call in the first place, but have friendly voices available for those who did call?"
McLaughlin said their goal is to be able to directly answer at least 76 percent of the questions they receive without sending them to someone else. Other questions, such as a request to empty a trash can, are forwarded to the appropriate recipient.
She said knowing the answers is certainly helpful, but her staff must also be patient and compassionate.
"We've turned into a team that is consoling people," McLaughlin said. "We may have a family trying to figure out what to do, a parent who lost a job, students being scared about returning. Empathy is probably the most important skill for our folks to have, really listening, giving that person the confidence that we have the answer, have it under control and give them access to the information that we have."
Now, the center receives more than 200 calls a day, but only about 10 percent are related to a COVID-19 issue. Most calls now concern Service Desk technical support, timekeeping for employees, and requests regarding institutional research dashboards.
A portal allows anyone to submit a question, see updates to their ticket, or even log in to chat in real-time with an agent.
By the end of this year, McLaughlin hopes to have artificial intelligence involved, so visitors may type in a question such as "What are the pool hours at the Student Life Center?" and an answer will automatically be provided.
"We're changing as we see the needs of our callers change, and back on track for implementing our original vision for the Service Center," she said. "Timekeeping and institutional research are just the beginning. We will be working to onboard housing, human resources, parking, and other services via the Service Center."
Contact the RIT Service Center
The RIT Service Center – being operated remotely by RIT agents, or analysts – is open Mondays through Fridays from 7:30 a.m. to 5 p.m. RIT students, parents, faculty, and staff may call 585-475-5000, go online at help.rit.edu, or visit Frank E. Gannett Hall, Room 1113 weekdays from 9 a.m. to 5 p.m.
Topics