Thinking outside the box: RIT hydroponic farm changes the dining experience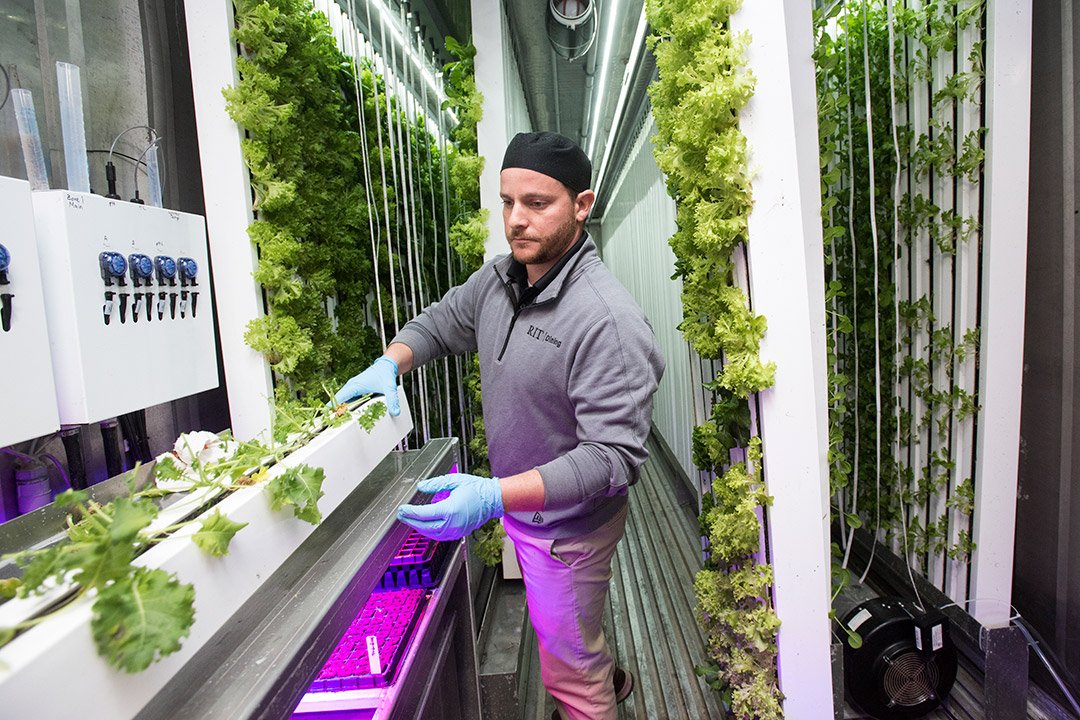 A. Sue Weisler
The lettuce is tasting fresher at RIT's main campus since the university installed a hydroponic farm-in-a-box behind the Student Alumni Union.
Made from an upcycled freight container, the new RIT Hydroponic Farm will provide fresh produce for the chefs who serve nearly 14,000 meals on campus every day. So far, the farm has produced roughly 40 pounds of greens since farm manager Dave Brault started harvesting in early August. Once Brault establishes a consistent growth cycle, he hopes to harvest roughly four times per month.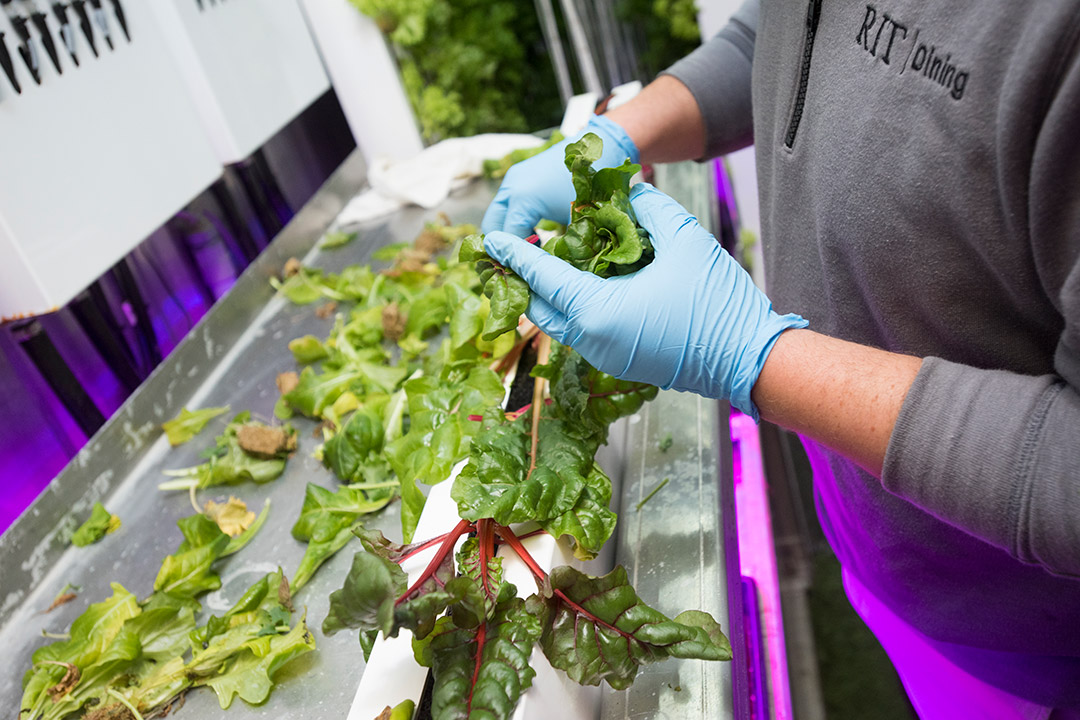 A. Sue Weisler
Rather than using soil to grow plants and provide them nutrients, plants on a hydroponic farm get everything they need from water. Using a vertical hydroponic system for RIT's farm, Brault anchors the seedlings in a breathable mesh that allows for water flow, and he hangs them from the ceiling in long containers to maximize space.
RIT is one of few universities in the United States that has implemented a hydroponic garden to help sustain its dining needs. Stony Brook University, the University of Arkansas and Clark University have also had success using the same hydroponic set-up RIT adopted, purchased from Freight Farms.
"It helps us stand apart from other universities. This is how we keep RIT and RIT Dining at the forefront of innovation," said Denishea Ortiz, director of strategic marketing and retail product management for Auxiliary Services. "It is one of many steps that we have taken to highlight the fact that RIT has an innovative campus beyond the classroom."
Right now, Brault is focusing on growing smaller, leafy greens like basil, cilantro, kale, arugula and different varieties of lettuce. Going forward, he will get feedback from RIT chefs to see what types of produce are in high demand.
"This is square one and from here we have a huge opportunity to turn this farm into something lasting and impactful," said Brault. "Hopefully, other universities will see that it can be done and that the logistical challenges in implementing something like this are not insurmountable."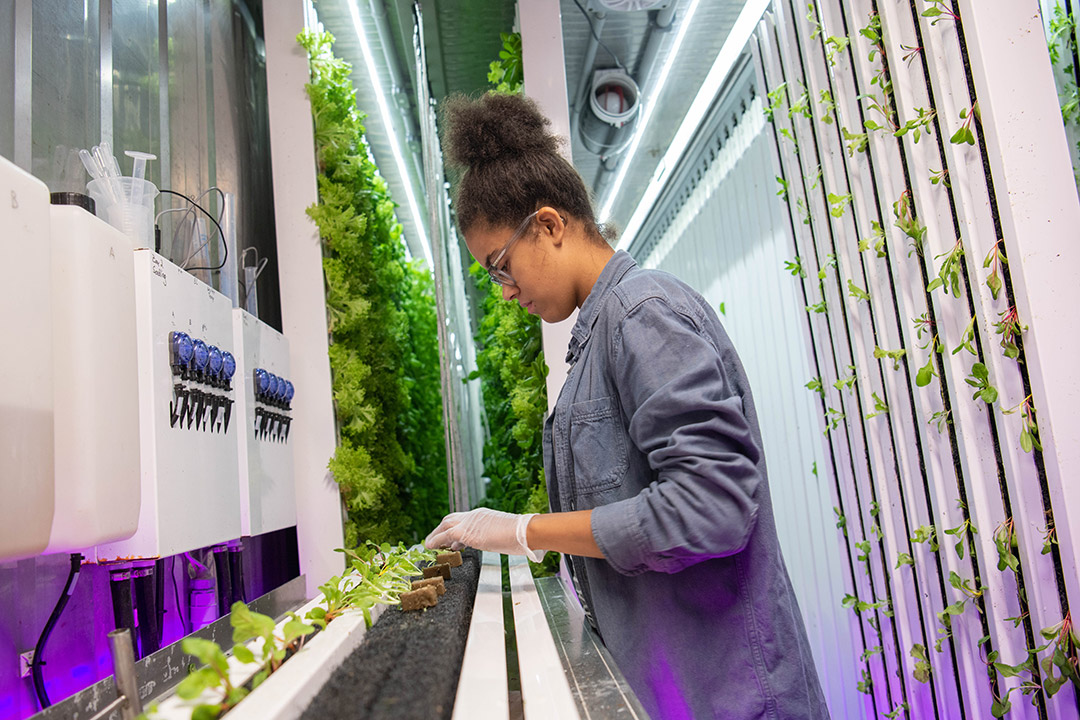 Gabrielle Plucknette-DeVito
Ortiz explained that the goal is to provide produce for all dining facilities on campus. Before they can roll things out on a larger scale, Brault and RIT Dining are experimenting with the growth cycles and outputs to learn what the farm is capable of.
The greens from the hydroponic farm are currently supplying produce for Brick City Café and are being used by RIT Catering.
"Brick City Café is known for its salad bar, thus the proximity of the farm is a chance to provide a literal farm-to-table experience," Ortiz said. "The produce is fresher and contains more nutrients."
Before coming to RIT, Brault built and established his own hydroponic farm in the Finger Lakes region of New York. Brault said he looks forward to the unique opportunities the university can provide with its plentiful resources of man-power, brain-power and technological innovations.
"Farming is not something that most people would think involves a lot of technology, but the industry needs these advances to address the challenges that are coming our way," he said. "I think RIT will continue to find ways to innovate and use technology to help farmers move forward."
Video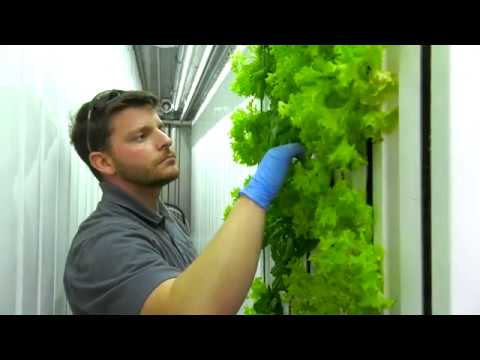 Topics