Donor Recognition Societies
RIT's Philanthropic Community
We recognize and celebrate the vibrant community of generous donors—alumni, parents, friends, faculty, staff, and students—who make annual, leadership, lifetime, and legacy gifts to the university. Donors like you understand the important role that philanthropy plays in our students' lives, and your investments allow the university to advance our mission and transform the future.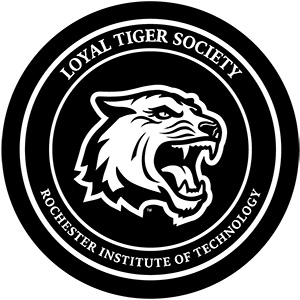 Loyal Tiger Society
Donors who are in the Loyal Tiger Society are those who embody the spirit of RIT by giving to the university they love. We recognize donors with two or more years of giving for their ongoing generosity with increased recognition in milestone years. Loyal Tiger Society members know that gifts of any size make an impact, and Loyal Tigers significantly impact the university and our students.
Make a gift of any size to the area of RIT that means the most to you, and start making a difference as a Loyal Tiger.
Sentinel Society
The Sentinel Society is a community of annual leadership donors who play a pivotal role in providing unrestricted gifts that provide financial aid scholarships and fund RIT's most pressing and immediate needs across campus. Just like the Sentinel sculpture for which it is named, the Society represents the foundational strength that supports and protects the creativity and innovation that has become the hallmark of an RIT education. Generous commitments from Sentinel members help the university fund unexpected costs and take advantage of emerging opportunities. Their generosity enables university leadership to be both proactive and reactive to the needs of our students and our campus.
Sentinel members are invested in RIT's mission, and we recognize their commitment to the university in our online Honor Roll. Learn more about The Sentinel Society and become a member today!
1829 Society
The 1829 Society honors donors who help advance RIT's mission of academic excellence with lifetime philanthropic commitments totaling $100,000 to $999,999. 
Named after the founding of the Athenaeum, which is the first of the organizations from which RIT directly descends, the generosity of 1829 Society donors helps provide life-changing scholarships, research fellowships, interdisciplinary academic programs, and funding for student organizations that enrich the student experience.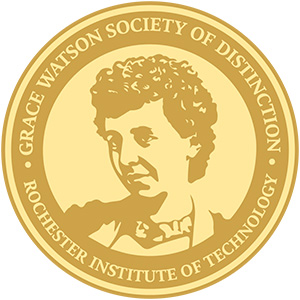 Grace Watson Society of Distinction
Grace Watson Society of Distinction donors are RIT's most prestigious supporters whose lifetime giving or current pledges total $1 million or more. These generous donations transform the landscape of RIT and Tigers' lives both now and for years to come, just like Grace Watson.
Ms. Watson was an unassuming Rochester resident who attended RIT and felt that the university's educational programs had a unique and progressive aspect. She left a percentage of her estate to RIT which enabled the purchase of 1,300 acres of land in Henrietta that the campus currently calls home.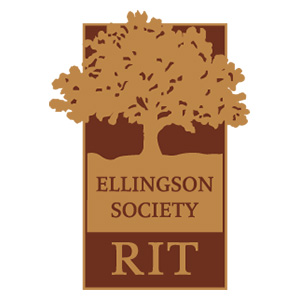 Ellingson Society
The Ellingson Society honors those individuals and families who have informed us of their planned gifts that in the future will fund RIT's greatest needs. The Ellingson Society is named for RIT President Mark Ellingson and his wife Marcia, who propelled RIT to a new level of national and world prominence and established an endowed trust that continues to help students today.
The thoughtful planning of Ellingson Society donors ensures unlimited possibilities for students and faculty for generations to come. They engage with fellow donors through events and receive periodic communications that demonstrate the impact of creating a lasting legacy at RIT. Learn more about planned giving and the impact you can make by visiting legacyrit.org.