Gala marks successful conclusion of Transforming RIT: The Campaign for Greatness
Nearly 300 guests celebrate impact of how over $1 billion raised will propel university forward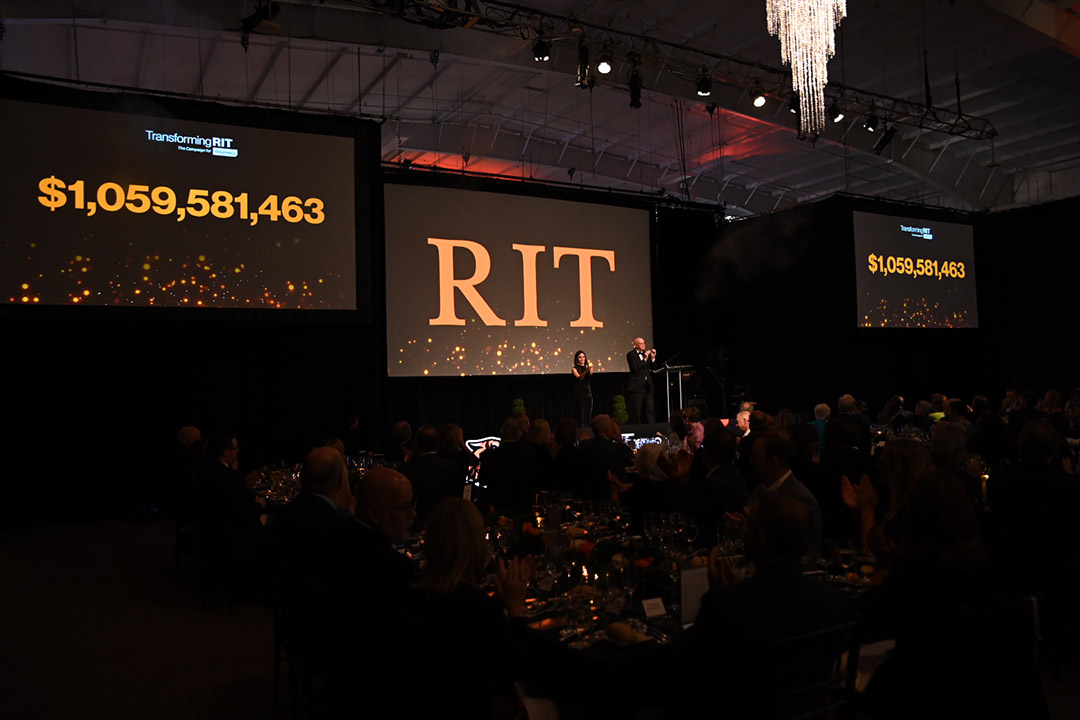 Nearly 300 people gathered in Rochester on Friday evening at the beginning of Brick City Homecoming and Family Weekend as RIT officials marked the successful conclusion of Transforming RIT: The Campaign for Greatness.
University leadership announced during the "Celebration of Our Transformative Donors" gala at the RBW Conference Facility that RIT's largest-ever fundraising campaign raised $1,059,581,463 to propel the university forward in its pursuits at the intersection of technology, the arts, and design.
"Together, our generous donors, steadfast corporate and foundation sponsors, as well as our government partners at the federal and state level, have left an indelible mark on RIT," said Phil Castleberry, vice president for University Advancement. "They invested in our vision and are ensuring that our students continue to receive the exceptional education and experiences they so rightfully deserve. The collective impact of our donors is immeasurable, and we are grateful for their unwavering support."
RIT President David Munson said "the entire RIT community as well as our donors, sponsors, and partners have my deepest appreciation and gratitude for all that we have done to achieve our next level of greatness."
"We are always on to something new that is embracing and designing the future," Munson said. "This successful campaign is igniting our amazing community of creators and innovators to shape the world through ideas that inspire, inform, and improve lives."
From scholarships to professorships, academic programs to state-of-the-art facilities, and from groundbreaking research to innovation, the campaign garnered support from a wide range of investors, including alumni, parents, and friends as well as government and corporate partners, research foundations, and agencies.
Launched publicly in 2018, the campaign brought RIT's strategic plan to life. Campaign priorities included investing in student success, creating world class facilities, advancing research and discovery, and innovating careers of the future.
Watch a video celebrating the campaign's successful completion.