Not your average menagerie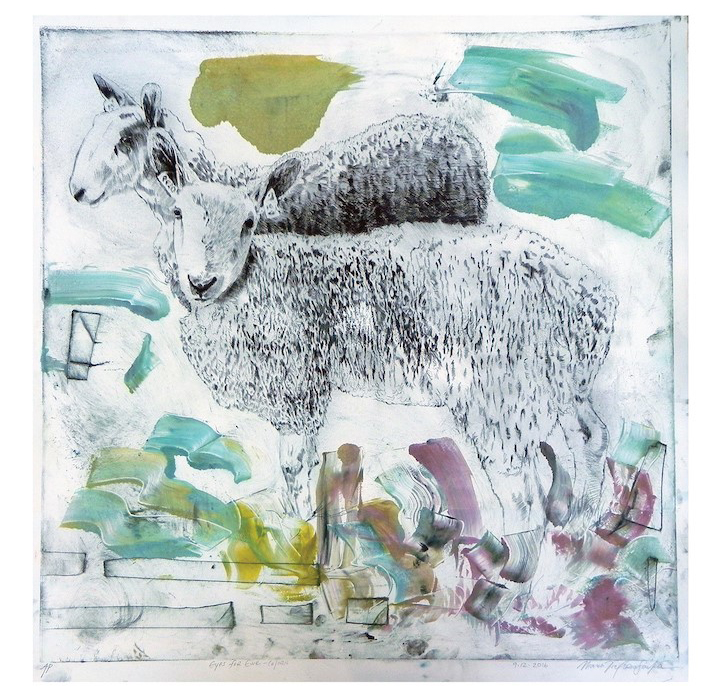 Some people, like award-winning artist Victoria Savka BFA '16, MFA '18, were born to tell stories.
Over the years, Savka has used printmaking as her medium to communicate those stories. Through the use of both color and imagery, Savka brings her pieces to life. Emotions, layer and whimsy are all a part of her artistic process.
Savka began to gain recognition in 2016, when she won the Grand Prize of the Maryland Sheep and Wool Festival Poster contest. She has also shown her work at the Society of Illustrators in New York City.
"The conversations that begin over one small piece of artwork always make me grin, chuckle or, better yet, warm my heart," Savka said with a twinkle in her eye. "It gives me the opportunity to talk about my work with others and learn their stories." 
"Creatures that may be taken for granted or counted as just a number, my work focuses on how each has its own personality," Savka stated. Savka is not just a creative, she carries that mantra into her everyday life.  She cares for a flock of chickens, which act as a source of inspiration for her work. She also features other animals in her work, such as sheep, cows, ducks, and even elephants. Their fur, feathers, and wool create a texture that she cannot help but capture on paper.
"I hope students can see through my artwork that my time at RIT was well spent and enjoyed!" Savka said enthusiastically. "I really appreciated the time that I spent on campus." Savka took those words to heart and took her career one step further. She teaches elementary art to the next generation of artists at St. Agnes and St. Louis Schools, inspiring them to think outside of the box. 
Victoria's upcoming solo exhibition, Not Your Average Menagerie, has an opening reception on Thursday, November 7 from 5–7 p.m. in the Geisel Gallery, located in downtown Rochester.
You can find Victoria's work at Shop One at RIT, the Memorial Art Gallery Shop, and various other local locations.  Visit her website for more information.
Topics