Outlooks with Partnerships in Pluralism | April 2017
Newsletter April 2017
Outlooks with Partnerships in Pluralism
The power of conversation and dialogue. Sharing meaningful experiences. Learning about another person's perspective. Making connections about their lived experiences. Building a relationship to inspire positive change in you and the community. "Broaden your perspectives about yourself and others to create more cohesiveness in our RIT community," explained Dr. Michael D'Arcangelo, Director of Diversity Education.
Current and past participants for Partnerships in Pluralism gathered during a luncheon to reconnect and network to continue building a sense of community and belonging. D'Arcangelo is aware "everyone is busy, but we offer an opportunity to pause and celebrate" the growth of our Partnerships in Pluralism participants.
Quinn Karley, Graduate Academic Counselor at the Saunders College of Business has participated multiple times and "one of the best things about it is meeting brilliant people." For Karley, this program has offered a way "to share our experiences, both professionally and personally, learning about how we communicate differently, examine our assumptions, and how they might not always be right." Building relationships and understanding how to engage in meaningful ways, while strengthening our character is intentional throughout this Partnerships in Pluralism experience.
Perspectives of past participants echo these observations and sentiments. "I knew where he worked on campus before the program, but this allowed me to get to know him," explained Dave Edborg, Major of Patrol Operations, who was partnered with Freddie Cox, Manager of RIT/NTID Financial Relations in 2003. "I remember feeling uncomfortable sharing tough stuff, but we worked through it," Edborg shared confidently. "We still meet up after all these years, we've become friends" said Cox.
Freddie and Dave, after participating, then became coaches helping other staff/faculty cohorts immerse in their learning journeys. "We wanted others to see that it works, we've done it and motivate them to have meaningful dialogues," continued Edborg. "We have an opportunity at RIT today to continue these dialogues, keep up the momentum," added Cox. The incalculable value add is in the teaching, building and connecting with faculty/staff at RIT.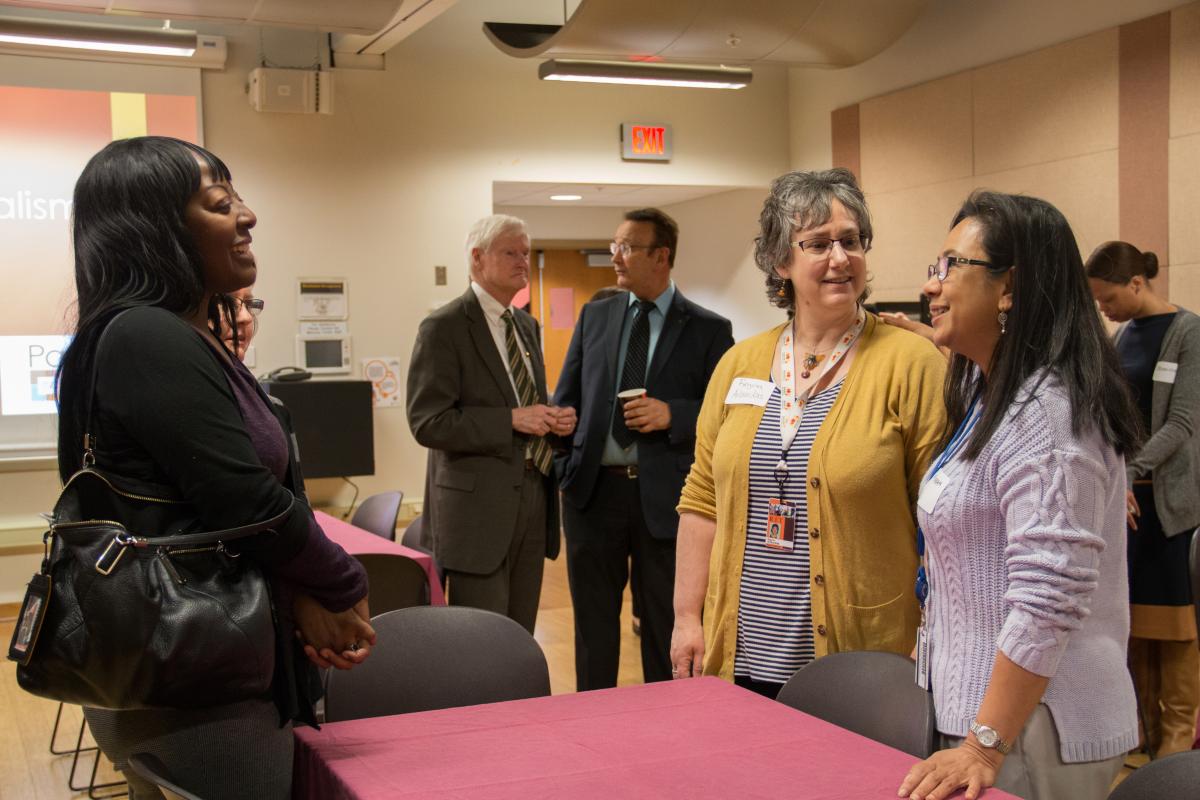 Not only does Partnerships in Pluralism help our faculty and staff, ultimately these relationships will positively impact our diverse student body. Navigating through complex and sometimes emotionally charged conversations can serve as an experience to build character and aptitudes to stretch faculty and staff to innovative solutions. These programs can strengthen the flexibility and depth of the relationships that shape the RIT experience for everyone.
Realistically, relationships and dialogue take time to build, a level of commitment and create connections that can flourish throughout your career, which is how Freddie and Dave, continue their journeys. Partnerships in Pluralism provides opportunities to discuss traditions, culture or childhood experiences and how they're shaped by them. Partnerships in Pluralism has helped expand and create a more welcoming environment at RIT for more than a decade.