Students on the Move | April 2022
Newsletter April 2022
Students on the Move
Congratulations to Destler /Johnson Rochester City Scholar Jahaad Shairi. The second-year student has been named a 2022 Frederick Douglass Global Fellow by the Council on International Educational Exchange (CIEE). He will receive a full scholarship to travel to Ireland in July for a four week leadership program for students of color. The program honors the historic 1845 meeting in Ireland between Douglass and Irish reformer Daniel O'Connell. Shairi is one of 16 students selected to study issues of peace and conflict resolution.
For more information on the Frederick Douglass Global Fellowship go to the Frederick Douglass Global Fellowship or check with RIT's Global Education Abroad Office.
Speaking of travel, we say "welcome home"
Ten RIT students are back in the United States again after taking part in "DDI in Croatia: Studying Society and Culture in the Balkans".
They are: Faduma Abdi, Peyton D'Anthony, Justice Marbury, Mark Osime, Kimberly Perez-Morales, Libnah Rodriguez, Haydy Rodriguez-Lopez, Jude Seunarine,   Margaret Thayer and Jaelin Vernon.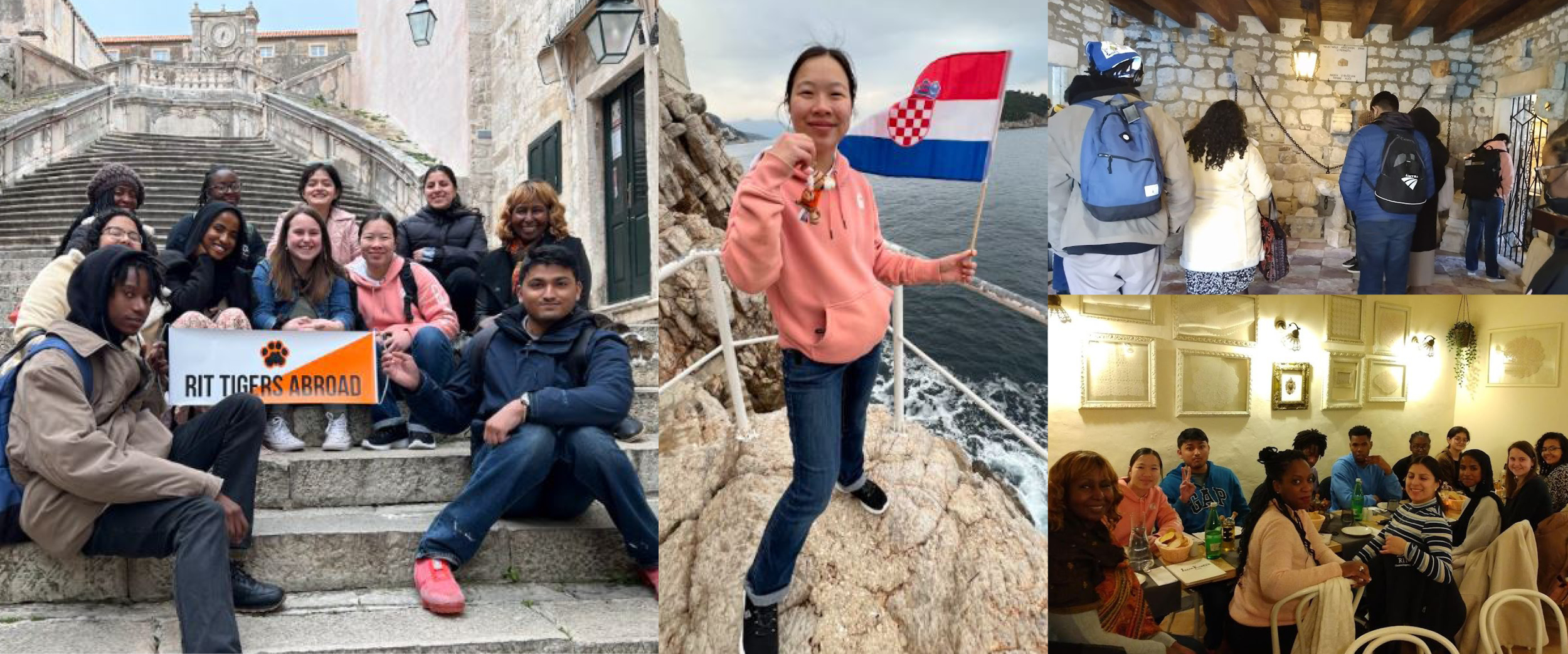 This is the same program that was developed back in 2019, originally called "DDI in Dubai". Kate Torrey, senior director, CSTEP, McNair Scholars and LSAMP, designed the program with RIT'S Global Education Abroad Office.  Phillippa Thiuri, interim assistant vice president for Student Access and Success and Makini Beck, SOIS/Sociology Department also joined in by designing a Research Methods course that students must take in order to participate.
The goal was to provide a study abroad opportunity specific to Division of Diversity and Inclusion students.
Torrey says, "A few years ago I learned that students from under-represented minority groups and those who are first-generation low-income students study abroad at a significantly lower rate than their peers." 
Unfortunately all of their hard work suddenly came to a halt.
Torrey says, "Sadly, two days before the group was scheduled to fly to Dubai in March 2020 the trip had to be cancelled due to COVID.  It was decided to try again this semester.  Unfortunately, there was some unrest in the Middle East in the last few months which caused Study Abroad to pivot the trip to RIT Croatia instead of Dubai. "
Faculty directors Thiuri and Beck accompanied the students on the 10-day trip. Thiuri says, "We visited three countries, Croatia, Bosnia and Herzegovina and Montenegro and in turn learned a lot about the region, the people and their culture." She says students were successful in conducting their research and creating blog and vlog posts.