HEOP Students Embark on an Extensive Letter-Writing Campaign | March 2017
Newsletter March 2017
HEOP Students Embark on an Extensive Letter-Writing Campaign
Students in RIT's Higher Education Opportunity Program care about their education. Most HEOP students are the first in their families to attend college, let alone attend a competitive private university like RIT. Hailing from low income households, HEOP students depend on New York State's Tuition Assistance Program (TAP) to help meet their college costs.   A statewide effort is underway to significantly increase State funding for TAP that would be of great help to these students as well as other NYS students at private colleges and universities.   State legislators will vote April 1st on a new State Budget.
The connection between the proposed state budget and TAP is of particular significance because of Governor Cuomo's proposed Excelsior Scholarship. In an effort to address college affordability, the Excelsior Scholarship, which is part of the proposed budget, would provide free tuition to college students who have been accepted to a state or city university in New York provided their family earn $125,000 or less a year. Following the spirit of Senator Bernie Sander's concern about increased college costs, Governor Cuomo's ambitious plan would address college affordability—but only for students at public institutions.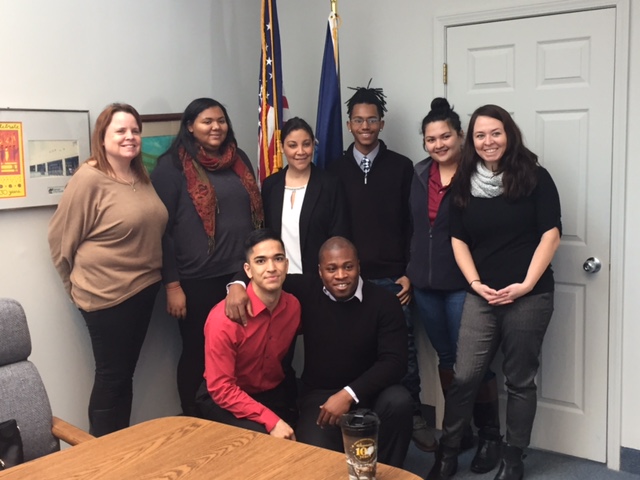 In response, students, parents, faculty, staff, and higher education leadership from private colleges and universities are mounting a campaign urging their elected officials to instead support an increase in TAP, which would address college affordability in a way that would enable NYS students eligible for TAP to choose the institution that best meets their needs, including private as well as public colleges & universities, by increasing the maximum TAP award to $6,500 and expanding income eligibility to $125,000.
"I participated in the [HEOP letter-writing] campaign because the funding that I am receiving right now is making it possible for me to attend college and pursue my dream," states 3rd year HEOP student Keshab Bhatarrai, who excels in the College of Engineering.
"We've mailed hundreds of letters," says Belinda Bryce, Director of HEOP.  All RIT students who are receiving TAP are encouraged to go to https://www.limitlesslearningny.org/ and send a message to their legislators about the importance of expanding the TAP program. It's fast and easy.   You can use this website to help push for the TAP increase as an alternative to the Excelsior 'free tuition' scholarship.  It is vital that individual legislators hear from their constituents on this important issue.