Unlikely Film Screening | March 2019
Newsletter March 2019
Unlikely Film Screening
The graduation of any student with a higher education degree is not a guarantee, yet most inside and outside of academia believe that it is.
 On Friday, March 29, 2019, Rochester Institute of Technology (RIT) will screen the documentary "Unlikely". With its world premiere at the 2018 Napa Valley Film Festival, and its selection for the South by Southwest Education (SXSW EDU) Conference & Festival March 5, 2019, the film uncovers the stories of five individuals failed by the higher education system.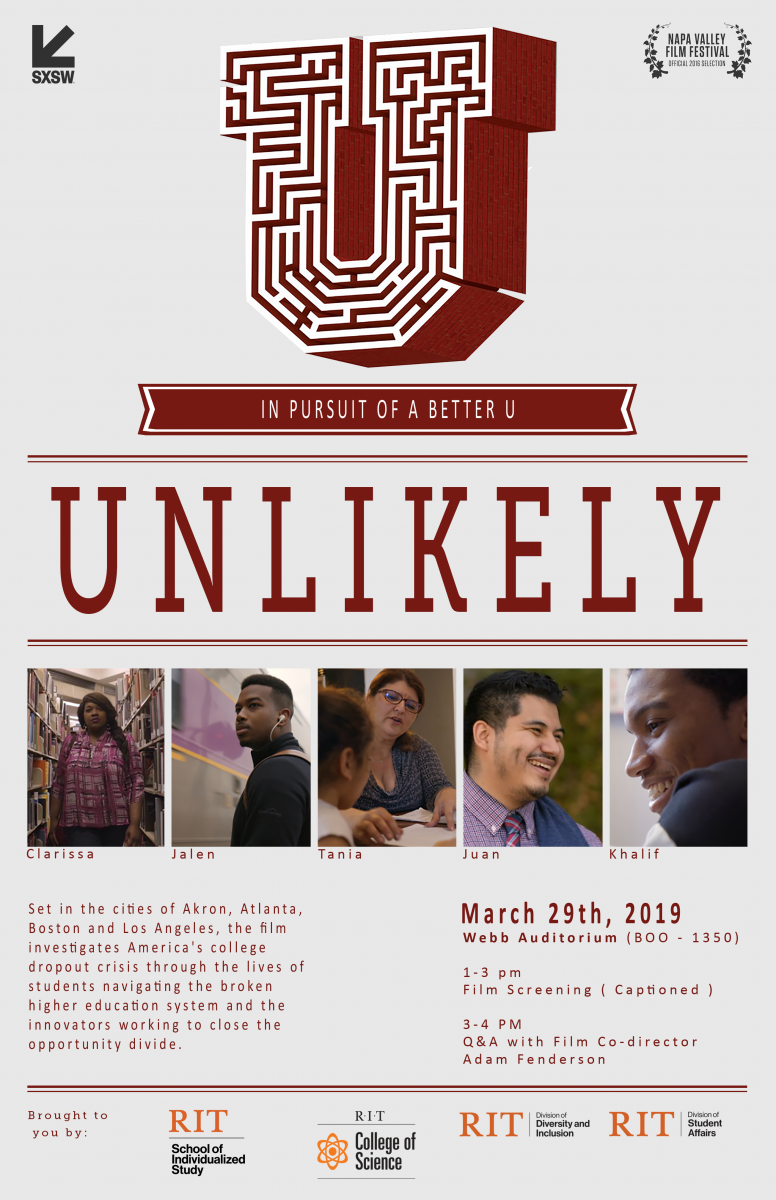 The filmmakers Jaye and Adam Fenderson (Three Frame Media) follow five students as they fight for a second chance at their education. The film explores not only the hurdles that students at all universities face, but it also highlights individuals, universities, and even corporations who are making students the priority of education. The exact moment in time when higher education stopped making students the focus is hard to pinpoint, but those who have fallen victim to that moment in the subsequent years know all too well what that change has meant for them.
The film was highlighted as a "must see" by Goldie Blumenstyk, senior editor covering innovation in and around academia, in her November 20, 2018 article for The Chronicle of Higher Education entitled "A film about higher ed that should bother you a little". Blumenstyk was impressed with the subtle ways in which the documentary uses students to clearly demonstrate the shift in the higher education environment. Further, Blumenstyk notes that she is "rooting for it to succeed", while including that the film "should bother people."
The filmmakers have done their homework, both on this and a previous film entitled "First Generation," including experts in higher education, higher ed advocates, and leaders in innovative higher education practices. But, the inclusion of these experts should in no way overshadow the heart of the story – the students for whom higher education, a degree, and a pathway to a career were never guaranteed to them by the system.
Everyone at RIT is invited to view the documentary at 1 p.m. on Friday, March 29, 2019 and the discussion with filmmaker Adam Fenderson at 3 p.m. in Webb Auditorium (BOO-1350). 
If you, or a representative of your group, would be interested in participating in a small group discussion with the filmmaker following the screening at 4 p.m., please contact Sandi Connelly, Leader Faculty in Online Learning in COS, by March 18, 2019 (sjcsbi@rit.edu).
This event is being sponsored by the School of Individualized Study, the Division of Student Affairs, and the Division of Diversity and Inclusion.
The film will be captioned.  Requests for interpreters may be submitted at myaccess.rit.edu.