A Celebration of Excellence and Appreciation | May 2017
Newsletter May 2017
A Celebration of Excellence and Appreciation
RIT's Division of Diversity and Inclusion celebrated as one with students, faculty, alumni and trustees, community members and especially our fierce champions, Dr. Bill Destler and Dr. Rebecca Johnson, honoring all the accomplishments attained as a collective in 2017. Shantel Forrest, a student majoring in Marketing and a Rochester City Scholar, kicked off the joyful celebration with an inspiring piano selection. The Division of Diversity and Inclusion is comprised of thirty-two dedicated staff and faculty—all believing that RIT will achieve greatness through difference as students, faculty and staff model inclusive excellence.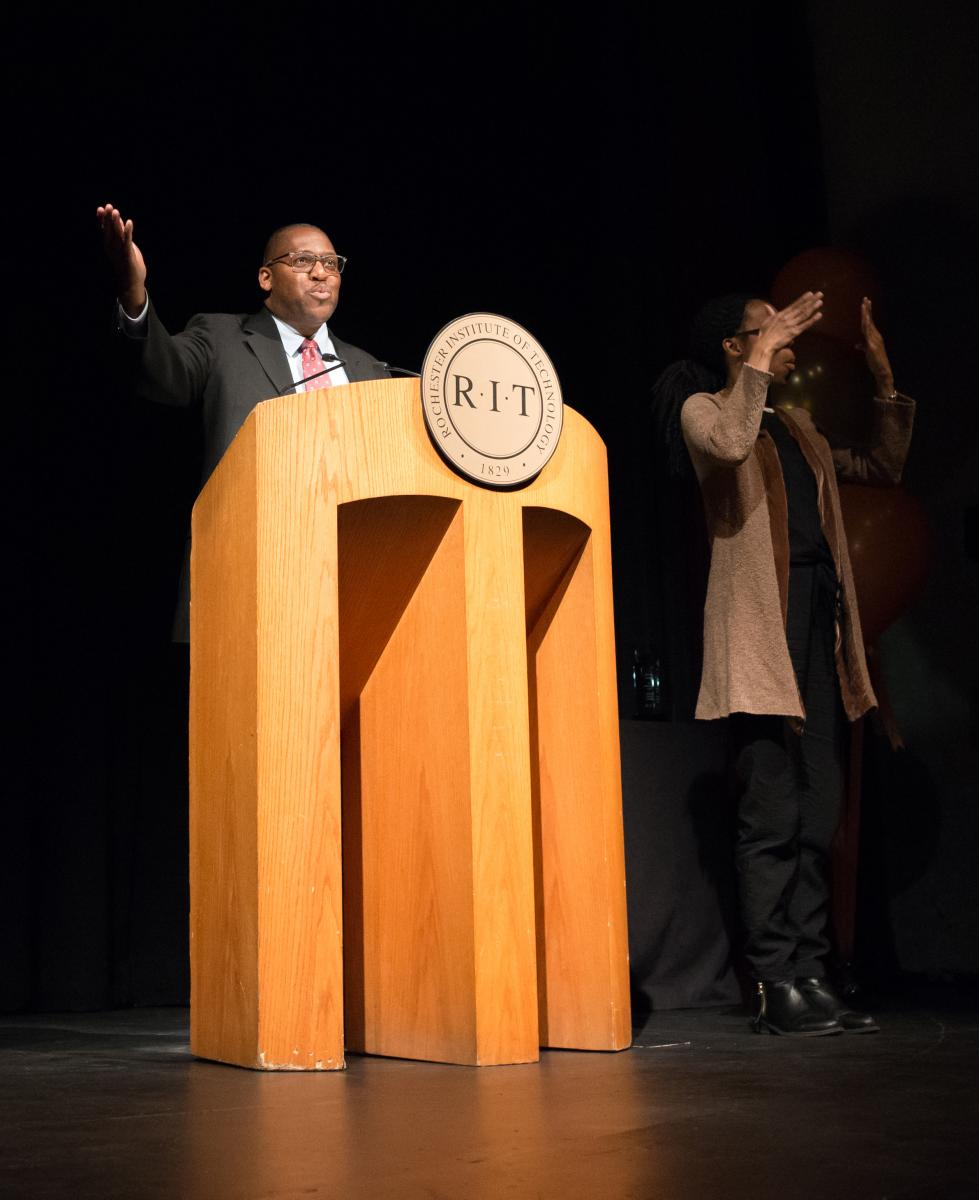 "We've embraced what Drs. Destler and Johnson have led with during their tenure—respect for diversity and inclusion, an unwavering commitment to challenge the status quo," explained Dr. Keith Jenkins, Interim Vice President & Associate Provost for Diversity & Inclusion. "They've had a devotion to creating a place where all feel welcomed, heard and valued. We all shape RIT and our culture—one of nurturing, and developing growth."
One component to engaging and offering opportunities on campus are the faculty, especially the RIT AALANA faculty. Dr. Kijana Crawford, Professor in Sociology and Chair of the AALANA Faculty Advisory Council offered a "special thank you to all first year AALANA faculty," she added. "For their dedication, innovative approaches, helping to add depth and uniqueness to the RIT experience for everyone, especially our students."
As students discover their strengths, take full advantage of the academic support programs and become engaged in clubs/organizations they also leave an imprint on our RIT culture.
Dr. Tomicka Wagstaff, Senior Director for Academic Access and Success for the Division of Diversity and Inclusion at RIT had the honor of recognizing several students with the Inaugural Beacon Awards. The Student Beacon Award recognizes students who utilize their leadership skills in fostering diversity and inclusion within the RIT community; demonstrate a balance of academic and co-curricular excellence; are in good academic standing; promoting and/or facilitating dialogue and social engagement among individuals of varying backgrounds. The 2017 Student Beacon Award winners are, as follows;
Brendan John, a 5th year student completing his bachelor's degree in Computational Mathematics and a master's degree in Computer Science. Brendan has been an exemplary student leader, who's shown his dedication, engagement and contributions as an executive officer with both the American Indian Science Engineering Society and the Native American Student Association; completed research as a McNair and LSAMP Scholar; played an integral role as the student web programmer with the Seneca Language Revitalization Program. Brendan is a proud member of the Seneca Nation and his achievements have made his community proud.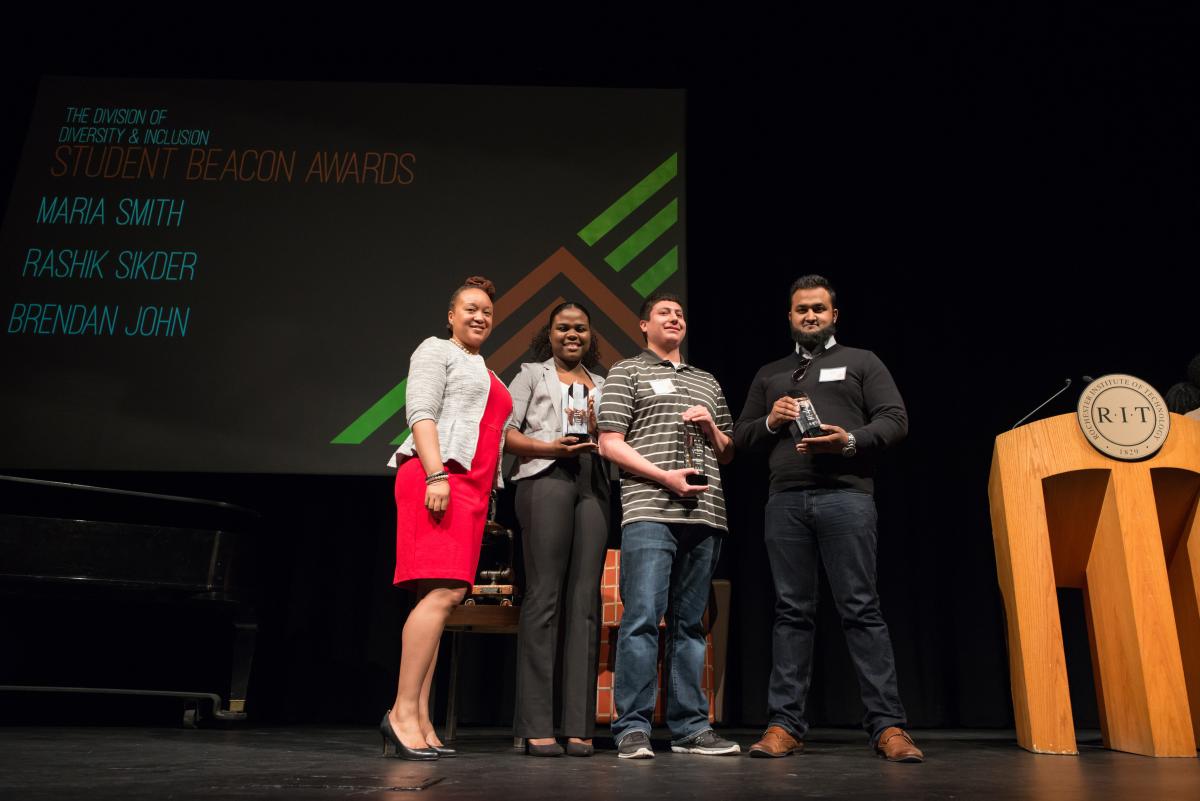 Rashik Sikder, a 5th year student majoring in Civil Engineering. His involvement and advocacy with MSA expanded over time and eventually he was elected as MSA president. Earlier this semester, he spoke on "What Matters to Me and Why?" This conversation allowed him to speak about his experiences, his goals, the lessons learned in his personal and spiritual journey and how everything has come full circle for him at RIT. Rashik's goal has been to spread a message of peace and unity. Rashik participates in the Higher Education Opportunity Program (HEOP), the Collegiate Science Entry Program (CSTEP) and has also mentored incoming HEOP students.
Maria Smith, a 3rd year student majoring in Biotechnology & Molecular Bioscience with a minor in Communication. Maria is involved with several programs, like LSAMP, McNair Scholars, and MCAS Scholars, which have positively supported and contributed to her academic success. Maria is one of the founders and current president of Afroblaze, RIT's African Dance Club. She has served as a liaison between the club's advisor, RIT's Club Advisory Board and Student Government. Recently, Maria received first place for her research in the category of microbiology at the CSTEP conference. During the academic semesters and summers, she is involved in two research projects targeting public health issues and cancer cell research.
Just as our students are a crucial part of our community at RIT, so are our alumni. Dr. Lisa Cauda, Vice President of Development & Alumni Relations had the honor of recognizing an alumnus with the inaugural Alumni Beacon Award. The DDI Beacon award recognizes an alumnus who has shown exceptional leadership, fosters diversity and their career achievements are a reflection of their dedication and extensive volunteerism at the university and their respective community. This year's award honored;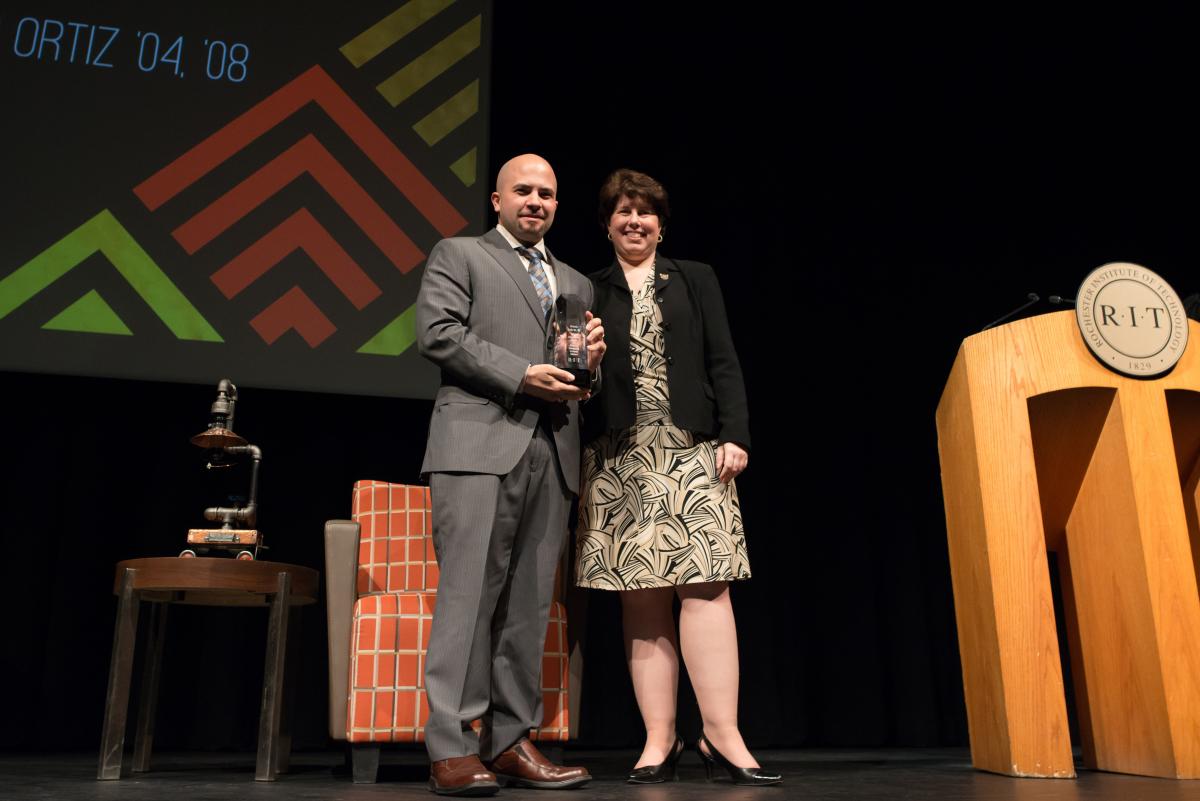 Mr. Orlando Ortiz, a two-time alumnus of RIT — in 2004 earning his Bachelor's degree in Manufacturing Engineering and his Master's in Business Administration in 2008. Professionally, Orlando is Supervisor of Component Manufacturing at The Gleason Works and has worked in the manufacturing field for over 15 years. Orlando is serving as Board President of the Puerto Rican Festival, Inc., established in 1969, this is the longest running cultural festival in Monroe County. He is also serving as the Board President of the Housing Council at Pathstone, one of New York State's largest HUD-approved comprehensive housing counseling agencies. Orlando has served on RIT's Alumni Association Board of Directors since 2013 and currently holds the position of Chair of the RIT for Life committee. Orlando also holds the positions of Alumni Relations Officer and Advisor for Latino America Unida, Lambda Alpha Upsilon Fraternity, Inc. Orlando is supported in all of his endeavors by his wife Denishea Flanigan Ortiz, a 2004 RIT graduate and their two children: Esaias, 4 and Gian, 1.
During the celebration students expressed their sincere appreciation for the imprint, President Destler and Dr. Johnson, had on their educational journey. Students shared phrases like:
"You inspire those working with you to think creatively and to dream big. That's the kind of leadership you inspire. Because of the support and leadership from President Destler and Dr. Rebecca Johnson, programs like MOCHA and WOCHA exist, showing us how to be our best selves, bringing us together, giving us a community to call a home."
(Samuel McClarin, 16' Business Administration Management, Rochester City Scholar, I'm First, McNair Scholar and a MOCHA member)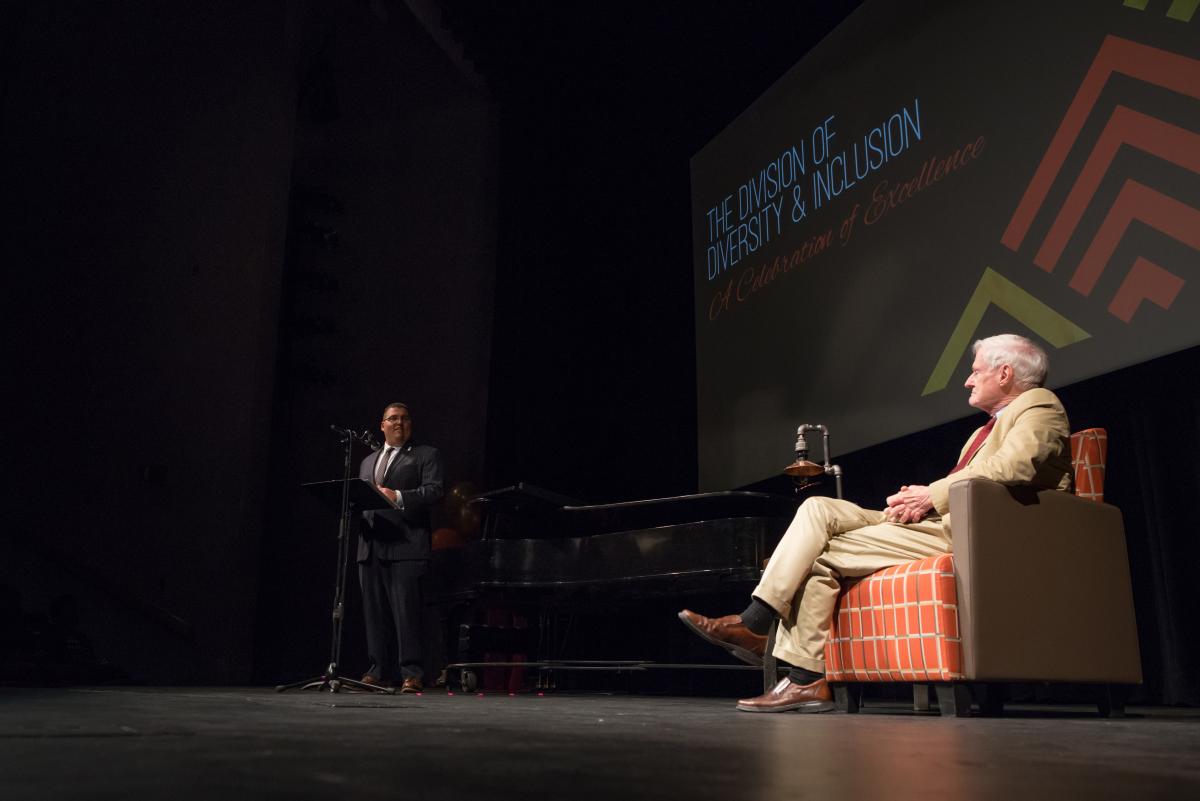 "WOCHA has brought me out of my shell, from placing me in a Dale Carnegie leadership training class for eight weeks to offering multiple workshops that provide the necessary professional and personal skill sets. Together with my WOCHA sisters, the council and my mentors, I have learned my self-worth and value."
(Mila Le, earning a Masters in Business Administration and a WOCHA member)
"WOCHA has taught me how to set goals, stick with them and reach my goals. It was important for me to understand the possibilities of leadership, so I can thrive and advocate for myself and others. Your guidance, mentorship and support has contributed to our sustainability and growth."
(Maya Penn, Bachelor of Science in Psychology, NTID and a WOCHA member)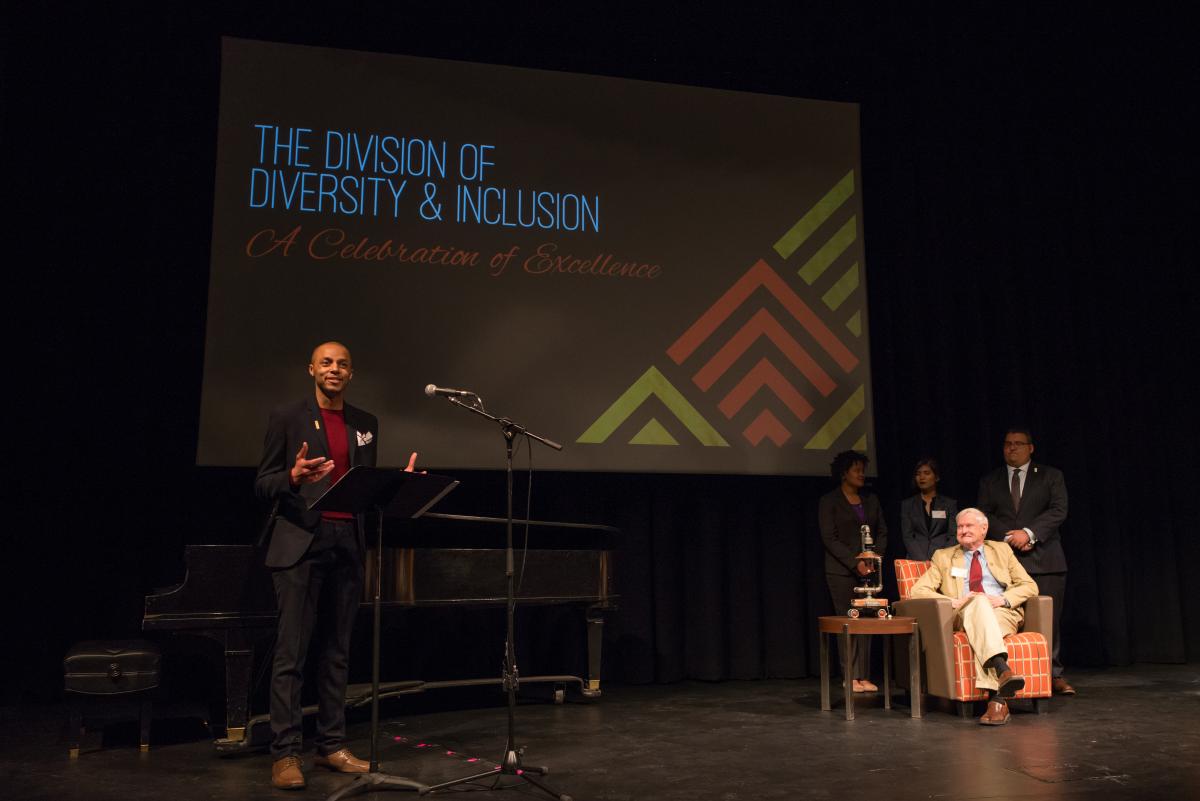 "Your love, guidance, and support ignited us to achieve, give back and soar. You've lit a spark for the next generation of thought leaders. This experience has provided me and those to come, more than a degree. Your selfless act sent me on a wonderful journey, teaching me to value myself, so thank you!"
(Bernard Rogers, Bachelor of Arts in Communications, minoring in Sociology and Anthropology, Rochester City Scholar, McNair Scholar and a MOCHA member)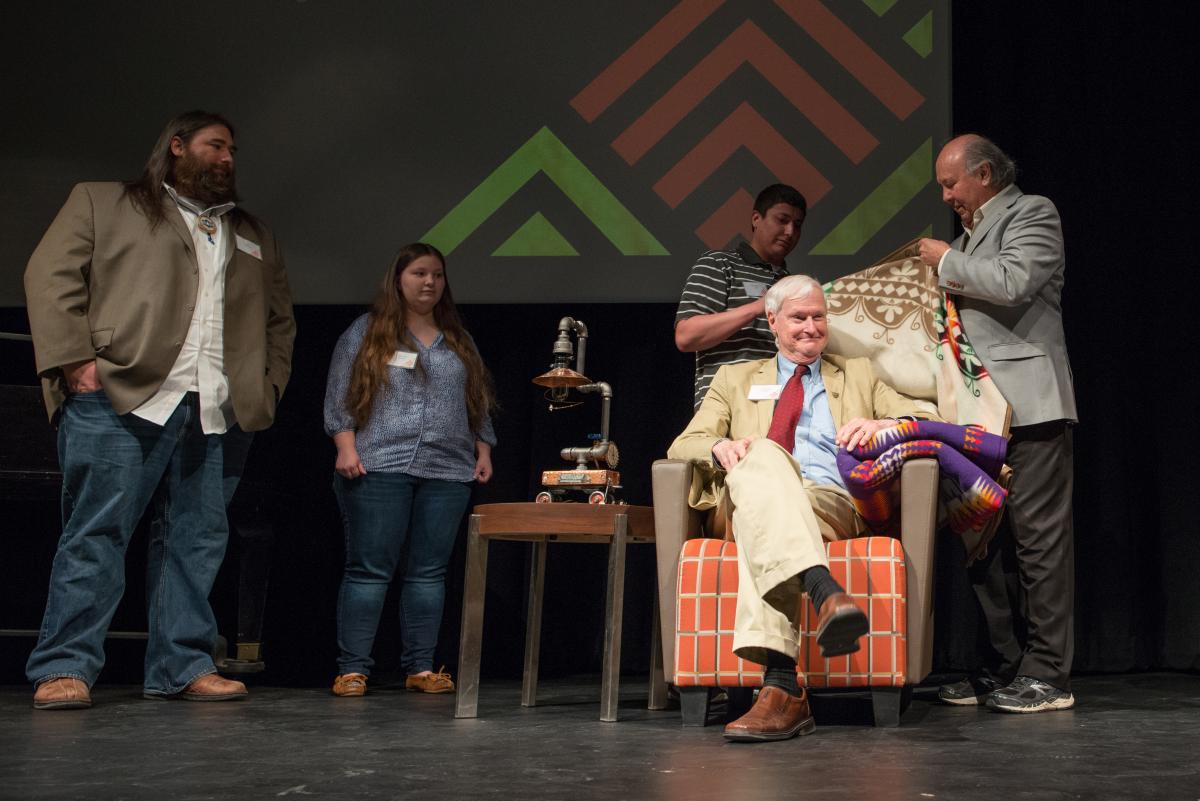 Several members of the RIT Native American Future Stewards Program (FSP), including Dr. Roger Dube, Research Professor, College of Imaging Science and Director of Research, FSP; Dr. Jeffrey Burnette, Sr. Lecturer, Department of Economics and Co-Director for FSP, Nicole Scott, Co-Director for FSP; along with students Mikaela David & Brendan John, shared a special tradition of the Native American community, to bestow a blanket as a way of recognizing significant events, achievements and to honor individuals. Dr. Destler received a purple Chief Joseph Pendleton blanket and Dr. Johnson received the Creation Turtle Blanket) were both esteemed for their commitment to diversity and the support they have provided to Native scholars.
Without fierce, genuine and thoughtful leadership, a mutual vision of evolution, while sparking creativity to imagine and contour RIT as an inclusive community, the essence of our work cannot flourish. On behalf of the Division, a tree in Unity Quad will be named in honor of Dr. Destler and Dr. Johnson. This unity tree can serve as a reminder to be courageous, as they demonstrated respect for diversity and inclusion, an unwavering commitment to challenge the status quo, and devotion to creating a place where all feel welcomed, heard and valued.
"We will always see President Bill Destler as he strummed our campus to life, We will always see Dr. Rebecca Johnson as she made our limbs reach new heights, We will always see these Tigers in our stripes."  (excerpt from poem "What can you see in our soil?" by Laurence Price-Webb, majoring in Interdisciplinary Studies, emersion in Communication, MCAS)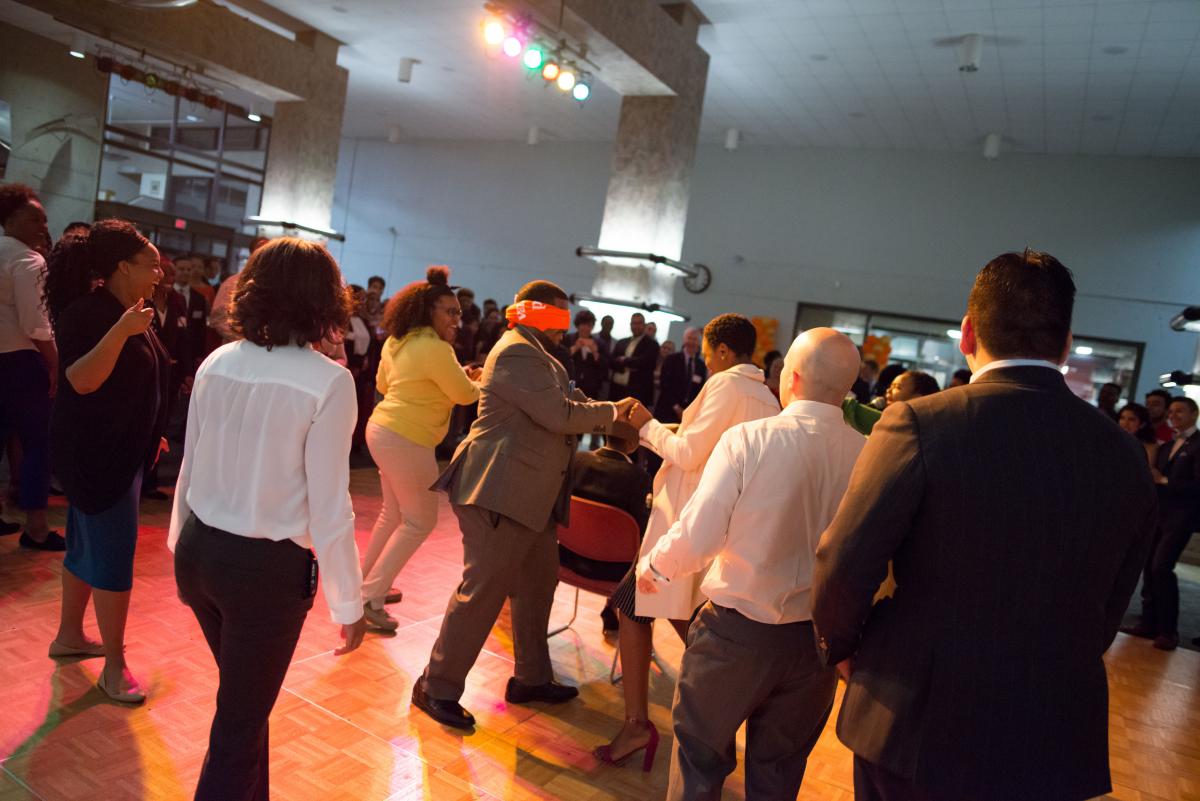 In addition, to the formal program, there were two pre-receptions, the MOCHA and WOCHA graduation and another with the Office of Alumni Relations, AALANA Faculty and Staff Association and the Office of Future Faculty Recruitment. After the formal celebration, everyone was invited to an after-party, celebrating with music, dancing and games, ultimately, creating a collective evening of celebrations.