Honoring the Jordan, Sr. and Douglass Legacy through Student Scholarships | May 2018
Newsletter May 2018
Honoring the Jordan, Sr. and Douglass Legacy through Student Scholarships
We would like to congratulate and highlight several students who were awarded scholarships at the Leadership Awards & Scholarships Dinner & Celebration, on April 18th.  Each of these students are positively impacted and show great promise for continued success in their academics at RIT. Legacy is what makes these scholarships such an honor. The legacy of Frederick Douglass and Isaac L. Jordan, Sr. is present across the community with innumerable accolades on their work and vision. Each of these men brought about a transformation during perplexing climates and with visions ahead of their time.
In Spring 2018, the Isaac L. Jordan, Sr. Endowed Scholarship Committee received a record breaking number of applicants for both the freshman and upperclassman scholarships, established by the Jordan Family in remembrance of his dedication to diversity and inclusion at RIT.  Mr. Jordan, Sr. transformed the minds and hearts of the people who worked and studied at Rochester Institute of Technology.
It was very touching to have Mr. Isaac Jordan Jr. during the awards ceremony to applaud the dedication of the student scholarship awardees this year. The Jordan family is devoted to honoring the legacy and memory of the late Mr. Jordan, Sr. by offering two student scholarships.
Harry McCardell, a freshman in the B. Thomas Golisano, College of Computing & Information Sciences, majoring in Game Design and Development.  Harry is known for his willingness to "jump right in" to help and support people in need.  With his outgoing personality, in and outside the classroom, Harry worked with his fellow classmates by getting them "out of their shells" to engage in dialogue.  Harry is an up-and-coming leader with a distinct spark, who will make remarkable contributions to the RIT Community in the years to come.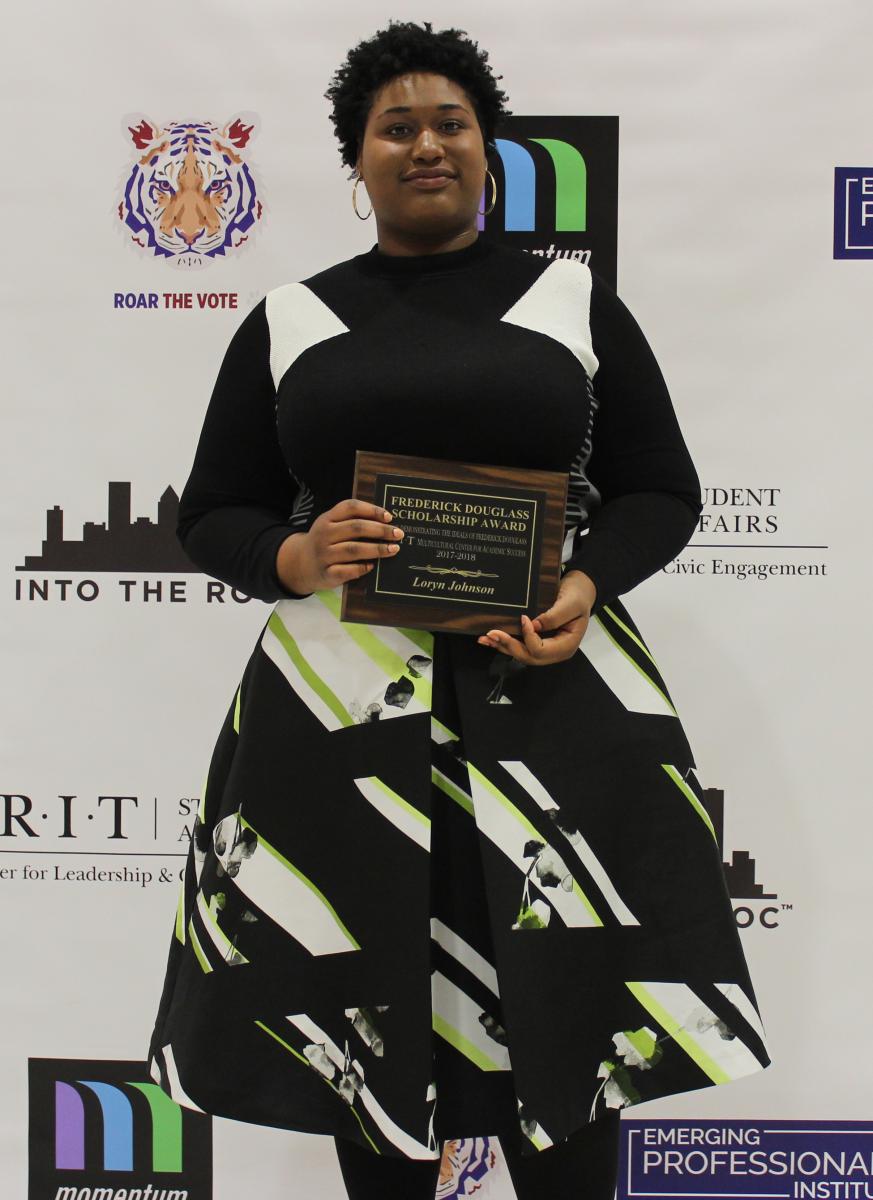 Emilyn Nguyen, a fourth year in the College of Health Sciences & Technology, majoring in Biomedical Sciences.  She is a participant in several divisional programs, as a LSAMP and MCAS Scholar, and I'm First student. Emilyn has held several leadership positions like, a Residential Advisor in RIT's Residence Life; Student Government Senator of the College of Health Sciences and Technology; Vice-President of the Health Sciences and Technology Student Association; Secretary of Best Buddies at RIT Secretary for the Society of Asian Scientists and Engineers; and a Taekwondo Instructor at Master Kim's Taekwondo Institute. Throughout these leadership opportunities, Emily shared that she has been working with different communities and helped build an environment where students are able to reach their full potential, especially organizations where they actively work with students to promote and integrate diversity and inclusion.  As a first generation student to Vietnamese immigrants, she has grown up to have an emphasis on three elements in her life, opportunities, experiences, and growth. Emilyn has found these elements, help her to continuously foster and build communities.
As we look to foster inclusive communities, with character, integral values and academic excellence, we award the Frederick Douglass Scholarship to three students who met the criteria. Each year, the students complete an essay, share how they've been involved in community service, foster campus citizenship and demonstrate excellent leadership qualities. Each of these students have shown their commitment to making a difference, while studying at RIT, as follows:
Justin R. Namba, majoring in Computer & Information Technologies, originally from Cameroon. He aspires to earn a doctorate in Computer Science. Justin would like to promote and diversify the STEM field in both the Unites States and Cameroon to further the affluence and prosperity of the Black populations. He lives by the quote of Ghandi, "Be the change that you wish to see in the world."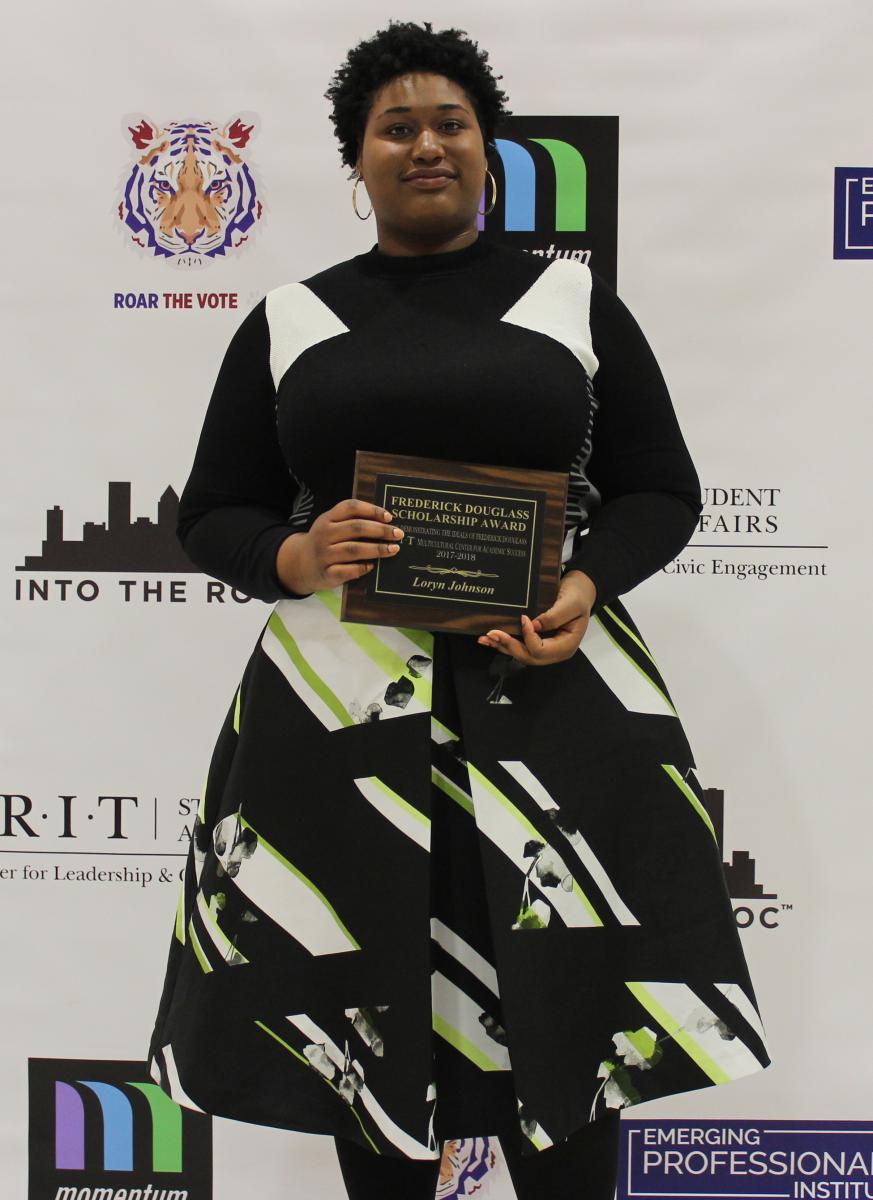 Loryn Johnson, majoring in Biotechnology and Biomolecular Sciences from Columbus, Ohio. She aspires to work in Pharmaceutical Research and Development. Loryn believes a leader should always be approachable, listen to complaints and ideas and take them into account; leaders come up with solutions and work hard to make changes to better their community, not for self, but for the future generations that her work will impact.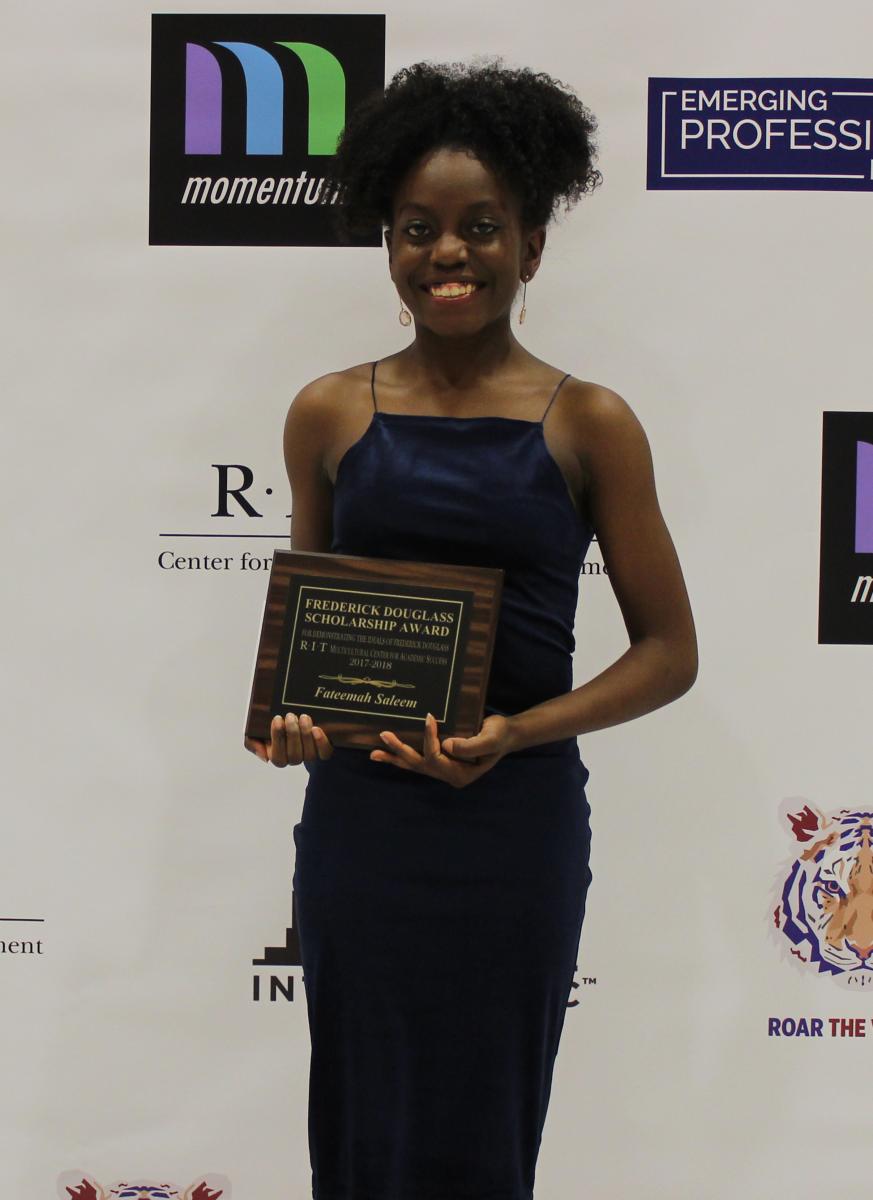 Fateemah Saleem, majoring in Biomedical Sciences from Rochester, NY. She aspires to work in Pediatric Oncology. Fateemah is a MCAS Scholar, Summer Bridge graduate and an LSAMP/McNair Scholar as well. She always mindful of Douglass' quote, "the soul that is within me no man can degrade."
Both Isaac L. Jordan, Sr. and Frederick Douglass lived their lives with purpose and commitment to building communities of inclusion and equality, all while fostering respect.  They were visionaries that brought transformation to their communities. Now, as with all legacies, their impact continues as each of these students receive these scholarship awards to excel academically, helping them financially to continue growing as individuals, reaching their goals and serve as an investment in our future workplace leaders.