RIT CSTEP Students Sharing their Research | May 2018
Newsletter May 2018
RIT CSTEP Students Sharing their Research
RIT CSTEP students participated in the 26th annual statewide Collegiate Science Technology Entry Program (CSTEP) conference. The conference held April 13-15, 2018, at The Sagamore on Lake George at B olton Landing, NY. This conference was started in 1992, to highlight the various research where CSTEP students participated, contributed and were exposed to in their STEM fields. RIT joined over 52 CSTEP colleges/universities participating during this year's conference.
RIT's CSTEP had several student presenters, including:
Jesse Howard, a third-year student, majoring in Biomedical Sciences, did a poster presentation in the psychology category entitled, "Conceptualizing Information Flow; from Abstract to Concrete."
Maya Luster, a graduate student, completing a Master's in Industrial and Systems Engineering, did a poster presentation in the social sciences category entitled "Investigating the Effects of Lower Back Fatigue on the Change of Human Gait and the Propensity for Slip and Fall." Luster earned first place in Social Sciences II category with her poster presentation.
Rodney Sanchez, a fifth-year student, majoring in Electrical Engineering/Robotics, had an oral research presentation involving "Collaborate Filtering on DSP ID Space."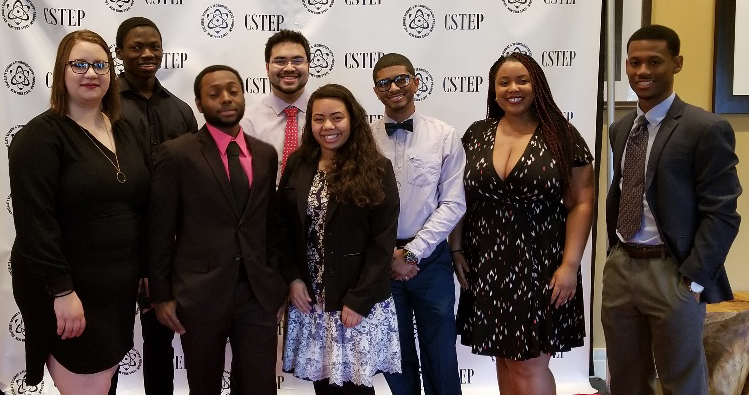 RIT CSTEP also provided other students who may not be done with their research at the time of the conference, allowing them experience the atmosphere of a professional conference and the expectations. and potentially participate in next year's conference. In addition, we want to demonstrate to students who may not have considered doing research, see a well-established research conference and how their contributions can potentially positively impact the STEM field. Other CSTEP students who attended the conference this year, were Breann Parker, Anthony Felton, Alexis Haynes, Abdel Latif Rabiou Bah and Yohance Basedeo.
The CSTEP conference included several academic and professional workshops, like: "Financial Planning and Financial Aid for the Pre-Health Student," "Advocating for Your Needs as a Student" and "We Got Y'all: The Transformative Role of Mentors in The Lives of Students of Color." The weekend also offered engaging and entertaining events for students, such as: Zumba, Lip-Synch battle, Boot Camp and the CSTEP Awards Banquet and Gala.
The CSTEP students were guided and counseled by Yulanda Florence, CSTEP Program Assistant, Antonio Williams, Assistant Director of HEOP and Dr. Michael Coleman, Associate Professor of Chemistry.
"We want our students to feel challenged and motivated to contribute to the STEM fields as researchers," said Florence. "It is exciting to see our students putting their skills into practice and especially have one of our CSTEP students recognized for their research!"