Our Journey Towards Cultural Humility by Dr. Taj Smith | May 2019
Newsletter May 2019
Our Journey Towards Cultural Humility by Dr. Taj Smith
I'm so excited to have been hired as the new Director of Diversity Education. In my three months on campus, I've been inspired by all the nerdiness, creativity and innovation.
When I share the latest RIT events, programs or tech'd out campus spaces with colleagues across the country they are envious. When I compare us to our national and regional competitors as it relates to diversity, inclusion and equity we are doing quite well. That said we've got work to do.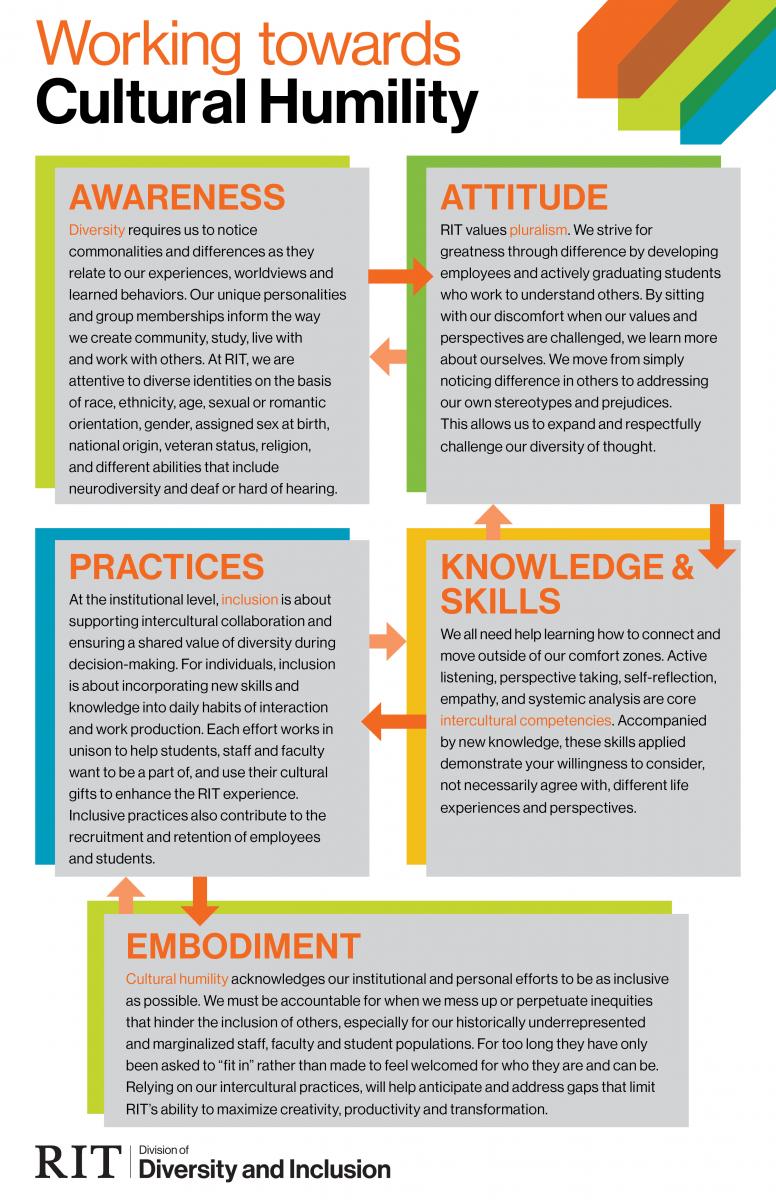 We've got to demonstrate our greatness not to others, but to ourselves. We have to become a community that is comfortable with the discomfort of learning. We've got to become skilled colleagues and peers who are capable of empathy, disagreement and solidarity. We have to become faculty and staff who are able to respect, educate and support our increasingly diverse student population. We've got to become a community where policies, practices and tradition don't maintain the marginalization of historically underrepresented and less privileged groups. And finally, we've got to meet the employers' demand for graduating analytical and socially informed students.
I am tasked with coordinating the experiential education and training opportunities to help us create this climate. Our framework for this work will be grounded in cultural humility. It is a humble self-examination and accountability process that helps people and institutions think critically about their values, implicit biases and quality of intercultural interactions.
Over the next 3-5 years, I expect to engage a critical mass (65% for each population: students, staff, faculty, senior leaders) that has acquired knowledge and practiced the relevant skills. Once we've done that we will have leveraged our existing diversity and created a culture of inclusion.  
You might be asking, "How can we establish a culture of equity-based inclusion if only 65% are asked to invest and/or comply?" Well, the simple answer is that I'm a realist. Not everyone experiences diversity of people as a strength. Not everyone is ready to take that first step to look at themselves in the mirror. Not everyone acknowledges that we living today are burdened by historical inequalities and cultures of dominance-based exclusion. We must make every effort to invite the 35% to join the conversation, but not become so consumed by their absence we divest in our growth.
In July 2019, you will be able to access a diversity education menu from the Division of Diversity Inclusion's website that provides a listing of learning opportunities. Many of the options will be facilitated by myself, but also done in partnership with programs, offices, departments and majors across campus. This kind of work takes a village, and I'm thankful to the 164 employees and students who have provided their feedback to shape this strategic and deeply meaningful initiative.