Kit Mayberry Longtime RIT Leader Will Retire | May 2022
Newsletter May 2022
Kit Mayberry Longtime RIT Leader Will Retire
The RIT where Kit Mayberry began her teaching and administrative careers looked very different from today's campus. She says, "In terms of aesthetics in 1979, the campus was a work in early progress. Few attempts had yet been made to soften the starkly modernist campus, and when I arrived, there were still two very distinct camps of supporters and detractors of what some called its 'brutalist' style. Inside and out, the campus was fairly grim, with the SAU the center of activity, and very little further west than the engineering building." She praises the foresight of those trustees who made the decision to build the new Henrietta campus in the mid 1960's: "I've worked with people from a lot of different schools, and they are always shocked when they hear about our 1100 acres."
More than just the look of the campus has changed. "During the 1980's, RIT was a pretty businesslike place, with very little student spirit and few attempts to develop it. When I moved into the provost's office in 1997, the tide was turning. We had a new strategic plan focusing on student success, academic advising was overhauled, the number of student clubs and intramural sports was growing dramatically, the residence halls were re-built, and President Simone never missed an opportunity to urge faculty and staff to improve student satisfaction. Today, RIT is a proud, vital, exciting university."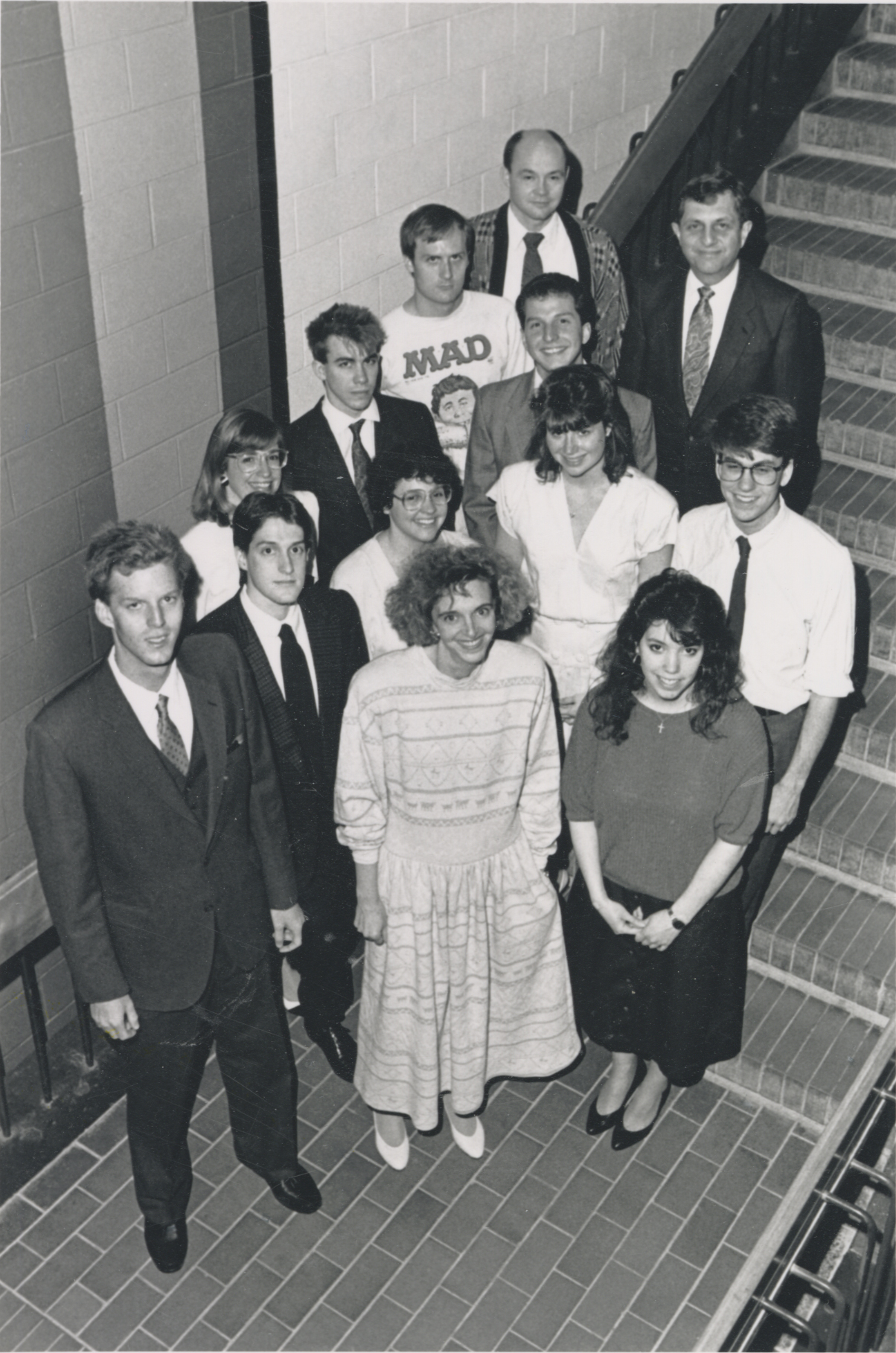 Mayberry has played a significant role in helping to re-shape the student experience. Armed with a doctorate in English from the University of Rochester, she was initially hired as a non-tenure track instructor, teaching mostly English Composition. She moved to the tenure track two years later and received tenure in 1987. Ten years later, she began her administrative career. Since then she has held a variety of administrative positions including Associate Provost for Academic Programs, Vice President for Student Retention, Vice President for Academic Affairs, Vice President for Special Projects, and finally Vice President for Strategic Planning. She held the role of vice president under Drs. Simone, Destler, and Munson.
All of these positions included considerable work on RIT's strategic plans: two under President Simone, two under President Destler, and the most recent under President Munson. "In many ways," Mayberry says, "the plans are strikingly similar, with student success figuring prominently in all five. But of course, each bears the stamp of the president under which it was composed."
Jeffrey Harris, Chairperson of RIT's Board of Trustees has worked closely with Mayberry over the years and says she has shown dynamic leadership.
"Kit and I had the opportunity to work together as the University crafted the strategic plan to establish the priorities and key metrics to define the foundational elements to facilitate the University's journey forward. Understandably, this large undertaking demanded collecting and refining an array of perspectives and inputs. Kit's extensive knowledge of the University allowed her to craft a framework that allowed the top-down and bottom up processes to be aligned, allowing improved context and understanding across the leadership. Her command of the English language facilitated these important communications. Over four decades Kit has leveraged her unique collection of skills to add value to numerous endeavors."
In addition to strategic planning, Dr. Mayberry's vice-presidential assignments ranged from overseeing student retention initiatives to managing the administration of national student surveys to Middle States accreditation to leading the development of new academic programs. Among the units that have reported directly to her are the library, Teaching and Learning Services, the Educational Technology Center, the Office of K-12 Programs, and Graduate Council.
In 2013, trustee Ron Zarrella gave RIT $2 million to partner with a new urban charter high school, Rochester Prep (RPHS). A long-time supporter of urban public education in Rochester, Zarrella became interested in the potential of charter schools to prepare students for college. Aware of the many gaps between high school and college, he reasoned that working with a close university partner like RIT could bridge those gaps and vastly improve the preparation of high school students for a successful college career. When the decision was made to form the partnership between the two schools, President Destler asked Mayberry to lead the design and operation of the partnership.
The RIT-RPHS Partnership, which Mayberry continues to manage in her current role as Senior Advisor for Diversity Outreach, Enrollment, and Retention, gives RPHS students the opportunity to experience life on a college campus, beginning in the ninth grade. Campus activities are calibrated to correspond to the students' developing academic and career interests, culminating in a Senior Capstone Experience in their senior year. In the capstone, RIT faculty lead small groups of seniors in research projects that take place in RIT labs and classrooms, connecting them with RIT students and acclimating them to the customs and expectations of college. As Mayberry says, "By the time they graduate from high school, RPHS students have become citizens of RIT. The care that we take of them, our enthusiasm for their learning, the hopes we have for their futures are things you just don't see in a university's relationship with a high school."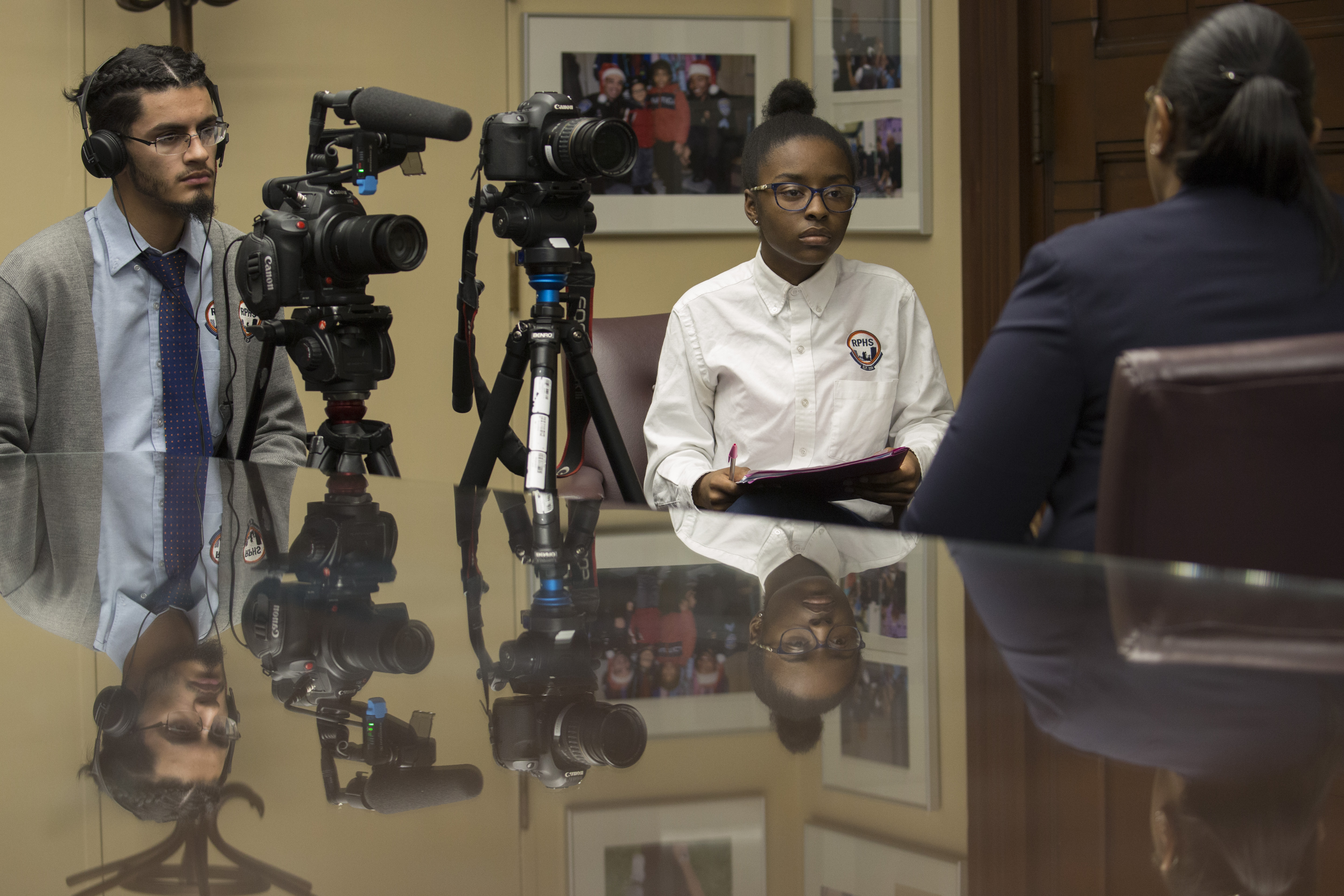 This year marks a major milestone for three of the students: "Our first capstones were in the fall of 2017, the first year that Rochester Prep had seniors. Seven RPHS students participated, and of these, three ended up enrolling at RIT, one in photojournalism, one in medical illustration and one in business. All three will be graduating this year."
The students are Justice Marbury (Photojournalism); Ismael Cortes (SCOB) and Zaid Abdulsalam (Medical Illustration).
Like the students, Mayberry is now looking beyond RIT when she officially retires in June. She has a number of writing projects in mind, but she'll spend the summer reading, gardening, playing golf. She says, "Just reminding myself what summer vacation feels like. That will probably last a couple of weeks."
And what will she miss about RIT?
"Much of what I will miss has already been lost through the pandemic: close relationships with colleagues, working out in the gym, engaging with students. With all of us working from home and connecting through Zoom, we have been acutely solitary. Now that I'm back on campus, I don't feel as if we've yet reverted to the pre-pandemic environment. Sadly, I will be retired by the time we do hit this stride again."
Many of her close connections developed through her years of work with the President's Commission on Women, a group whose main charge is to advise the president on improving the campus experience for women and increasing their enrollment.
As a long- time leader at RIT, what advice does she have for other women who want to succeed professionally?
"A couple of years ago, Margaret Bailey and I ran five focus groups of undergraduate women students. One question we asked each group was 'What has kept you at RIT?' The answer in all five groups was 'other women.' I think the same is true for faculty and staff; we need other women to succeed and thrive, to work from our true selves. On those rare occasions when I have been part of a group of women who have come together for other than professional reasons, I am dazzled by how good it feels."
Keith Jenkins, vice president and associate provost for Diversity and Inclusion says, ""RIT is a richer place because of the many contributions of Dr. Katherine (Kit) Mayberry. With her well-earned transition to retirement, Kit, who has served under four university presidents, takes with her a goldmine of institutional knowledge. We are all the better for Kit passing through RIT during her professional journey." 
Mayberry's last day at RIT will be June 30th.