DDI Staff Highlights | November 2017
Newsletter November 2017
DDI Staff Highlights
Congratulations to Dr. Keith Jenkins as the newly appointed Vice President & Associate Provost for Diversity & Inclusion! Since coming to RIT in 1992, Dr. Jenkins has served as RIT Faculty-in-Residence (1993 – 1995), RIT's first Assistant Provost for Diversity (1999 – 2002), Director of Undergraduate Degree Programs in the School of Communication (2011 – 2016), and Interim Vice President and Associate Provost, Division of Diversity & Inclusion (2016 – 2017). He was also privileged to establish RIT's Multicultural Center for Academic Success and the School of Communication's Journalism Degree program.
Jenkins is the recipient of many awards. Among the RIT awards are the 2010 Eisenhart Award for Outstanding Teaching, the 2005 Isaac L. Jordan Pluralism Award, the 2004 RIT Diversity Trailblazer Award, the 1993-94 Provost's Excellence in Teaching Award, the 1996 and 1997 Higher Education Opportunity Program "Community Professor" awards which recognize a professor who has made a difference in the lives of HEOP students at RIT, and NTID's (National Technical Institute for the Deaf) 1995 Pluralism Award.
Let's welcome Kareem Hayes as the new Director for Upward Bound Classic and JoVonna Victor as the Assistant Director. Kareem joins the Division of Diversity and Inclusion with lots of enthusiasm, vision and intentionality to work with youth at the Leadership Academy for Young Men in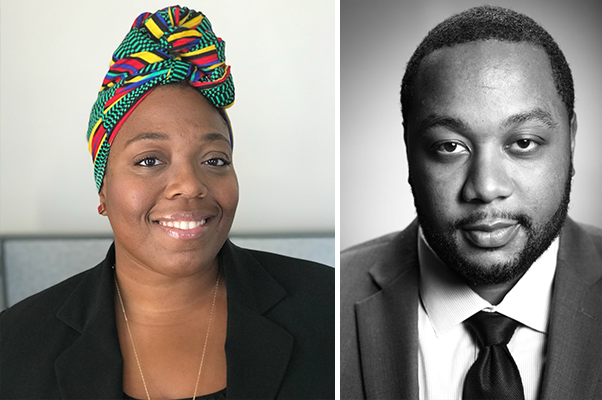 Rochester. Previously, Kareem was Director to the Science Technology Entry Program at RIT. Kareem is very passionate about youth development and has devoted himself to developing the leaders of tomorrow.
JoVonna always seeks to build relationships first and through those relationships teach our youth how to advocate for their goals at Greece Olympia High School in Greece. Previously, JoVonna worked for The Urban League of Rochester's YouthBuild Program, where she directly served as a resource to young adults embarking on a career in the construction industry.
We congratulate all of the nominees for the 2017 Staff Presidential Awards, highlighting the outstanding and committed members from the Division of Diversity & Inclusion at RIT! Elizabeth Bremer, Bernadette Lynch, Devon Watters, Tomicka Wagstaff, Michael D'Arcangelo, and Belinda Bryce.