RIT continues Native American Heritage Month Celebrations | November 2017
Newsletter November 2017
RIT continues Native American Heritage Month Celebrations
On November 1st, RIT students, staff and faculty gathered to kick-off Native American Heritage Month (NAHM). The first event, organized by RIT's Native American Student Association, chapter of the American Indian Science & Engineering Society, Future Stewards Program (FSP) and the RIT/NTID Student Life Team, shared resources on Native American languages, interactive weaving activities, food and music.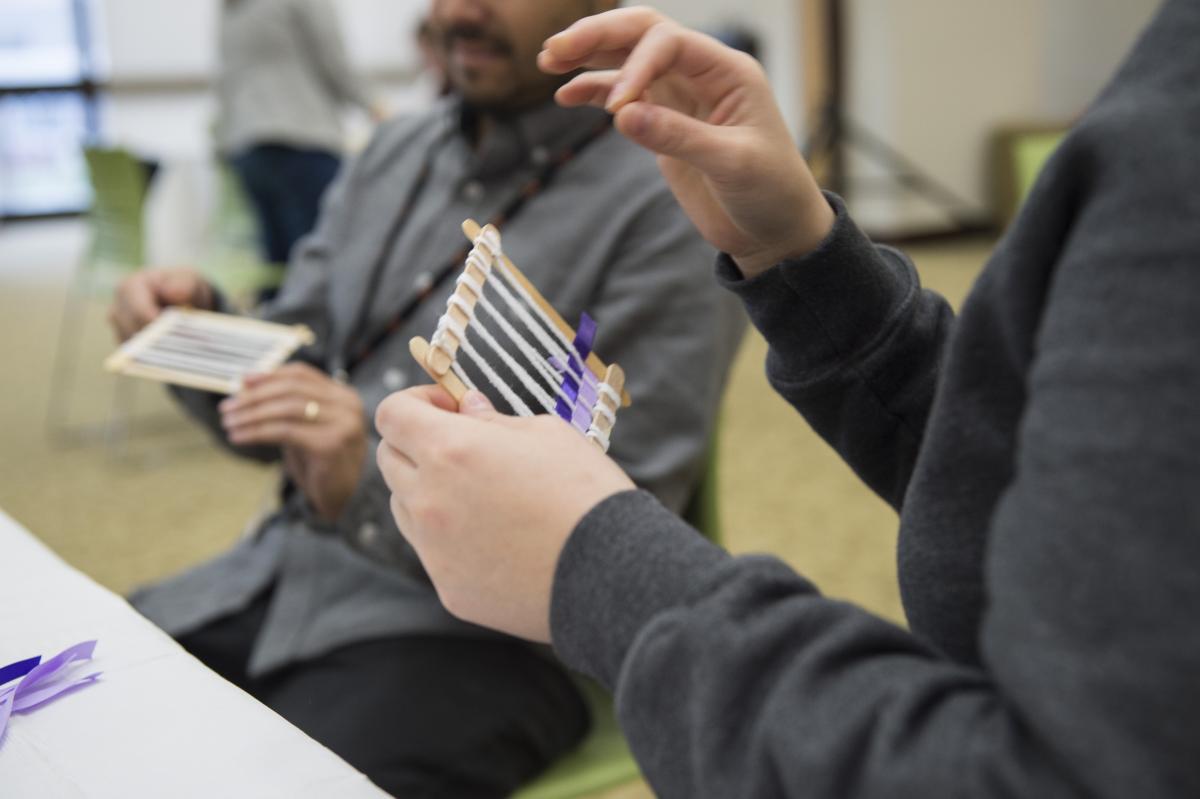 RIT students, faculty and staff also participated in commemoration activities associated with the Canandaigua Treaty. This annual day of events takes place on November 11th and starts with a walk from the Canandaigua primary school to the courthouse and ends with Iroquois social dancing. The Treaty of Canandaigua, facilitated by Quaker representatives, was signed by 59 sachems and war chiefs of the Six Nations (Haudenosaunee) and Col. Timothy Pickering, official agent for President George Washington, on Nov. 11, 1794. Each year representatives from all three constituencies gather to recognize the continued peace and friendship that exists between the Six Nations Confederacy and the United States.
Education empowers us all when individual communities are able to share their knowledge and experiences to a wider audience. Join us as we host talks by RIT's own Jane Doctor (Nov. 15) and visual storyteller Matika Wilbur (Nov. 30th). Both events are free and open to the public.
Reflect and Laugh with Jane Doctor
Jane Doctor (Wolf Clan, Tonawanda Band of Seneca) is a senior technician at the National Technical Institute for the Deaf (NTID) and serves as the assistant director of tribal education for NTID and FSP. In her talk titled "Just Passing Through" in the Student Development Center from 11:30 a.m. to 1p.m. on Wednesday, November 15th she will reflect on her 24-year career at RIT and share the lessons she has learned along the way.
Explore Photography with NAHM Keynote Speaker Matika Wilbur
Visualize what a photo portrait says about you. Imagine that pictures have long been used to show that you and your community are fading into the past and only part of America's history. Renowned photographer, Matika Wilbur (Swinomish and Tulalip) has set on a quest "To Change the Way We See Native America." Through Project 562, named after the number of federally recognized tribal nations when the project began, Matika works to respectfully engage with individuals from Native American nations across the United States to convey the vibrancy of their present.
Matika's work is distinguished because it brings forth a mindfulness of the untold stories of America's First Peoples and shares the diversity of the contemporary Native American experience. She communicates stories of hope and the legacy of innumerable treacherous events intended to assimilate Native American people. Matika uniquely shows the connectedness within Indian Country, demonstrates how Native Americans shape history daily and challenges stereotypical representations to help refresh the national conversation about Native America and combat the long-lived false narrative of the vanishing Indian. Matika Wilbur is RIT's Keynote speaker for Native American Heritage Month. Her, November 30th, talk begins at 4 p.m. in James E. Booth Hall's University Gallery.