Faculty Perspective from Dr. Reginald Rogers | November 2018
Newsletter November 2018
Faculty Perspective from Dr. Reginald Rogers
One professor's experience in college has helped shape how he approaches teaching differently at RIT.  Dr. Reginald Rogers prefers his students to call him 'Reg.' His candid-nature offers students with a real-world atmosphere from the beginning.
As an alumnus of MIT, Rogers knows "the rigorous expectations, the competitiveness and the pressure to perform, are difficult to manage in college, but not impossible to overcome," he explains. After graduating MIT with his BS in chemical engineering, he worked at Proctor and Gamble. He gained important industry experience working on teams and felt professionally accomplished, but also felt a void.
Teaching Differently
After reflecting on his strengths, Rogers decided his "passion was on the educational aspect, the creativity, and engaging the imagination."
Rogers returned to college, earned his MS from Northeastern University and his doctorate from the University of Michigan, both in chemical engineering. While at Northeastern University, he worked as a teaching assistant. "My passion for teaching and engaging with the students came to life," Rogers affirmed.
"I discovered my passion for teaching, working as a swim instructor and coach at a YMCA pool. I worked with people of all ages, from infants to adults, teaching them the basics on how to swim," Rogers said. As a young adult, teaching challenged him and opened his mind to teach others, despite their reluctance and resistance.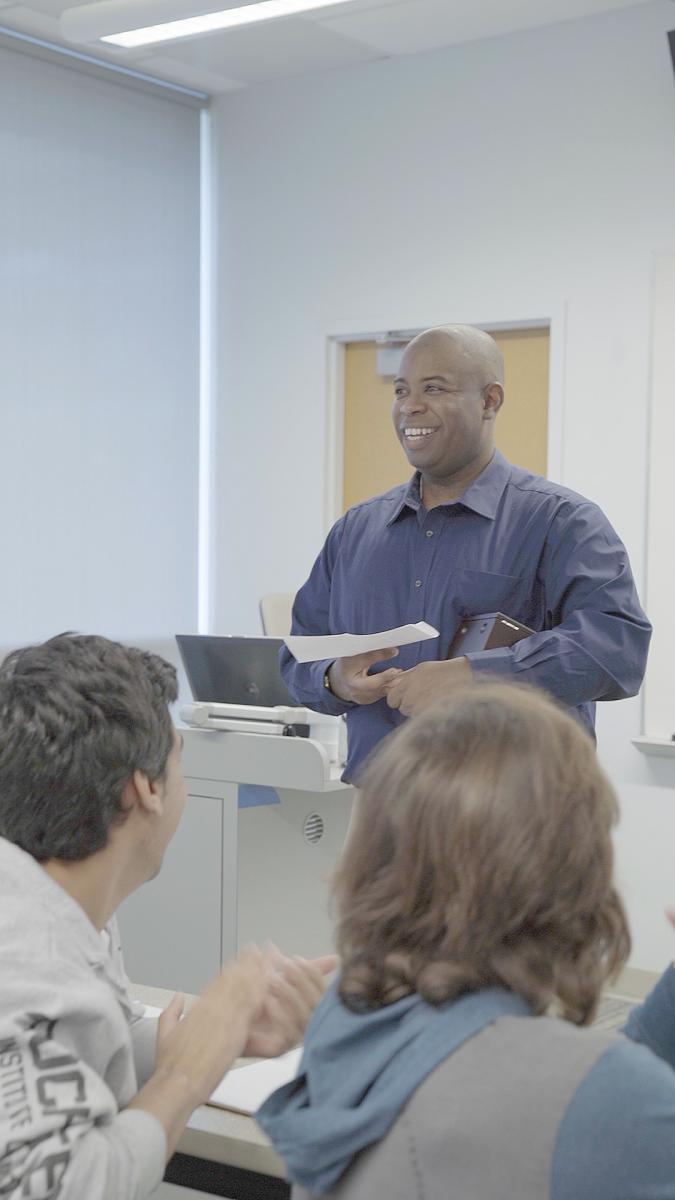 Although Rogers always had a desire to teach, he did not know what steps or path could lead his teaching career aspiration to reality. In 2009, Rogers participated in the RIT Future Faculty Career Exploration Program where he took advantage of networking opportunities and found renewed hope to reach his career aspiration. In 2010, he joined RIT as a post-doctoral fellow with the newly formed department of chemical and biomedical engineering at the Kate Gleason College of Engineering. Rogers was uniquely positioned to engage in teaching, research, and service. During 2012, he transitioned to a tenure-track Assistant Professor position. April 2018, Rogers was awarded tenure and promoted to Associate Professor.
His teaching approach focuses on a philosophy of healthy inquisitiveness while preparing students for the unexpected. Rogers is no stranger to dealing with the unexpected, after overcoming a life-threatening event himself. He learned the precious meaning of life and how to persevere under excruciating circumstances. Now, Rogers can leverage his experience to connect with his students authentically. He learned to reframe doubt and battling self-defeat, firsthand, and achieve what others merely dismissed as impossible.
Rogers' vision to engage with more students at RIT, led him to create a five-part series, called "Adventures in RIT" in partnership with the Multicultural Center for Academic Success (MCAS). Ultimately, this series focuses on supporting students as they navigate their college experience. Spanning a variety of topics, from being a newbie on campus to branding themselves, remaining steadfast during adversity, crossing the finish-line and exploring the legacy students can build.
Mentoring students, firsthand
As a mentor to his students, he focuses on helping them discover their passion–beyond the technical–to prepare them for a successful professional life. He wants to help his students understand there is more to life than getting grades. It is not always about how smart you are or what you accomplished in isolation, but how well you can work with people in the workplace.
"My goal is to help students beyond the textbook, beyond the fundamentals, so they understand there is more to life. By creating a balanced environment in the classroom, students can learn the technical know-how and how to translate that knowledge to practical skills. Students need to be engaged and challenged because the 'answer' to a problem isn't always obvious. Teaching students how to apply their knowledge, listen effectively, use a commonsense approach toward solutions." Rogers explained.
One student shared how he was positively impacted, both personally and academically by Dr. Rogers and this is his story.