Prepping for Anderson Cooper
Written by Janet Lomax about her experience.
The email came in June.
It was from the Rochester Institute of Technology.
Plans were underway to have CNN'S Anderson Cooper as the keynote speaker for Brick City Homecoming & Family Weekend in October.
Cooper would prefer to be interviewed rather than give a speech. Would I agree to be the interviewer?
Anderson Cooper is the anchor of CNN's Anderson Cooper 360 and a correspondent for the CBS program 60 Minutes.
Although I've retired after 40 years as a broadcast journalist, I'm still very much a news junkie and I tune into Cooper's weeknight show often.
I've never met him. I only know of him what I see on air.
The interview, in October, was a little over three months away.
Plenty of time to prep and that means research, research, research.
Three months to prepare for Anderson Cooper.  I didn't feel pressure-- this wasn't my first rodeo but I knew I needed to get to work.
Cooper has written two books. Dispatches from the Edge focuses on his professional journey as a correspondent covering everything from hurricanes and tsunamis to the war in Iraq.  The Rainbow Comes and Goes written with his mother, Gloria Vanderbilt, is a series of correspondence between a mother and son.
I headed to my local library in early July and checked the books out. I held onto them so long I maxed out the library policy's renewal system and ended up purchasing the books.
That was a good move because I'd placed so many sticky notes with my own observations in them, I knew I would need my own copies.
I read his books and continued to watch his shows, but now I was viewing him in a different way. I needed to see what made him tick.
I wanted the audience at RIT to see that too.
September, one month to go.
It was time to start thinking of questions. I gathered all of my little my sticky notes marking certain passages in his books and went to work.
Heading into an interview, you need to have a general idea what you want others to get out of it.
You will adjust and tweak your questions right up until the actual interview and you must always be flexible so you can go with the flow of the conversation.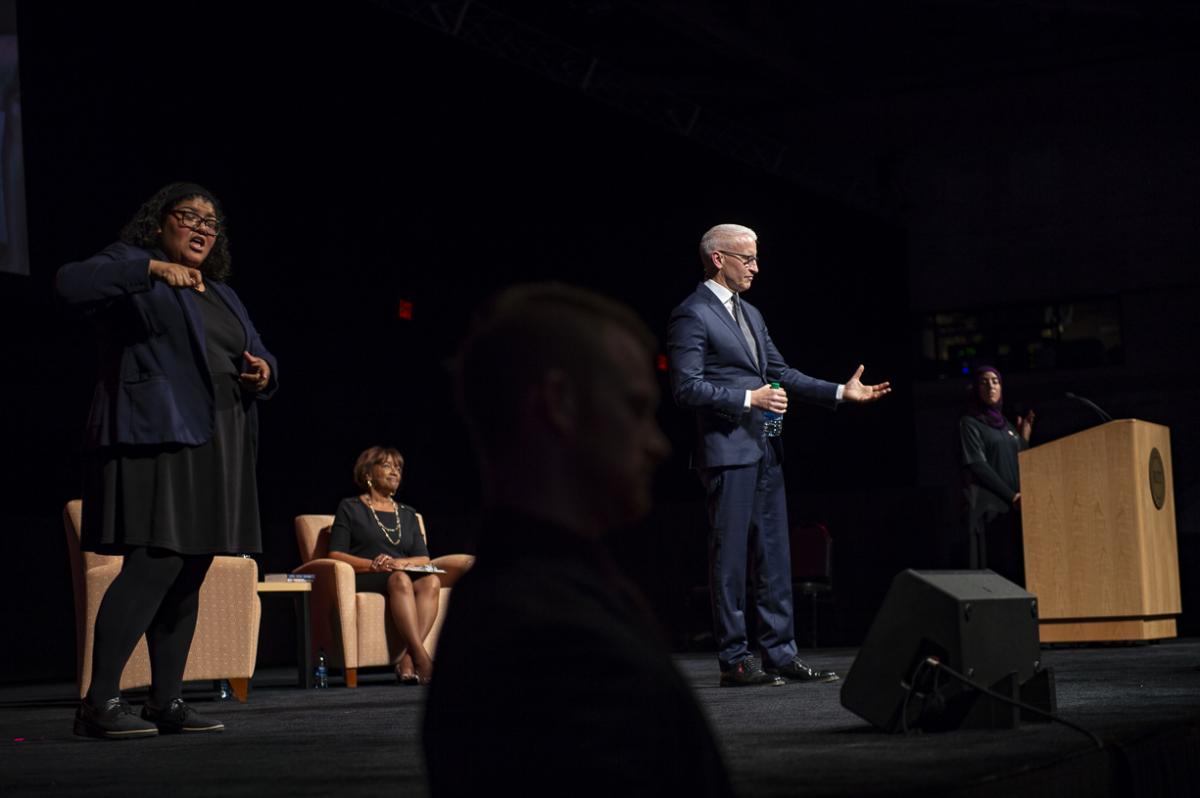 When writing your questions, you want to remember who your audience is. In this case, students, families, RIT alumni and the greater Rochester community.
Organize your questions in a way that helps tell the story. Jumping from subject to subject can be confusing not only for the audience, but for the person being interviewed.
October 19, 2019.
I'm told more than 4,200 people came to hear Anderson Cooper at RIT.
I found him to be warm, engaging truthful and funny. From comments I've received afterwards, many others felt the same way.
He is a great speaker and storyteller.
Thanks to the research I'd done, it was easy to gently steer him back to certain topics when needed.
We had a good conversation and that's the goal.