"A Powerhouse of a Portrait"- RIT Grad's Artwork Now on Permanent Display | November 2021
Newsletter November 2021
"A Powerhouse of a Portrait"- RIT Grad's Artwork Now on Permanent Display
Growing up in Rochester, Unique Fair-Smith has visited the Memorial Art Gallery since he was a child.
It's always been a favorite spot for the artist.
From now on when he visits, he will be able to see one of his own paintings The Eclectic Man on permanent display there.
Fair-Smith is a Destler /Johnson Rochester City Scholar, a Davitt Scholar and graduated from RIT in 2021 with an MFA. He is a full-time Fine Artist, and a teacher at the Flower City Art Center. He is also the recipient of the Print Club of Rochester's BIPOC residency.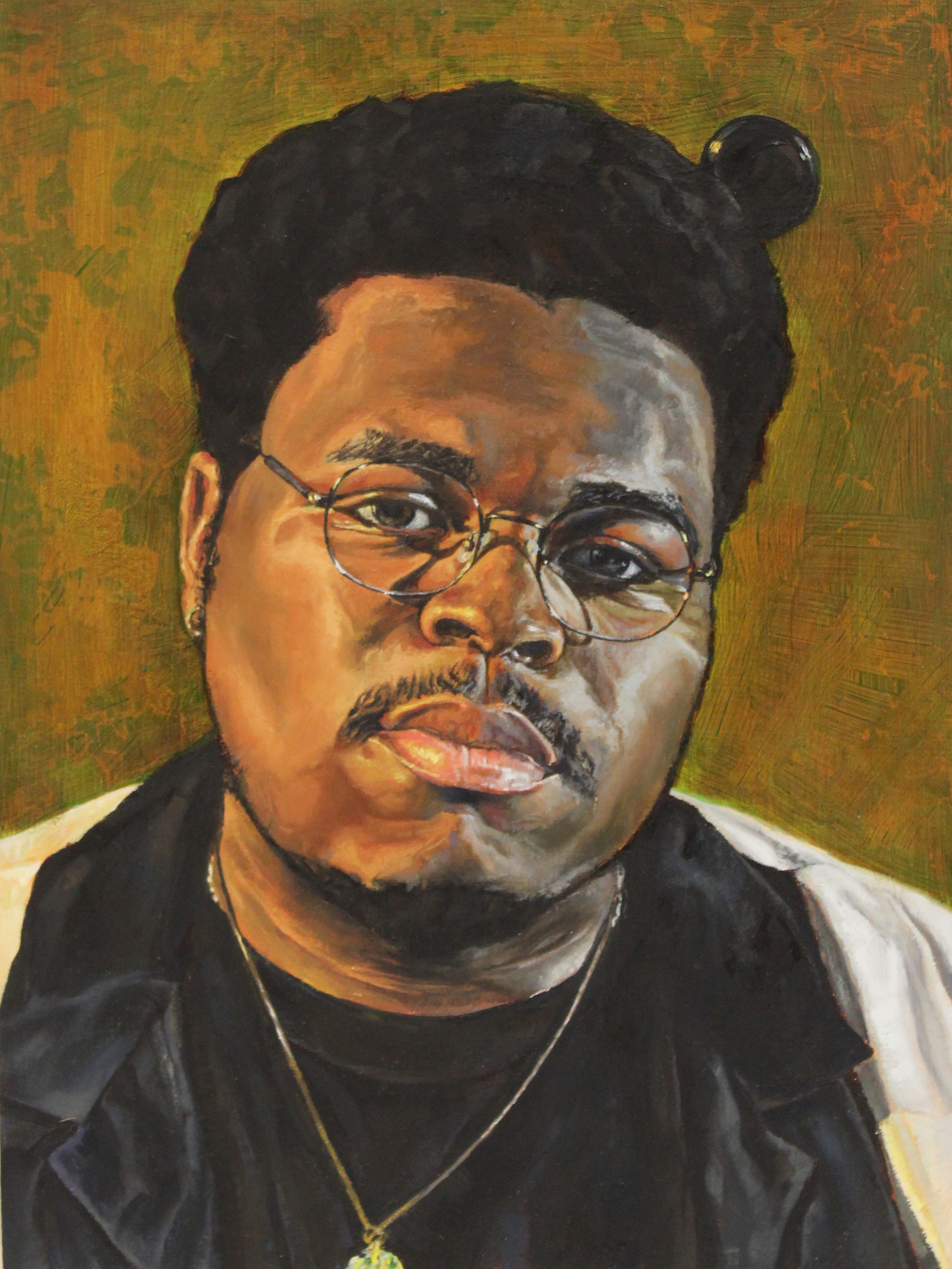 The Eclectic Man is one of two pieces the MAG selected to be a part of the 67th Rochester Finger Lakes Exhibition in October. The museum was impressed and purchased The Eclectic Man for its permanent exhibition. Fair-Smith says the experience is profoundly moving for him.
"The gallery's collection has always inspired my work and challenged me to expand my skill set, so to now have work within their permanent collection means the world to me."
Jessica Marten is Curator in Charge/Curator of American Art at the MAG.  She says, "Unique's painting The Eclectic Man is a powerhouse of a portrait – he captures a great potency and presence in a very small image. This acquisition will add to MAG's growing strength in contemporary portraiture by artists like Mickalene Thomas, Andy Warhol, and Kehinde Wiley."
You've heard the saying "art is in the eye of the beholder". Fair-Smith says his work seeks to depict people on their own terms, and not those projected onto them by circumstance. And The Eclectic Man?
"This portrait of my friend Jordan Whiteside-Johnson captures his dynamic nature, and places him within the canon of fine art in a way that has not always been allowed to communities of color. I hope other people can see this work and feel empowered, my message is that people like Jordan are present, noteworthy, and powerful."
The Eclectic Man is now one of over 13,000 objects in the permanent collection at the MAG.