Education as a Journey of Transformation | October 2017
Newsletter October 2017
Education as a Journey of Transformation
In the voice of G. Peter Jemison (Heron Clan, Seneca) Historic Site Manager, Ganondagan State Historic Site
---
Many times, we find ourselves in difficult circumstances where we are faced with a crossroads. The reasons abound when it comes to conflict, it can be the choices we make, life changing circumstances, experiences that trigger a traumatic emotion or we weren't prepared to deal with such a travesty.
I've had the privilege of being educated, telling the stories of the voiceless, sharing the stories of my ancestors—who've suffered--and teach others about our history, our shared history. In our communities, at the reservation and for many generations, an "education" was a journey of steadfast assimilation to the Whiteman. This assimilation was painted as picturesque, but instead was brutal, plagued with false truths that hurt our nations, dismantled our families and tore at the core of our people. Being "educated" then, left our people in an abyss, questioning where they belonged or who'd accept them. I don't want people to forget what has happened or how it happened and who it harmed, but I've been privileged to grow and find connections to people and schools that taught me the power of transformation.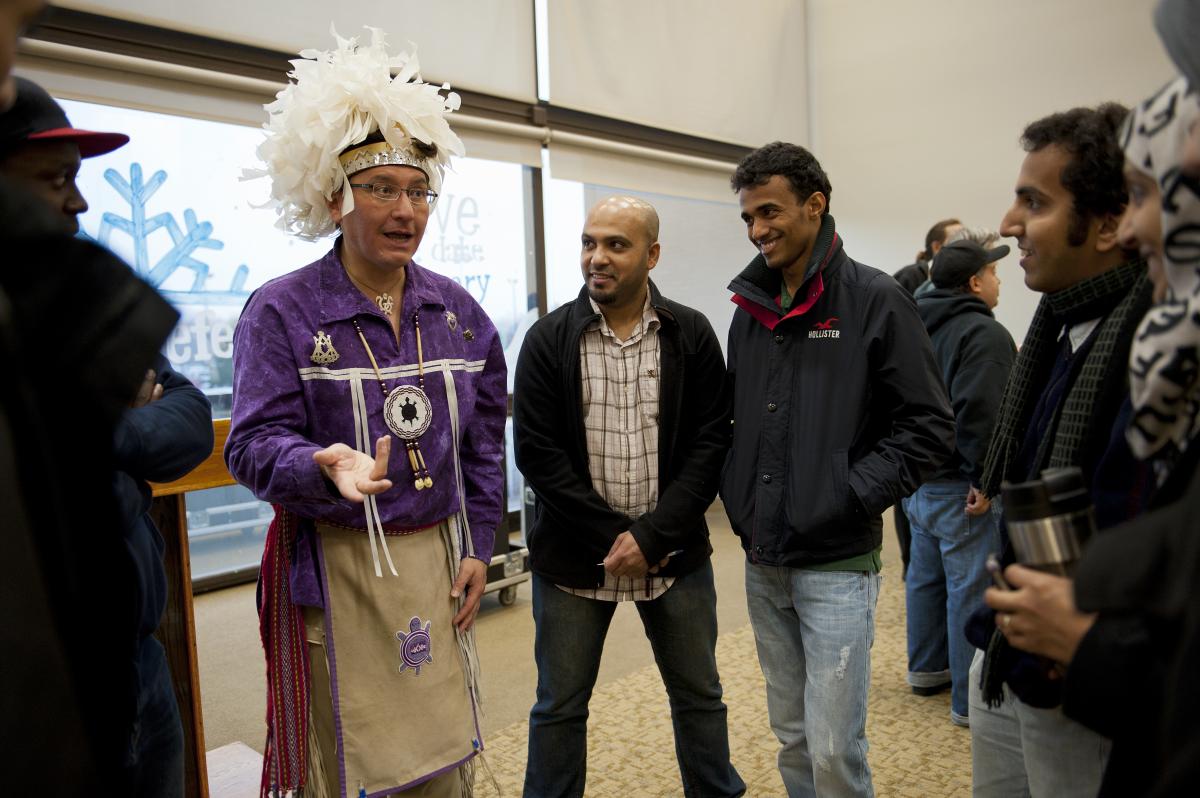 At RIT, I've witnessed the transformation of our students and faculty through the relationships we have in our communities and on campus. I see how they developed a language symposium, earned degrees in the STEM fields, created careers where they use art to heal, become entrepreneurs and study abroad. These types of transformations, don't happen by chance, they happen when people are invested in helping each other to find their purpose, their passion, their drive. Supporting our students and faculty, throughout this educational journey is key to our continued success, because there are always bumps in the road, but it's how we respond that can make a world of a difference.
Today, people in business use words like strategy, alliance, partnerships and networks to hook a reader or bring attention to a collaboration, but many of these words describe how we create community. These words describe how we touch people's lives, bring positive changes and much needed renovation and mindfulness. Institutions are more often cold, impersonal and uncomfortable than cozy. We, as people, must prioritize the importance of the relationships we build to advocate, support and listen to our impressionable students and bridge them to a journey towards success. RIT has offered me a place to help students build community, discover their heritage and see how an education can fortify our nations, of course with wise guidance.
I am keenly aware that each of us has a purpose and I've been taught this by my family and my nation.  I had to learn to look beyond what is right in front of me and see the potential in people, in relationships and how we can expand our reach by working to transform institutions into beacons of hope to teach, grow and build our future.  I was fortunate to be part of the founders to develop the future steward initiative on the RIT campus.  We saw it as an important link, where the students, the institution and our people can build on our strengths, have a reciprocal relationship. If and when other institutions, take on this invaluable investment, they'll transform their culture for the betterment of people's lives and enable us to build a more purpose driven world.