Future Faculty Career Exploration Program (FFCEP) hosts 12 prospective faculty | October 2019
Newsletter October 2019
Future Faculty Career Exploration Program (FFCEP) hosts 12 prospective faculty
The Office of Faculty Diversity and Recruitment, in partnership with RIT's academic colleges, were thrilled to host 12 prospective faculty for the 2019 Future Faculty Career Exploration Program (FFCEP) held September 26-28 at RIT. "After a rigiours nationwide search, which yielded an acceptance rate of less than ten perfect, we were very pleased to welcome this years cohort to campus. Embodying a wide-range of disciplines, talents, and universities, our 2019 cohort represented some of the best minds in America," said Dr. Donathan Brown, Assistant Provost and Assistant Vice President for Faculty Diversity and Recruitment.
FFCEP, initiated in 2003 by RIT, is nationally recognized as a best practice for recruiting talented diverse faculty. By inviting and hosting scholars to campus to experience a behind the scences glimpse into life as a faculty member, RIT's commitment to inclusive excellence continues to exist as a national model. Since its inaugural class, the FFCEP has had nearly 350 participants with 22 RIT faculty hires.
During their time on campus, all FFCEP participants shared their research with students, staff and faculty. Among the presenters were:
Karime Castillo, is a doctoral candidate at the University of California Los Angeles (UCLA) Cotsen Institute of Archaeology. She received her B.A. in Archaeology from Universidad de las Américas Puebla, Mexico. She holds an M.A. in Artefact Studies from the Institute of Archaeology, University College London, and an M.A. in Archaeology from UCLA. Castillo's research interests include the social and economic organization of Mesoamerica under the Spanish colonial regime; more specifically, aspects of production, technology, and labor in colonial Mexico, with complementary interests in consumption and early globalization.
Dr. Latifa Jackson, an Adjunct Assistant Professor at Hwoard University. Jackson received her B.S. in Cell/Molecular Biology and Genetics, and a B.A. in French Langiage and Literature, both from the University of Maryland at College Park. She received her M.S. in Ecology and Evolutionary Biology from the University of Arizona, and completed her Ph.D. in Biomedical Science, with a focus on bioinformatics, from the School of Biomedical Engineering, Science and Health Systems at Drexel University. During Dr. Jackson's dissertation research, she developed a novel computational algorithm for identifying functional candidate disease alleles for dopamine, opioid and alcohol addictions.
A special dinner reception was held for the FFCEP participants at Liberty Hill on September 27th.  The cohort had the opportunity to meet President Munson, several deans and senior administrators, many RIT faculty along with community leaders. The RIT Provost's Office and Office of Faculty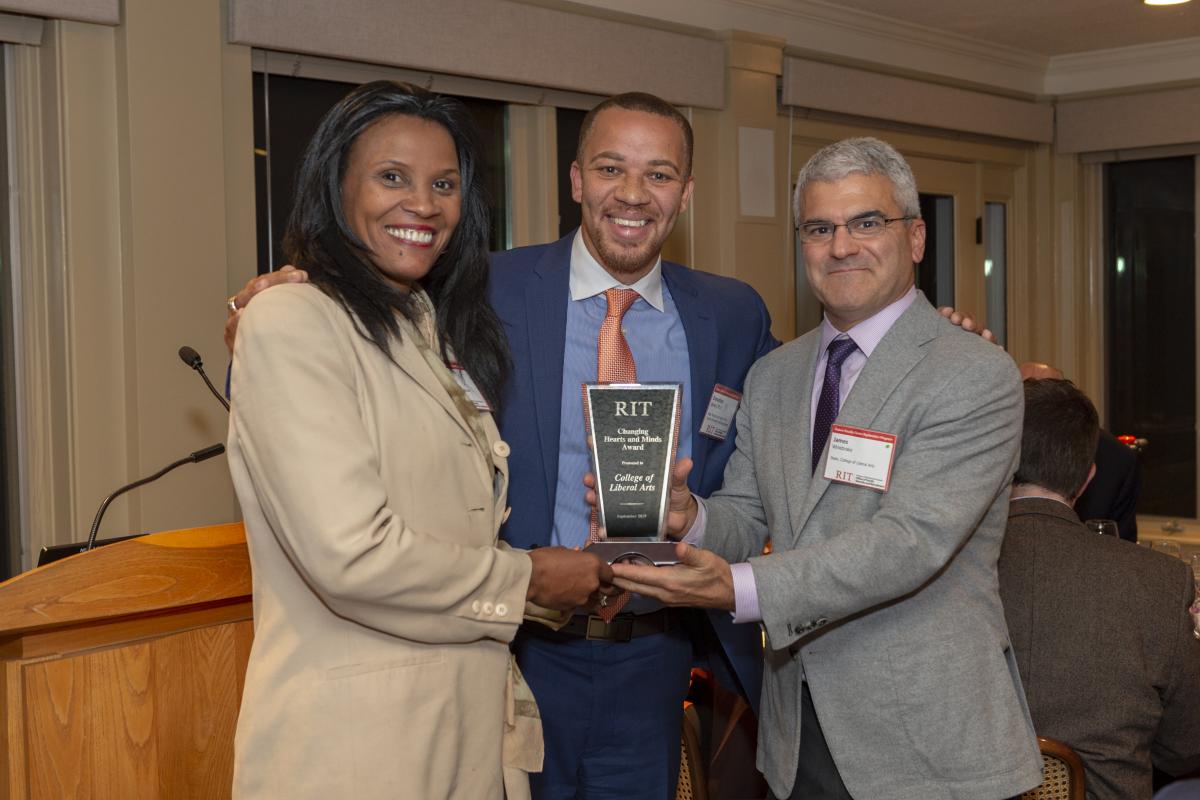 Diversity and Recruitment recognized the College of Liberal Arts with the 2019 Changing Hearts and Minds award. This award is given to recognize the college's efforts toward furthering the university's commitment to diversity, specifically by enhancing diversity among the faculty ranks.
Dean Winebreake shared, "This award recognizes the efforts put forward by so many people in our college, from associate deans, to search committees, to department chairs, to faculty mentors, to allies — frankly, to all our faculty and staff — who work every day to uphold our core values of diversity and inclusion."