RIT's CSTEP joins the DDI Family | September 2017
Newsletter September 2017
RIT's CSTEP joins the DDI Family
We warmly welcome RIT's Collegiate Science & Technology Entry Program (CSTEP) to RIT's Division for Diversity and Inclusion (DDI) family. Both Jennifer and Yulanda are committed and passionate about serving RIT students and the Greater Rochester community, too.
RIT's CSTEP works directly with historically underrepresented and/or economically disadvantaged undergraduate and graduate students to help them reach the aspirations of both their educational and vocational goals. Our primary focus with "CSTEP is to equalize the playing field by offering students access to opportunities and encourage them to participate to the fullest extend during their college journey," explained Weil.
Another focus in our work is to "increase the number of students from under-represented groups who are pursuing professional licensure and careers in mathematics, science, technology and health-related fields" explained Weil. Most recently there is "a critical need in our communities to provide vital services to enhance our daily quality of life," she concluded.
While CSTEP students are encouraged to take advantage of the full range of services and opportunities at RIT, this program offers a number of additional activities to benefit students including; tutoring, textbooks, research funds, professional development activities, workshops and travel funds.
If you'd like more information of the program requirements or to complete an application, visit: https://www.rit.edu/diversity/cstep/apply or please email cstep@rit.edu
---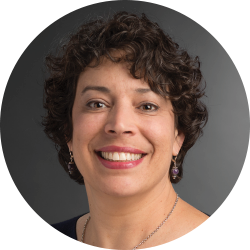 A couple FUN facts about Jennifer!
What's something different or quirky about you? "You'll find me with a bag of yarn and knitting needles during a meeting, it helps me memorize what's going on and knowing what I need to know."
What's your favorite dessert? "I'm a purist, Vanilla Crème Brulee."
What's your spirit animal? "Dogs are my spirit aninal. Students are always welcomed to our office, but if you want to meet Lucy, our CSTEP therapy dog is in our office on Wednesdays. She is very friendly and enjoys visitors."
Where do you enjoy volunteering? "I've been a Big Sister for Big Brother and Big Sister of Rochester for over 20 years!"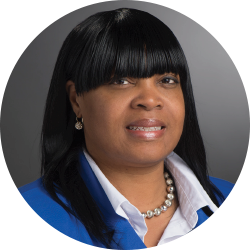 A couple FUN facts about Yulanda!
What's unique about you that people wouldn't know by looking at you? "I have a twin brother."
What's your favorite hobby? "I enjoy writing. I'm currently working on a graphic novel and have experience as a journalist (with local newspapers, etc.)."
What's your favorite dessert? "Strawberry shortcake, but my favorite is black forest cake!"
Any other hobbies? "I enjoy movies and the entire 'movie experience' and a good debate."