A Chat with Alesia Allen, New Director of Diversity and Inclusion at NTID | September 2020
Newsletter September 2020
A Chat with Alesia Allen, New Director of Diversity and Inclusion at NTID
Allen started in this role July 1. Her vision is shaped by her own personal journey
What do you want to accomplish in your new role as Director of Diversity and Inclusion at Rochester Institute of Technology's National Technical Institute for the Deaf?
I recognized that I am starting this role during a unique time in history (i.e. COVID19, BLM, etc) where we are hungry for change. I look forward to being a part of the change. I also look forward to building relationships, establishing trust, and collaborating with all parts of NTID and to continue to foster the link and partnership with RIT and Rochester community. While forming relationships, I hope to understand areas in need of improvements and see where gaps need to be filled. I'd like to see more BIPOC Deaf/HH faculty and staff and to see programs like NTID Program in Academia (NFPA) and other similar programs grow. Finally, I look forward to joining the administration in reviewing systems that may be bias and dismantle systems that exclude. 
How do you think your experiences as a student at NTID will help you as Director of DDI at NTID?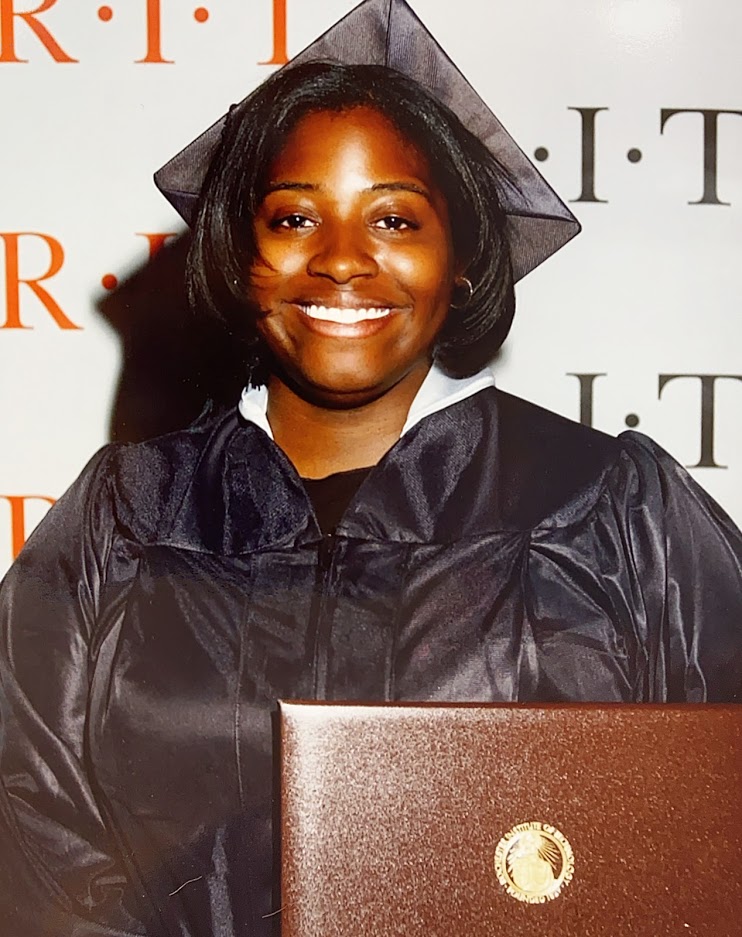 I attended NTID/RIT in 1999 and graduated with a B.S. in Psychology in 2004. I owe all five years to helping me shape the person I am today. I believe it during was my experience here at RIT that I discovered myself and became comfortable with my identity within the Deaf community. I developed confidence in being a Black woman simply by meeting others like myself. Seeing Deaf/HH adults being successful was something I have not seen and it was a bonus if it were a person of color. Additionally, it was a powerful time beginning to understand the importance of becoming culturally aware of others who were different from me. My spirit is always inclusive by nature and the rich exposure given during my college years allowed me to appreciate diversity among us. One of my most memorable experiences is working for Student Life Team as a paraprofessional. The team I worked for was called Educators Fostering Friendship Ethnicity Culture and Teamwork (EFFECT) and part of my responsibility was to address concerns in AALANA Deaf and hard-of-hearing students and find ways to advocate for our rights. This was my first formal job in diversity and inclusion and never would have imagined that I would make a full circle in returning to RIT in this current role.  
When we think of diversity and inclusion issues--are there any unique things people of color who are deaf or hard-of-hearing experience that people in general may not be aware of?
In addition to systematic oppression experienced by many people of color, a Deaf/HH individual who is also BIPOC may experience many things not being accessible. Often additional strain in ensuring that American Sign Language (ASL) interpreters are available to provide access. While ADA protects and allow for many things to be accessible, many private events, informal last minute gatherings, or BIPOC events may not always cover costs of interpreters. We may have to depend on volunteers and pray they are well trained.  Additionally, not all media outlets are closed captioned. Nowadays with many individuals using social media to express ideas and going on platforms like Facebook Live, we may not have access. Seeing BIPOC individuals who are Deaf and hard-of-hearing receive PhDs and excel in academia is still uncharted territory. We are often pioneers paving the way, dealing with systems to have access, and because so few of us, paying a huge minority tax on top of doing our roles. 
In a Rochester Bridges to the Doctorate seminar you shared that your dissertation looked at the issue of satisfaction of life, a sense of belonging and self-esteem. Do you plan to utilize your findings in your new role, and if so, how?
In almost 20 years of professional experience, one thing that seems to be consistent in all of my work is that everyone wants to be heard and feel like they belong. Personal experiences also reinforced this idea. It is important in this work as DDI that individuals feel like they belong or that they are a part of something. My research results showed that hard-of-hearing college students at NTID who are satisfied with life typically have resources and competencies to navigate the world. Additionally, sense of connection to a community (Deaf or hearing community) seems to strongly predict satisfaction with life.  
Before I share how I'll utilize these results I need to tell a story! I made a point to focus on hard-of-hearing individuals because they are often overlooked and misunderstood and typically lumped together with Deaf people when they navigate the world differently than a Deaf individual. I was curious because I personally identified as hard-of-hearing and forever exploring my identity within Deaf community. When I collected data at the end of the semester in 2017 in the spring and I hoped to get 50 participants, I ended up getting over 180 subjects and had to shut down data collection. Students were grateful to participate in my study and after completing it thanked me for validating their experiences. They were thrilled to have typical experiences unique to hard-of-hearing individuals on paper. In short…students were heard, felt like they belong (meeting other hard-of-hearing students), and now did not feel alone. This was a profound experience for me and it is my hope that all students, faculty, and staff at both NTID and RIT feel like they belong and heard. 
So…I hope to create more opportunities for the "unsung" groups like Deaf-Blind, gender neutral, or other groups to get together and know they aren't alone. I am also hoping through the NFPA program that is under my office to attract more BIPOC faculty so that students can begin identifying with folks that look like them in hopes to reaffirm that they belong at RIT. Additionally, programs like NFPA or opportunities to gather with others who are different, will allow for us to share resources and develop skills to navigate the world. I personally believe there are many different ways to achieve an "end goal" and it is critical for everyone to do what works for them. Finally, I hope to utilize safe space that Gerry Buckley graciously set aside at NTID for faculty and staff and students from diverse backgrounds to come together and live their authentic self freely. 
DDI fosters a sense of "family" for students. You have shared how important your own family has been in your development. Give us an example.
My family is very important in my development. My mother is truly my role model. She is a woman who attempted to navigate the field of engineering but it was so brutally oppressive to Black women during the late 60s and early 70s.  She used her love for working with people and chose the field of liberal arts and got a B.S. degree and her masters' degree. She went on to work with individuals with developmental disabilities and worked her way to the top becoming a director of the center. I saw her be the only Black woman in many of these settings and she is my biggest supporter.  She also exposed me to different things and encouraged learning and trying new things which I believe truly expanded my love and curiosity of different people. I am forever grateful for my mother. My father instilled my faith and keeps me spiritually grounded. I appreciate my siblings for accepting me for who I was and not thinking any less of me. I believe my sense of belonging in my family allowed me to truly take risks and seek out resources to navigate this world.  
Just for fun questions:
What do you think people might be surprised to learn about you?
I played alto saxophone for about 10 years and was in the marching band from 8th grade until I graduated high school. 
What's on your personal bucket list?
My grandparents went to Hawaii for their honeymoon and few more times after. I always enjoyed seeing their pictures and seeing them have a ball at the different islands. I would like to have a similar experience and go to a luau and learn the hula dance. 
Favorite ways to spend "down time".
What down time? I have a 3-year-old daughter that keeps me on my toes and she's adorable…but when I do have that small window of time, I enjoy watching documentaries about celebrities, and old sitcoms like Golden Girls, The Jeffersons, Sanford & Son, Martin, Fresh Prince of Belair, A Different World, to name a few. 
Favorite thing to do in Rochester?
I am absolutely upset that COVID19 ruin this opportunity, but I enjoy going to the Food Truck Rodeo that happens once a month from May to September or October! Sooo many different foods to pick from and I enjoy going to Rochester Public Market on the weekends. 
You are from Columbus, Ohio the corporate home of White Castle Hamburgers. Fans are called "Cravers."  Are you in that fan club?
White Castle is my FAVORITE!! The small little sandwiches and crinkle fries! MMMMM! I also must have Waffle House. They have one on every block in Columbus! Yep…a big craver and I LOVE TO EAT! Anytime you need an eating partner, or want to try a new restaurant call me. I eat just about everything but cannot get on the vegan train too much.  I much rather eat salad and regular fruits and veggies before eating a "substitute". Ha!