Meet Perry Ground – The 2021-2022 Minett Professor | September 2021
Newsletter September 2021
Meet Perry Ground – The 2021-2022 Minett Professor
Above all else, Perry Ground is a proud dad. And with a daughter, Kayleigh, who is a student athlete at RIT, he wanted to make sure it was ok with her first, before he accepted the appointment as the newest RIT Minett Professor. After all, they will both be on campus. He didn't want to invade her sense of space.
It's a good thing for all of us that she said yes. Ground is a Native American Storyteller, whose work is steeped in the history of the Haudenosaunee.  He has worked with several museums including the Iroquois Museum (Howes Cave, NY), Shako:wi Cultural Center (Oneida Nation), Sainte Marie Among the Iroquois (now called Sken:on Great Law of Peace Center in Liverpool, NY), and the Children's Museum of Houston (Houston, TX). For more than a dozen years, Ground was the Project Coordinator for the Native American Resource Center in the Rochester City School District. He has been telling his traditional stories at schools, parks, museums and festivals since his college days.
Congratulations on your selection as the 2021-2022 Minett Professor. How do you feel about this appointment?
I'm incredibly honored to be nominated and selected to be the Minett Professor at RIT for 2021-2022. Being only the second Native American to hold this position is very powerful and encourages me to help pave the way for more Native People to be part of the RIT community. This is an incredible opportunity to teach students from around the world more about the Haudenosaunee and bring that history and culture to life for everyone at RIT.
What will be your area of concentration? What do you hope to share with students, faculty and staff?
My focus will be on the history and culture of the Haudenosaunee (sometimes called Iroquois), the Native American people of NY State, and how we are a living, dynamic community. Connecting students, faculty and staff with the stories, arts, dances, and games of the indigenous people who have long inhabited the land that RIT resides on is an awesome responsibility. I hope to host several special events on campus to showcase this living culture as well as teach classes that will examine the stories handed down through many generations.
I am sure there is a sense of pride as a member of the Turtle Clan of the Onondaga Nation.  How did you learn about your own history?
Growing up in Niagara Falls, I was removed from many of the traditions of the Onondaga Nation. Visiting the territories of the Nations my parents are from (my Father is Seneca from the Tonawanda Reservation) exposed me to some elements of culture but it wasn't until I was in college that I became more interested in learning about the history of my tribe. Studying under professors like Dr. Robert Venables, Dr. Stephan Fadden, and Tribal Sub-Chief Ron LaFrance exposed me to the academic side of understanding the Haudenosaunee. But being at Cornell and having the support of the American Indian program, its staff, and students taught me about the personal connection to the aspects of our culture that were new to me. I continued that learning process in all the museums I've worked for as well as through my own family. It's a process that continues today.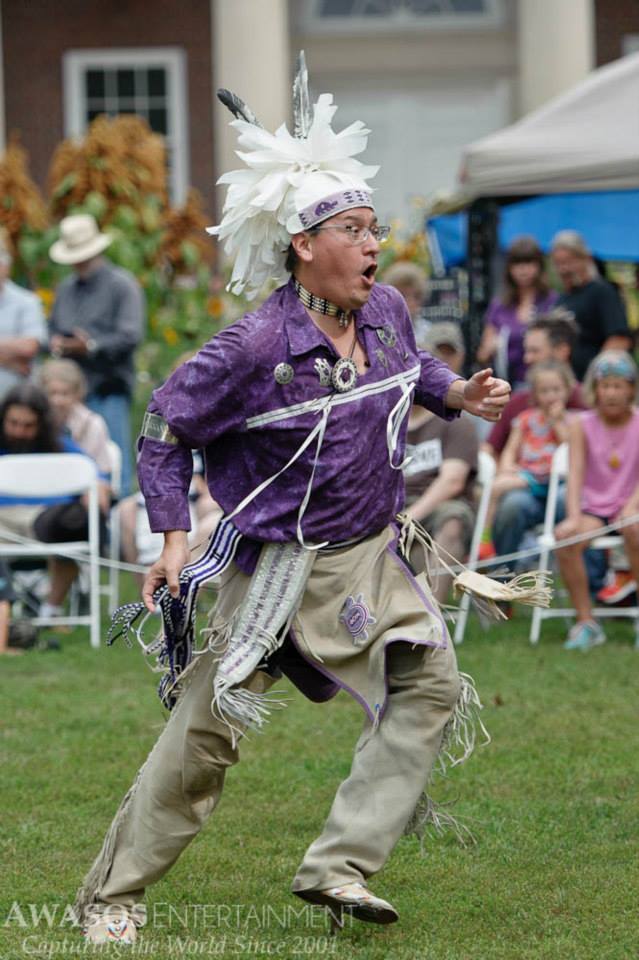 You now share that history through your unique storytelling. How long have you been doing this? What do you enjoy most about it?
I started telling stories when I was in college because I had the opportunity to work with some storytellers, both on campus and in my summer jobs. To me, stories are a positive, engaging and interactive way to teach about Native Americans. When I first started telling stories, many people taught about Native peoples with an "Us vs. Them" mentality which was something that I did not agree with. I wanted to find a way to be inclusive and positive so I started telling my stories that way. My style has developed into a high energy, interactive, engaging, fun, funny, and inclusive show that teaches important concepts and beliefs about the Haudenosaunee but in a positive way. My hope is that everyone that sees me perform goes away wanting to learn more about the Haudenosaunee.
What do you do when you aren't working?
Other than telling stories, my time is spent being a dad (although now she is a student at RIT) and being a lacrosse referee. I enjoy working with the youth leagues to help teach the game so there is a next generation of great players. In my "free" time, I write many of our traditional stories online [visit Talking Turtle Stories on FB] and have been working on a television screenplay, a movie script, and a trivia game. When I'm not working, I play with Buddy and Maggie (miniature goldendoodle and all-American mutt) who are my two 'adopted children'. But on Sundays, it's all football all day...Go Bills!!
Your daughter plays lacrosse at RIT. I am sure you are a proud dad.
Although I am very honored and excited to join the RIT community as Minett Professor, my proudest accomplishment is raising Kayleigh, my daughter, to be an outstanding student athlete at RIT. She is a starter on the lacrosse team, a Dean's List student, and resident of the "Fun House" with her teammates. She helps build a community for her team and works hard to make everyone around her better. I did need to ask her 'permission' to accept this position and she gets a little embarrassed when I talk about her so much but she is a great asset to the RIT community and I'm happy to join her on campus this year.