RIT alumni bond remains strong |
Newsletter
RIT alumni bond remains strong
Simply put: they love their alma mater.
Five RIT graduates recently got together for an event in Rochester and got the chance to reminisce about the good old days. They traveled from their homes in Virginia, New Jersey and Florida. The miles that separate them can't penetrate the strong bond they formed during their years at RIT in the early 1980's.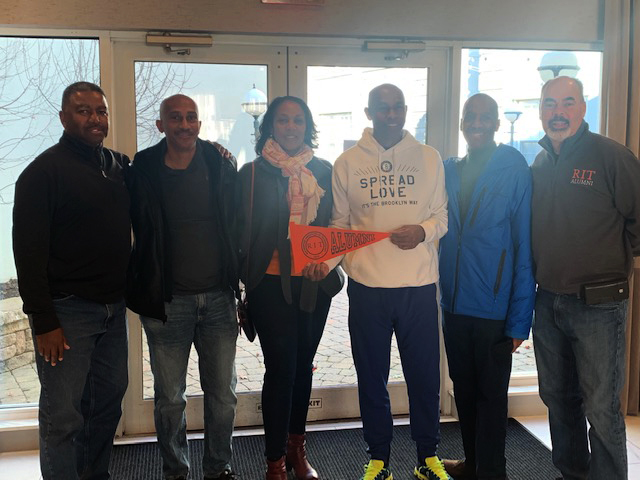 Franklyn Athias, '85 (computer science), Mike Avilez, '86 (computer tech – software science), David Benitez, '94 (finance), Tracy Saunders, '84 (accounting), and Ernest Wilson,'87, '90 (applied statistics) first met as in-coming freshmen. Four of them were part of RIT's Higher Education Opportunity Program (HEOP) Summer Bridge Program.
The way the story goes, two of them arrived, having learned how to code in high school. All five had an affinity for math and science and they banded together to help and encourage one another during their years at RIT. HEOP was a big part of it.
HEOP, the New York State Arthur O. Eve Higher Education Opportunity Program, provides a variety of support, from financial and academic to personal development to ensure the success of historically disadvantaged students who would otherwise be excluded from higher education at a private New York state college or university.
Ernest Wilson says, "I met my lifelong friends through HEOP. The summer program that HEOP provided helped us to establish relations and a support network to help each other get through RIT."
Mike Avilez added, "HEOP helped shape my RIT experience by teaching me rigorous study habits, preparing me for my class load, and introducing me to campus and college life. I have formed lifelong friendships with many of my fellow HEOP classmates, and they are genuinely family to me."
David Benitez, associate director of Community Initiatives, MCAS at RIT agrees.
"The kinship that occurred during the HEOP Summer Bridge program was transformational in adjusting to college and having the staff guidance necessary to survive the first year academically. HEOP provided the opportunity and expertise for me to make adjustments, after first semester difficulties and allowed me to learn and refocus to become a successful student and graduate. The student bonds created have been everlasting beyond the RIT academic experience to becoming lifelong family relationships among the HEOP students with our shared college experience."
There is no doubt these RIT alumni love their alma mater. They are some of its biggest cheerleaders. Take Franklyn Athias for instance.
The former chief technology officer and now senior vice president for Xfinity Mobile Retail Convergence, has not one, but two sons who are RIT graduates. Athias, by the way, has been named a 2021-2022 Distinguished Alumni Awardee/ Golisano College of Computing & Information Sciences.
Of course no trip back is complete without a tour of their old stomping grounds. Tracey Saunders, now a retired partner from PwC got a tour thanks to Leslie Wilson, associate director of Advancement at RIT. She says Saunders was "blown away" with the changes and new development. From the Quarter Mile and MAGIC Spell Studios to Global Village and Andrews Memorial Drive. That road didn't even make a complete loop around campus when Saunders was a student.
He said, "I was very impressed with the growth to date that has occurred with the campus from the time I attended RIT from 1980 to 1984. The way the new buildings have been placed around the campus footprint has made it feel more like a college community. I am looking forward to seeing the Student Hall for Exploration and Development (SHED) when the construction is completed. I believe it will help to take RIT to the next level."
It's a pretty good bet he and his four friends will want to come together again—just to experience that.