RIT co-op student helps to prepare the campus for fall reopening
Michael Guglielmo was instrumental in deploying safety measures including barriers in classrooms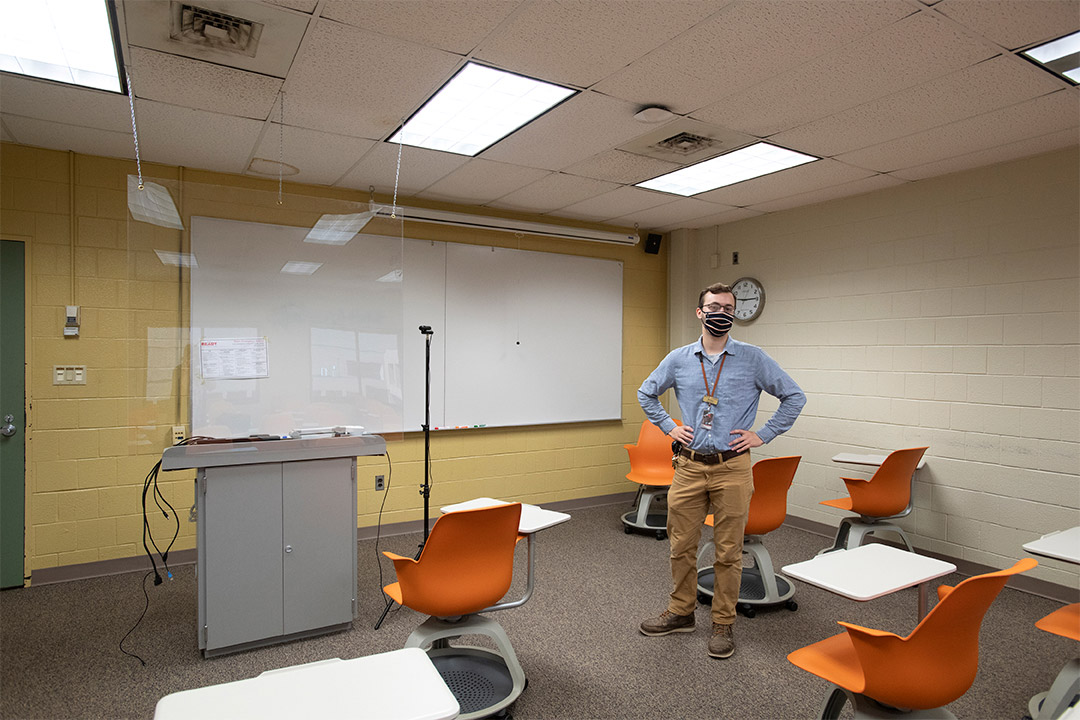 A. Sue Weisler
Michael Guglielmo never envisioned that he would spend a summer co-op helping his university prepare to fight off a pandemic. But the fifth-year student from Henrietta, N.Y., pursuing his BS in industrial engineering and ME in industrial and systems engineering helped put measures in place that will make everyone who sets foot on campus this fall safer.
While on co-op with RIT Facility Management Services (FMS) this summer, Guglielmo has been instrumental in several projects, including deploying barriers across campus that help prevent transmitting respiratory droplets as well as reducing touchpoints in bathrooms. Over the summer, he had to scope out nearly 1,000 spaces and 500 restrooms on campus to assess what changes needed to be made, develop prototypes, work with end users to meet their needs, supervise contractors installing products, and in some cases manufacture barriers himself.
"He has been absolutely key in the deployment of the plastic barriers we have installed in classrooms, reception areas, service desk areas and other college teaching spaces," said Dave Harris, director of building operation and maintenance for FMS. "He's been doing that alongside some full-time employees here and he's more than carried his share."
Guglielmo said that what he learned in the classroom about prototyping and iterative design were a huge help when figuring out the best solution for tabletop barriers in reception and service desk areas. He realized that FMS had sheets of polycarbonate used for the classroom barriers that could be easily formed, so he designed and prototyped several different tabletop barriers that could be used in other spaces. By creating tabletop barriers in-house instead of purchasing them, he helped the university save about $20,000 and avoid shipping delays that would have taken three-to-five weeks. By the start of the fall semester, RIT will have deployed ceiling-hung barriers in 491 spaces on campus and tabletop barriers in 94 spaces.
Guglielmo said that he learned a lot in this co-op and ultimately hopes to pursue a career in facilities management and planning. He said he feels glad he could contribute to making the campus safer, and that ultimately he feels the measures being put in place will make a difference.
"I'm a student and I have skin in the game because I'm going to be sitting in these classrooms in the fall," said Guglielmo. "A lot of work has gone into making sure classrooms and everywhere on campus is as safe of an environment as we can physically provide."