RIT develops SpiRIT Pass to ease entry into public events
Voluntary pass shows vaccination compliance status on your phone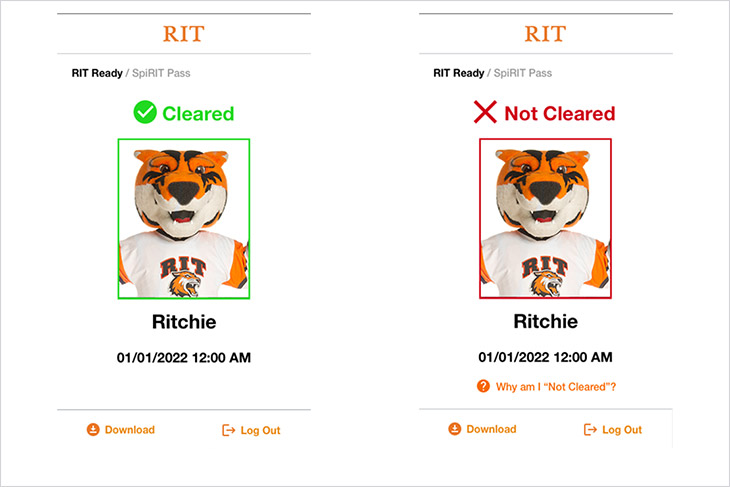 Entering Friday's hockey game or another large, public event held on the Rochester Institute of Technology campus will become easier with the use of SpiRIT Pass, which quickly shows whether the user is compliant with RIT's vaccine requirements.
Updated RIT guidelines, effective Jan. 3, require attendees of any public indoor event on campus with 400 or more people (or at least 150 if food will be available) to be vaccinated. That requires someone at the entrance clearing them once they provide their vaccination card or a New York State Excelsior Pass, which is an electronic clearance but currently only available to New York residents.
"The SpiRIT Pass will allow current RIT students, faculty, and staff easy access to events where vaccination compliance is required," said Melinda Ward, RIT's executive director for Risk Management and Insurance. "To help facilitate quick entry into these events, RIT community members can display their SpiRIT Pass, which uses their embedded photo ID to show if they are cleared."
The pass is available to all currently active students, faculty, and staff, including those with approved medical or religious exemptions.
To use it, follow the instructions on the SpiRIT Pass website. It is optional, free, and available to all current RIT students, faculty, and staff.
Nearly all RIT students, faculty, and staff have been vaccinated against COVID-19 with few exceptions. SpiRIT Pass uses the vaccine mandate compliance status of students, faculty, and staff already reported to determine clearance. No health information is being stored on the SpiRIT Pass.
Caitlin Nairn, project manager for SpiRIT Pass, and her team from RIT's Information and Technology Services, developed the pass.
Members of the public and those without the SpiRIT Pass will still be required to show their vaccination card (original hard copy, photocopy, digital copy including scanned image, PDF, or digital photograph),  or New York State Excelsior Pass, and photo identification for entry.