Dozens of RIT students opt for community service for spring break
Students helped restore hiking trails, restore marshlands, build houses, and address food insecurity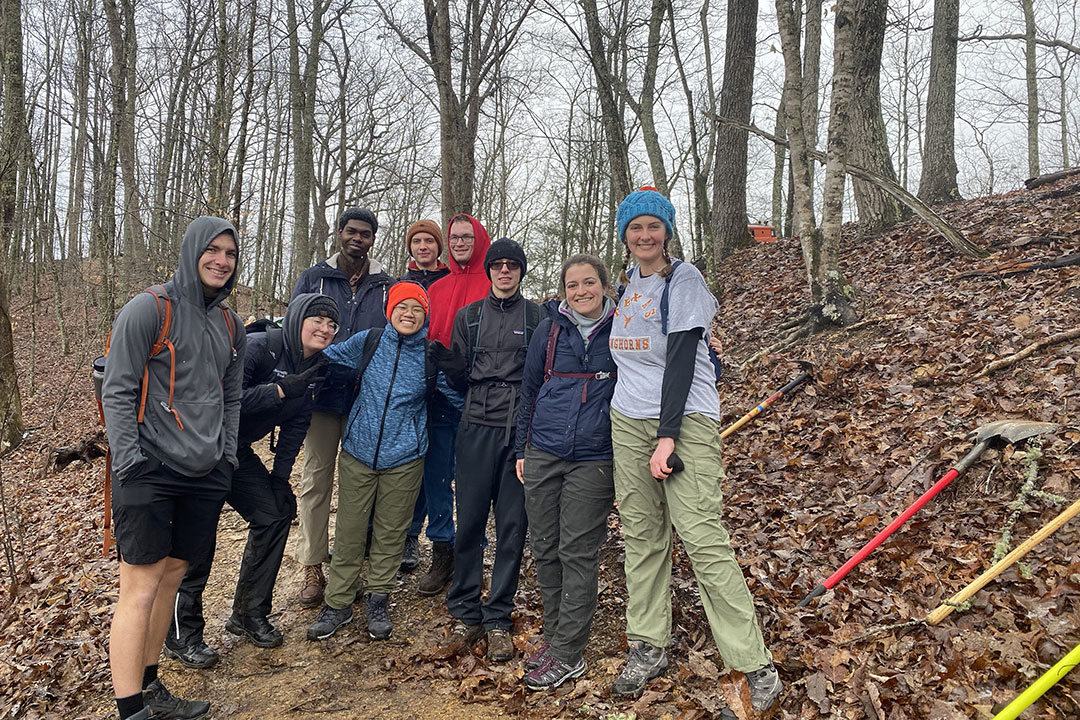 Aisha Faiq spent her spring break in New Orleans, but it wasn't to rest and relax.
Instead, the third-year global business management major was one of seven Rochester Institute of Technology students who volunteered to help restore wetlands in a bayou and state park there, which Hurricane Katrina ravished in 2005.
"It was an amazing trip," said Faiq, of Arkadelphia, Ark. The team navigated a canal and bayou with kayaks to help plant grasses.
They were one of five groups from RIT that spent their spring break partnering with a community agency that determined what work needed to be done in their communities:
New Orleans, La.: Common Ground Relief, focusing on wetlands preservation and disaster prevention.
Wheeling, W.Va.: Grow Ohio Valley, focusing on food justice.
Newland, N.C.: Habitat for Humanity, focusing on equitable housing.
James River State Park and Hungry Mother State Park, Va.: American Hiking Society, focusing on protected land policy.
A total of 45 RIT students participated.
"We commend these students for choosing to volunteer their time during spring break in the pursuit of the greater good. In total, RIT students completed an estimated total of 1,000 hours of direct service  and spent dedicated time learning alongside local leaders," said Bill St. Jean, associate director of RIT's Center for Leadership and Civic Engagement, which has been coordinating these alternative break trips since 2005.
During their trip, Faiq said her team learned about Hurricane Katrina and the history of the Lower Ninth Ward in New Orleans.
"We talked about wetland restoration and how important the wetlands are to New Orleans and the rest of the water lands of the U.S.," she said. "We planted marsh grasses called bulrush in the bayou to help restore the wetlands to non-invasive plant species, and we planted different trees in a state park to help restore old sugarcane fields."
Onvida Serixay, a first-year computer engineering technology major from Buffalo, was on the team in Hungry Mother State Park in Virginia, helping maintain hiking trails with the American Hiking Society.
"I was just excited to be able to do something different," Serixay said. "We built bike trails alongside park rangers and members from the AmeriCorps program. I really wanted to try out a hiking trip since I've never been on one before."
Serixay said spending more time outdoors appealed to her.
"I've spent a lot of time indoors over the past few years, which has pushed me away from loving the outdoors," she said. "So taking my chances, I applied for the alternative break program. It has also brought me another opportunity to spend my spring break volunteering with the RIT community."
While helping build trails was memorable, she said being with other RIT students was also rewarding.
"I will remember our game nights the most, because we got to learn more about each other and our vulnerabilities," she said. "That experience makes me smile from the competitive, exciting games we had."
Faiq also enjoyed her time with her fellow students.
"As a team, we went through so many frustrating and evolutionary experiences," Faiq said. "The people around me made me learn and get through so much. This trip served as an amazing intersection for me to do something fun and accessible during spring break and do some good. I loved getting to know New Orleans in the way I did. Not only did I see the French Quarter and other touristy parts, but I got to know the people and effects of Katrina. I built a personal connection to the culture and environments through this experience."
Serixay hopes every RIT student will consider spending a spring break doing community service somewhere.
"It helped me bond with new people from all different majors and experiences though the volunteer work we did," she said. "The program also brought my group to new communities that left a long-lasting impact on us as well as them."
Topics