FoodShare continues to help remedy food insecurity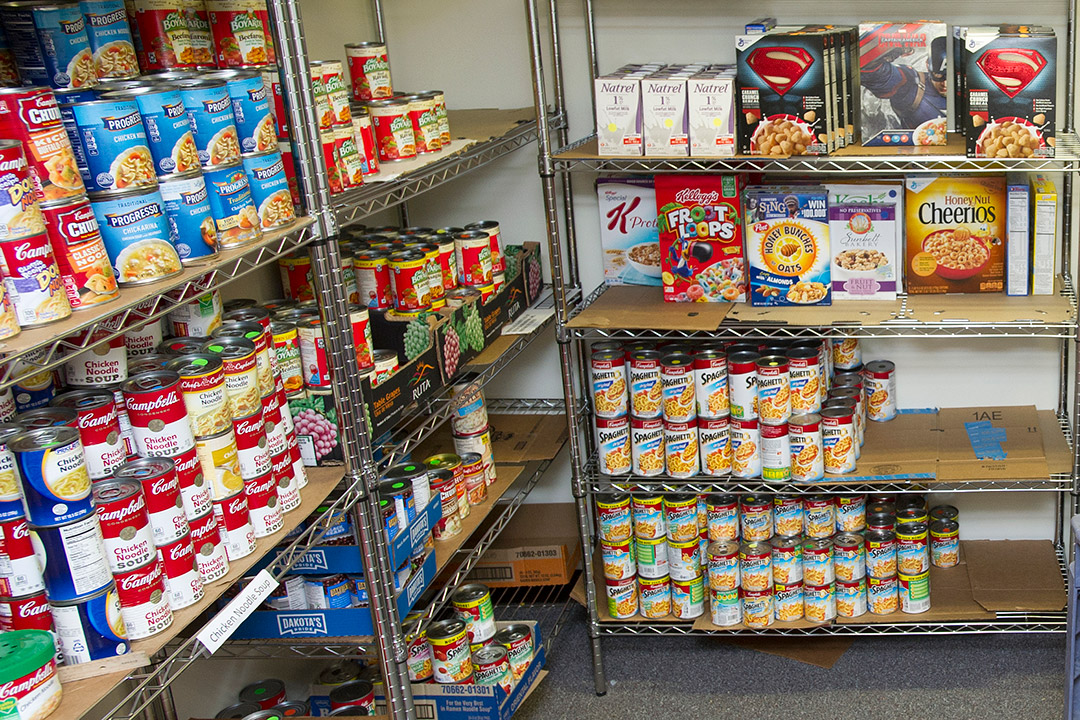 A. Sue Weisler
Even during the pandemic, the RIT FoodShare Center has continued to help the RIT community by offering free and nutritious food for RIT students, faculty, staff, or alumni in need.
FoodShare, at 113 Kimball Drive, in the Riverknoll complex next to the laundry room, had converted the way people can pick up food when the pandemic started. People needing food had to log into CampusGroups, view the inventory, and select what they wanted and when they'd like to pick their items up.
As of this week, the traditional grocery store model has resumed. Those who want food are welcomed to stop by the FoodShare Center on Tuesdays and Thursdays, from noon to 7 p.m., or Saturdays from noon to 5 p.m. and select up to five food items plus produce and bread.
Visitors may request food once per week and will not be asked about their need. However, in order to meet the immediate and basic needs of the community who are experiencing food insecurity, people who can afford to purchase food are urged to.
FoodShare is now managed by RIT's Center for Leadership and Civic Engagement. Staff from the center, as well as members from the RIT community, will participate in a fundraiser this weekend. On Saturday, the 5K East Avenue Grocery Run begins at 8:30 a.m. at Third Presbyterian Church, 4 Meigs St., with the $25 registration fee donated to RIT FoodShare. The first 100 people to register on the RIT FoodShare team will get a free face covering. A virtual run is also available. Sign-up for the RIT FoodShare Team is available online.
Established in 2015, FoodShare was intended to reduce food waste on campus and to provide RIT community members with access to safe and nutritious food. The number of visitors has grown each year, with more than 26,000 total visits made.
More than 1,000 unique visitors a year are now using the service. Nearly half of them use FoodShare only once or twice a year, while 21 percent of users visited 11 or more times a year.
Additional resources were added over the years, including providing recipes for more nutritious meals, maintaining a garden where fresh produce is grown and harvested, and housing Bern's Closet, a clothing closet for community members in need of professional clothes.
Food donations can be made Tuesdays, Thursdays, and Saturdays during normal operating hours. Those wishing to help may make a financial donation, donate goods through the Amazon wishlist, or participate in the Staff Council Drive this spring to help restock shelves. More than $8,000 has been donated to FoodShare from the Staff Council Drive since 2017.