Affiliate Spotlight: Stephen Jacobs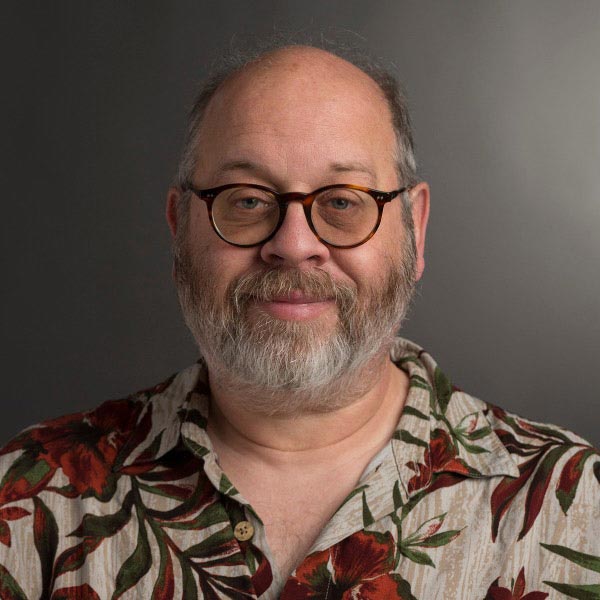 Stephen Jacobs is a professor with the School of Interactive Games and Media and an interdisciplinary scholar who works in several different areas that often overlap including courses in game design, interactive narrative, and Free and Open Source Software and Free Culture.
Jacobs led the effort to develop the RITx series of classes on Game Design offered by edX. Video Game Design History, the edX course he created with J.P. Dyson of The Strong National Museum of Play, was nominated for the X Prize, edX's student-led "Best Course of the Year" award.
Professor Jacobs also holds the position of Visiting Scholar at The Strong National Museum of Play. In this capacity, he has served on the design team of their exhibits, including eGameRevolution, the first permanent exhibit on the history of video games in the United States. Most recently, he has acted as the producer for The Original Mobile Games, an app with playable games on the history of pre-digital pocket games from The Strong's collections currently available on iOS and Android phones and tablets.
Professor Jacobs' most current research efforts are:
LibreCorps: a faculty-led, student-driven Open Source consultancy for Humanitarian Free and Open Source Software (HFOSS) projects and communities. It has connected students skilled in FOSS community building and production with organizations and projects like UNICEF Innovation, OpenAPS & Nightscout, e-NABLE, Sugar Labs and others. LibreCorps provides this support while building the next generation of HFOSS contributors and community managers. Most recently, LibreCorps has supported UNICEF Innovation's Magic Box project.
Conceptual Mismatches: Jacobs is PI on this qualitative research effort with Dr. Mel Chua funded as part of a joint solicitation by The Ford and Sloan Foundations for research into Digital Infrastructure. The research will begin an inquiry into how mismatched conceptualizations between maintainers and users of a FOSS digital infrastructure project interact to affect the community health and thus sustainability of such projects. This project is funded by the Ford Foundation.
World Around You: Jacobs is Co-PI with Dr. Christopher Kurz from the National Technical Institute for the Deaf on this literacy project for Deaf children that uses a FOSS back-end platform and Open Content signed storybooks and vocabulary re-inforcement games. The solicitation was led by World Visions with funding and other support from USAID, the Australian Government, The Nile DeMarco Foundation, and others.