RIT researchers contribute integrated photonics technology to develop new point-of-care system for diagnosing coronavirus
Work is part of a national project, sponsored by NIST and AIM Photonics, to help fight the pandemic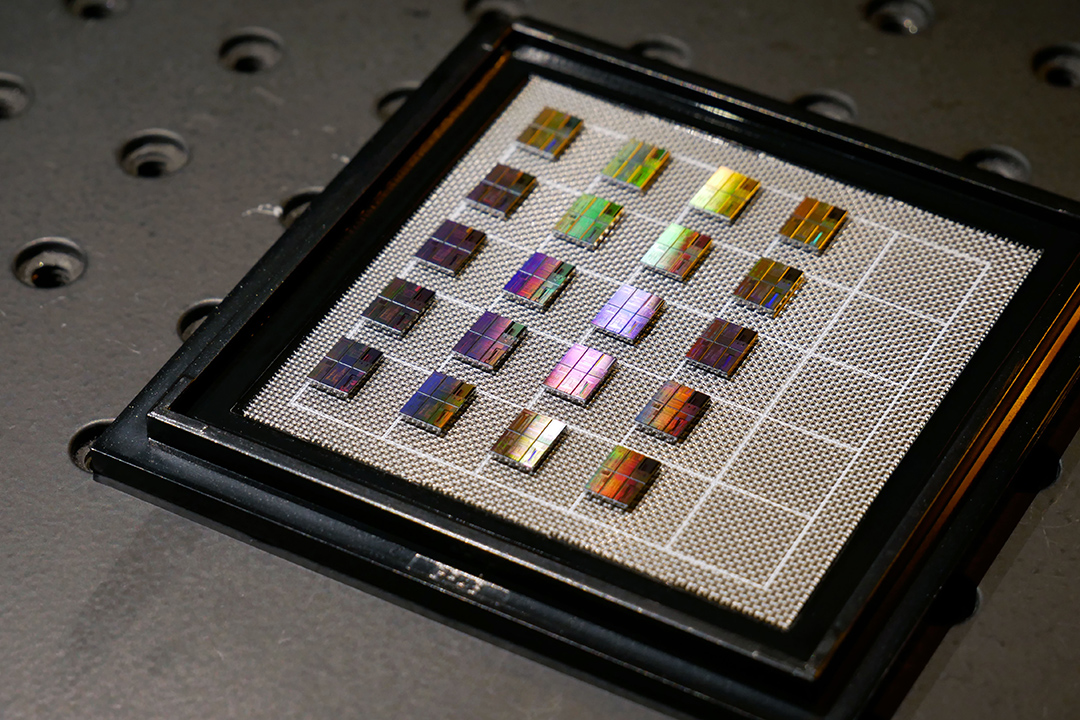 Researchers from Rochester Institute of Technology are part of a team creating a system to detect coronavirus antibodies in one minute.
RIT's team will develop the technology needed for a point-of-care diagnostics system built on integrated photonics. Capable of accurate detection of SARS-CoV-2 antibodies, the new system could reduce the need for expensive equipment and specialized expertise to better inform care decisions in underserved, resource-limited communities.
"Our expertise in integrated photonic chips and packaging will be leveraged to address the unique needs of point-of-care systems," said Stefan Preble, professor of electrical and microelectronic engineering in RIT's Kate Gleason College of Engineering. Preble will work with Dorin Patru, RIT professor of electrical engineering, and both faculty will develop the integrated photonic sensors that will be key for detecting coronavirus and other emerging viruses.
"Integrated photonics has traditionally been used for data centers and internet communications, but the low cost and impressive sensitivity of integrated photonic devices based on silicon chip manufacturing is showing promise to revolutionize health care," said Preble, who also serves as graduate program director of microsystems engineering.
RIT has been one of the lead universities in AIM Photonics since 2015, and provides both technology development and integration as well as workforce training. Preble has been instrumental in researching integrated photonic chips as part of RIT's Future Photonics Initiative and in developing as well as teaching a series of courses for AIM Photonics. The university has also led the development of integrated photonic packaging technologies that are being used at the AIM Photonics Test, Assembly and Packaging (TAP) facility in Rochester, N.Y.
The U.S. Department of Commerce's National Institute of Standards and Technology recently announced that more than $54 million would be distributed to 13 national project teams for research, development, and testbeds for pandemic response as part of the American Rescue Act.
AIM Photonics was awarded $5,273,779 as one of those key projects and is a sponsor of the regional work that will be based primarily at the University of Rochester Medical Center, with a portion of that funding provided to RIT's photonics researchers. The extensive project also involves collaborators from SUNY Polytechnic Institute, the University of California at Santa Barbara, the Naval Research Laboratory, Infinera, Spark Photonics, and Ortho-Clinical Diagnostics.
"We are confident that the principles that enable photonic biosensing for the clinical laboratory can also be applied to point-of-care diagnostics," said Ben Miller, professor of Dermatology, Biomedical Engineering, Biochemistry and Biophysics, Materials Science, and Optics at the University of Rochester Medical Center and principal investigator on the disposable point-of-care sensors project.
"Sensors are a critical technology in the developing photonics market," noted David Harame, chief operations officer of AIM Photonics. "Both projects will leverage and extend AIM Photonics' photonic sensor manufacturing and packaging capabilities to develop prototypes to help get these critical solutions to market as rapidly as possible."
Early and accessible diagnostics are key in combating the rapid advance of a new pathogen. Understanding who is infected, who among those infected is most likely to require hospitalization, who has successfully acquired immunity via vaccination or previous disease, and how new viral variants impact immunity are all critical components of a pandemic response strategy.
At the outset of the pandemic, AIM Photonics, working in collaboration with the academic community, the U.S. Department of Defense, and industrial laboratories responded to the urgent need by developing a new "disposable photonics" approach to coronavirus diagnostics. The system uses a tiny silicon nitride ring resonator photonic sensor chip paired with a plastic micropillar microfluidic card to passively process a human whole blood or serum sample, enabling a one-minute detection and quantification of SARS-CoV-2 antibodies with high sensitivity and specificity.
Topics