RIT GEAR UP celebrates Rochester Class of 2020
RIT K-12 University Center enters final year of readiness program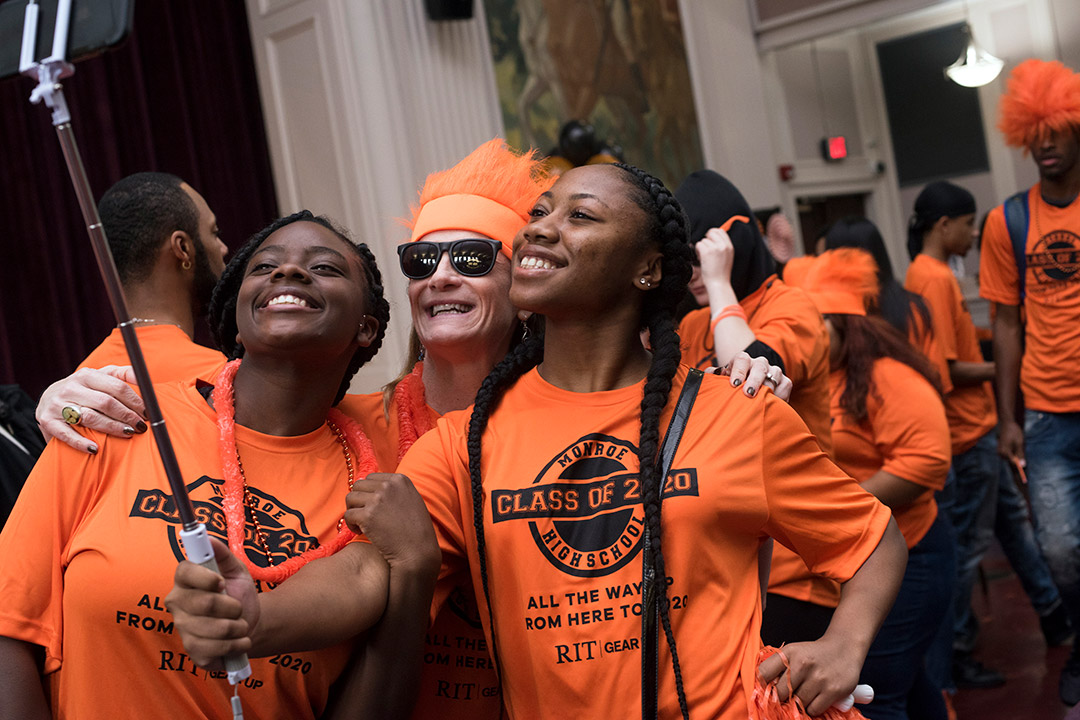 A. Sue Weisler
A special partnership between RIT and the Rochester City School District and charter schools has primed the Class of 2020 for success through a college and career readiness program that began six years ago, when the cohort was in middle school, and has now reached its culminating year.
GEAR UP­­­­—Gaining Early Awareness and Readiness for Undergraduate Programs—is a federally funded initiative administered through RIT's K-12 University Center to prepare students from underserved communities for college, the workforce or military service.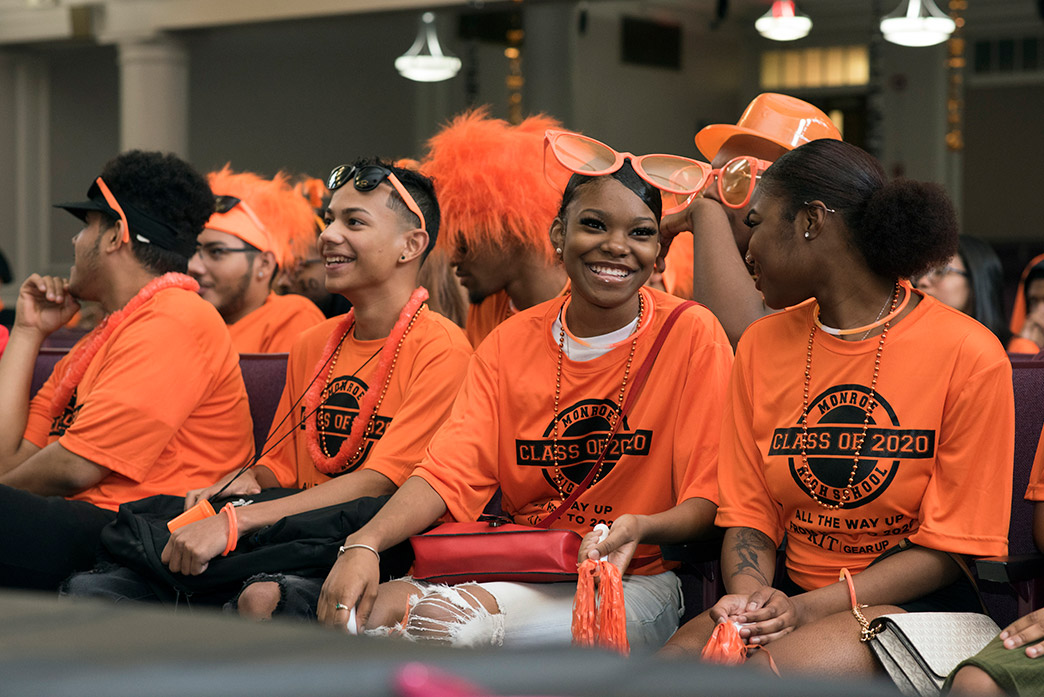 A. Sue Weisler
Years of programming offered through RIT GEAR UP have laid the foundation for a promising graduation rate for the Class of 2020. A cohort of roughly 1,200 students has participated in RIT GEAR UP since middle school or ninth grade. Rochester City Mayor Lovely Warren proclaimed the week of Sept. 23 as National GEAR UP Week, and the Class of 2020 celebrated throughout the city schools.
Rochester City School Superintendent Terry Dade attended a Sept. 25 pep rally at James Monroe High School and led an energetic exchange with the students. ("When I say 'college,' you say, 'bound.'") Sandra Chevalier-Blackman, Monroe High School principal, encouraged the students to stay focused and on task. "Last year we made 60 percent [graduation rate], but this class is going to exceed it," she said. "It's going to be right here on this same stage, we're going to shake hands and celebrate with you in June 2020."
Ingrid Gonzalez, RIT GEAR UP Outreach Specialist, apologized for her tears at the pep rally. "I truly love my job, being an extra support system for you guys," she told the class. "The mentoring, the counseling, providing academic support, the tutoring, and all the college and career exploration is so rewarding. The end goal has always been to ensure that you pass your regents exams, graduate and move onto the next chapter in your lives."
Donna Burnette, director of the RIT K-12 University Center, understood Gonzalez' reaction. "For me, this is why we do all this work," Burnette said. "I have a staff that works day and night and on weekends so we can get these kids across the stage. So to have everybody here today, happy and celebrating and healthy, this is what it's all about. They're cheering for RIT, they're cheering for graduation, that's what we want."
GEAR UP gives students tools for being successful in life, noted Chane'l Giddens, a 12th grader at Monroe High, who dreams of a career as neurosurgeon. "GEAR UP has given me an immeasurable amount of support helping me and making make sure I have what I need and so much more," she said. "Last year, as a junior, I won a scholarship from RIT. I feel I was a candidate because of the programs and activities I have done through GEAR UP."
RIT staff embedded in 15 schools across the district provide tutoring, SAT prep and conduct a variety of workshops, focusing on college applications (writing strong admissions essays, applying for scholarships and financial aid) and preparing résumés and job applications. Other workshops focus on personal development, including social-emotional learning and leadership skills.
Throughout the fall, RIT GEAR UP is continuing to organize college tours up and down the east coast, college application boot camps, mock interviews, SAT prep, regents tutoring, workshops for parents and guardians focused on their children's financial aid/college readiness, or military and career exploration.
GEAR UP is a busy program, and each student received a "senior launch guide," to help them stay on track. Stephanie Maryan, events and marketing coordinator for RIT GEAR UP, customized the workbook with information about college applications, financial aid, scholarships, military, workforce and considerations for students who have an undocumented immigration status.
Involvement in this program has grounded the students and has created a culture of support and making good choices, according to Eleanor Payton, counselor for the bilingual ninth to 12th grade at Monroe High School. "This class is definitely different from other classes," she said. "I notice that this group is a lot more cohesive. I feel that there is a lot more school pride and pride in doing the right thing. And being on track for graduation."