Alumni come together to produce new film, 'Blue Hour: The Disappearance of Nick Brandreth'
Nick Brandreth '08 (advertising photography) makes his dis-appearance on Amazon Prime and Vudu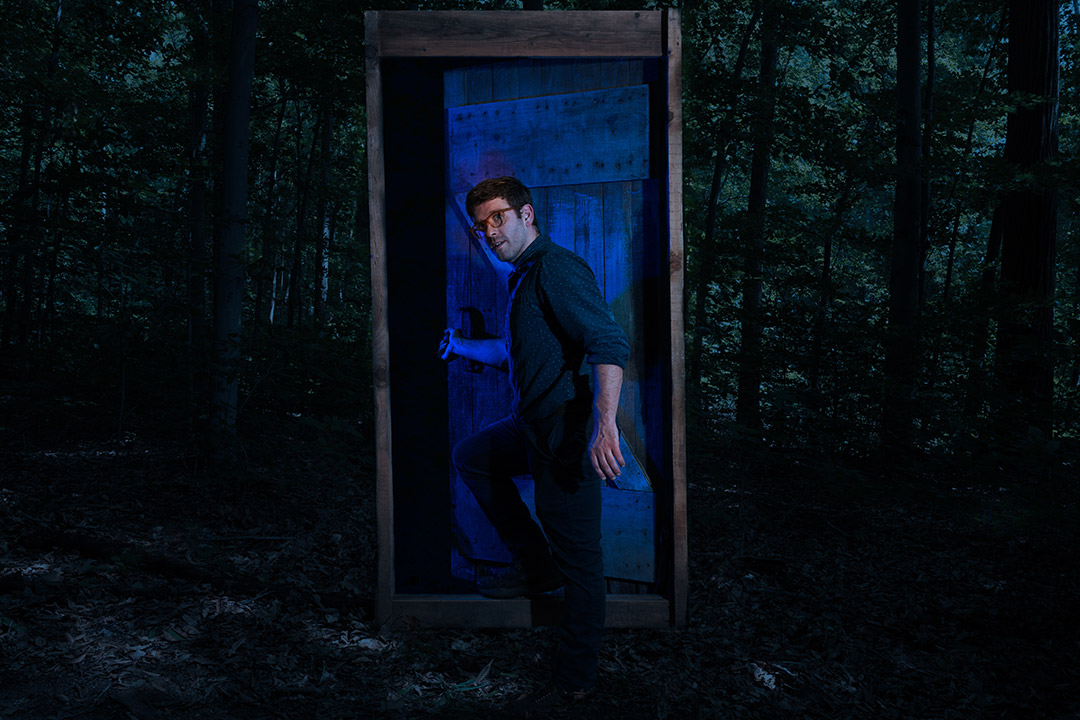 Nick Brandreth '08 (advertising photography) has not disappeared, but a fictional caricature of him is the star of a new thriller that was released earlier this month.
Blue Hour: The Disappearance of Nick Brandreth, produced by Tiny Voice Studio, is described as a gripping blend of true crime and sci-fi mystery. The movie follows a documentary filmmaker, Olivia Brandreth, who seeks to unravel the enigmatic 25-year-old cold case surrounding the disappearance of her father, Nick.
"I was doing a solo show for my photography where I was making these spooky, scary images. I had some ideas to create a narrative structure for the images, but my large ideas didn't really work for the gallery show," said Brandreth, who now works as a repair engineer for RIT's College of Art and Design. "As I was making these images, I was sending them to my friend Dan and that inspired our first short film, Ten, Thirteen, Twelve. From there, we kept building onto that world and we came up with the concept for Blue Hour."
The film was directed and written by Daniel Bowhers; produced by Brandreth, Mike Headford, Glenn Teel and Roberto Herrera; and Hill + Valley Creative, a local company founded by two RIT alumni, provided production services. However, Brandreth shared that these credits don't capture the full extent of the cast and crew's involvement.
"Everybody wore a lot of hats on set. One of the benefits of our Tiny Voice crew is that we don't have to worry about our ability to make things look nice and execute our vision. Everybody has a strong visual eye for composition, color, lighting, and design, so it's easy for us to jump into different roles as needed," said Brandreth.
Tatiana Ariola '18 (advertising photography) and Adam Montoya '19 (advertising photography), founders of Hill + Valley, welcomed the opportunity to work with a fellow RIT Tiger on Blue Hour. Working with alumni is nothing new for the duo, as more than half of their team at Hill + Valley are RIT graduates.
Ariola, creative director at Hill + Valley, shared that her experiences in RIT's School of Photographic Arts and Sciences gave her a competitive edge in her field.
"I think that the technical-based knowledge that you learn as a photo student at RIT is pretty unmatched. There's definitely a broad experience at RIT with equipment and professionalism on set that really prepares you to go out and work right after graduation," said Ariola. "The quality expectation as a student is sometimes even higher than what is expected on certain jobs."
Montoya, Hill + Valley's director of photography, shared that he enjoys working with fellow alumni because they operate with the same educational toolbox and expectations for their individual work.
"When I'm working with somebody from the photo program, I can basically guarantee that they're going to be able to do what needs to be done," said Montoya. "We all have a collective goal and mindset when it comes to our creative work, so we're all able to work really well and mesh together. And we have a good time doing it too."
Prior to being released for streaming, Blue Hour was screened at Panic Fest and NYC Fest. Now, the film is available to stream on Amazon Prime and Vudu. Watch the trailer on Vimeo.
Topics