RIT celebrates SHED construction with beam signing event Jan. 12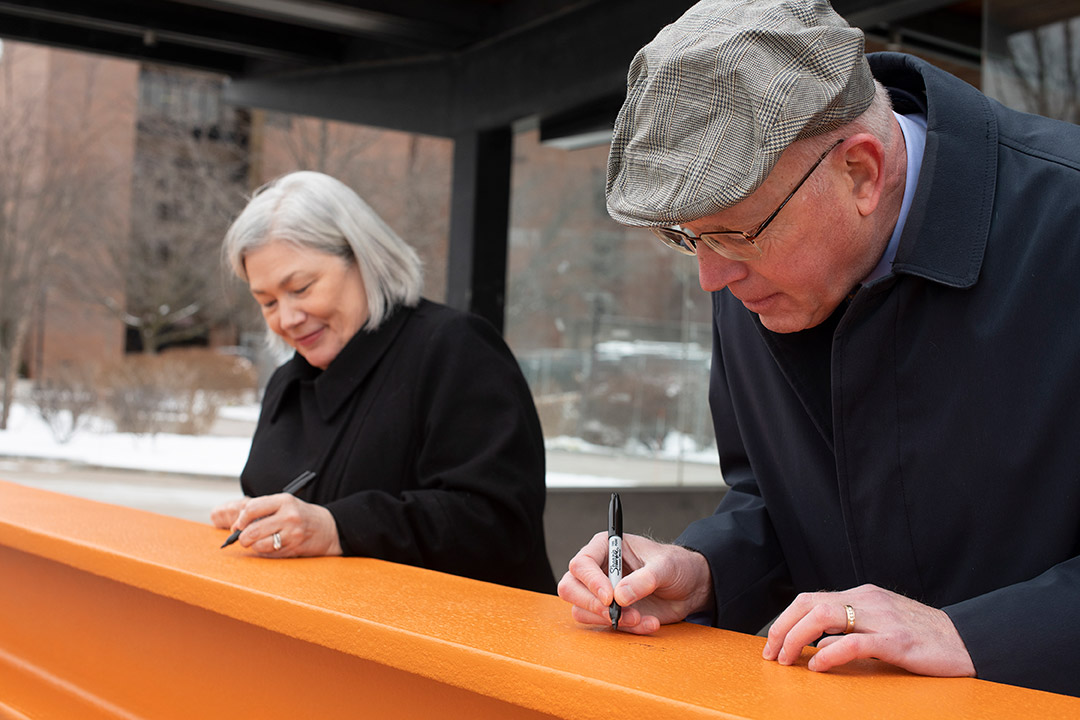 A. Sue Weisler
The new makerspace under construction at the center of campus is a piece of RIT history in the making, and the RIT community is invited to sign a steel beam that will be installed in the Student Hall for Exploration and Development (the SHED).
The event will be held from 11 a.m. to 2 p.m. Jan. 12, near the bus loop behind Wallace Library. Commemorative markers and to-go cups of hot chocolate will be handed out. Masks are required. WITR will hold a live broadcast during the celebration.
About the beam
Installation: Lower part of the north bridge connecting the SHED to Monroe Hall. Students will walk over it and under it.
Length: 17 feet by 4.25 inches
Weight: 2,300 pounds
Orange paint: 1.5 gallons
Commemorative markers ordered: 2,500
"We talk about RIT as a university that combines technology, the arts, and design in a really unique way, and the SHED will represent our core identity," said RIT President David Munson. "The SHED will be a welcoming, inclusive space and it will attract a broader student population with a passion for the arts, making, and creating. There will be something for everyone at the SHED."
The student who won the spring 2021 competition to name the building will be featured at the event. Jonathan Dharmadi, a fourth-year new media design student from Elmhurst, N.Y., will sign the beam with Sandy Johnson, vice-president for Student Affairs, and student government representatives. The naming competition was held at the request of RIT trustee and alumnus Austin McChord, whose record $50 million gift to RIT in 2017 helped fund the complex that is on track to open in fall 2023.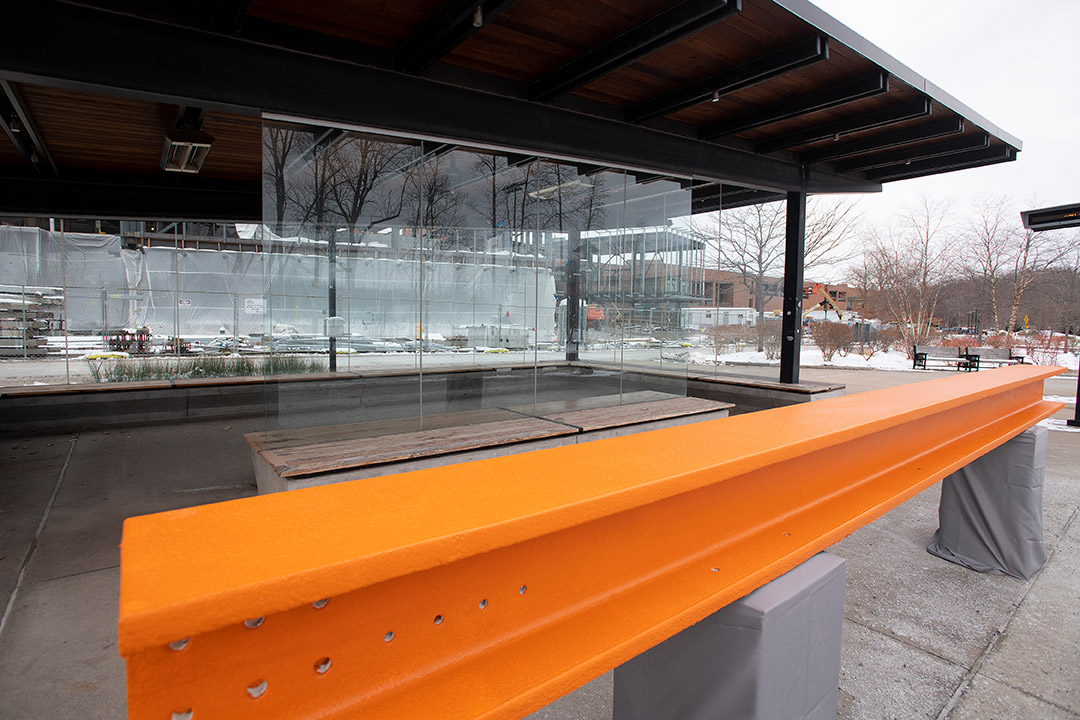 A. Sue Weisler
The beam, painted orange, will be positioned on concrete blocks for the signing event. Once installed in the SHED, it will support the lower portion of the pedestrian bridge that connects to Monroe Hall.
The SHED's footprint will include natural spaces with a courtyard and landscaped passage that weaves under and through the building and under the north bridge. New construction will cover more than 120,000 square feet. Renovations in Wallace Library and Monroe Hall extend the overall project to 200,000 gross square feet.
The new facility will house a performing arts space for instruction, rehearsal, and performance. The newly named Sklarsky Glass Box Theater, a $2.5 million gift from RIT alumnus and trustee Frank Sklarsky '78 (business administration accounting) and his wife, Ruth, will seat 180 in a reconfigurable space. The SHED also will add 1,500 classroom seats to the campus, with 22 standard-size flexible classrooms and five extra-large classrooms that can seat 150 students each.
Topics