Longtime RIT supporters give $2.5 million to SHED project
Gift will establish the Sklarsky Glass Box Theater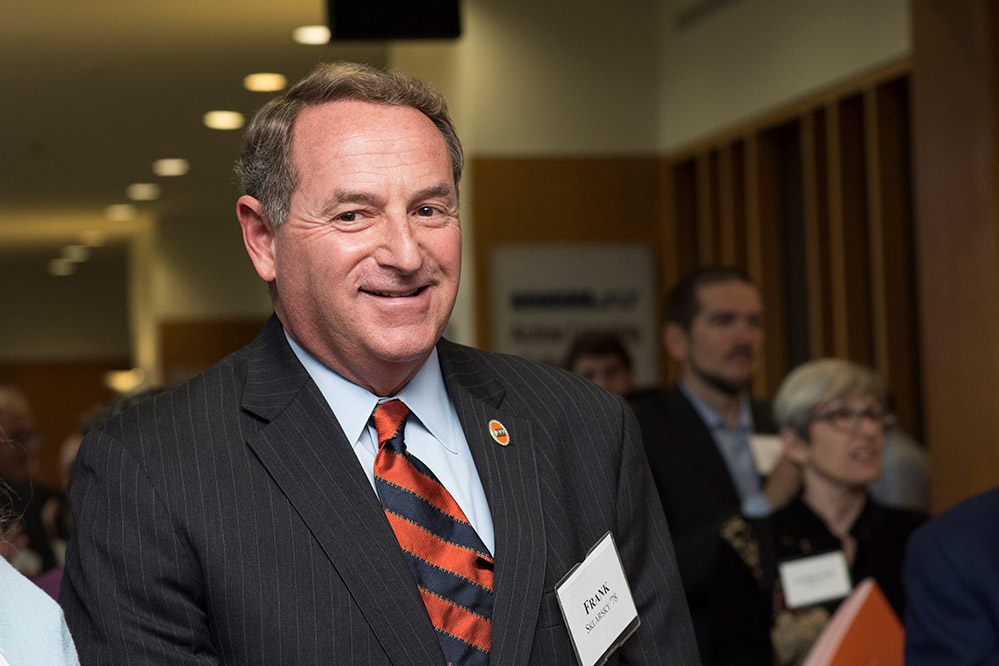 Rochester Institute of Technology alumnus and trustee Frank Sklarsky '78 (business administration accounting) and his wife, Ruth, have made a significant gift to the university's one-of-a-kind maker space and performing arts complex.
The Sklarskys have given $2.5 million to RIT's Student Hall for Exploration and Development (the SHED) to establish the Sklarsky Glass Box Theater.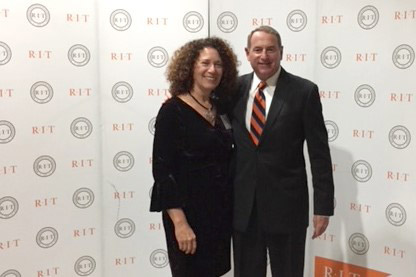 In addition to the glass box theater, the SHED, which will exceed 200,000 gross square feet of combined renovated and new spaces when it opens in fall 2023, will house makerspace and project team spaces that will provide students new opportunities for collaboration. It will include a performing arts component with individual rehearsal spaces, a large dance instruction studio, and a music rehearsal studio. It will also add 1,500 classroom seats to the campus, with 22 standard-size flexible classrooms and five extra-large classrooms that can seat 150 students each.
Part black-box theater and part exhibit space, the Sklarsky Glass Box Theater will seat up to 180 people for experimental performances and various exhibits. The flexible space includes multi-level viewpoints, retractable floor-level seating, and automated blinds to provide daylight and blackout modes.
The arts have always been an active part of the Sklarskys' lives. Ruth was a professional violinist and still plays regularly; Frank sings and plays piano; and their daughters play multiple musical instruments. While they feel fortunate to be in a position to support performing arts at RIT, they also see it as a lynchpin to improving the university's diversity efforts.
"This is a thrilling time to be part of the RIT community," said Frank Sklarsky. "The university strategy to expand cultural opportunities is one of the most important things we can do to improve the diversity of our student body. Supporting RIT's growing presence in the performing arts, along with the steadily growing Performing Arts Scholars program, is vital to the university's continued success. We see this as an initiative that will benefit students for decades to come and help them become well-balanced, multi-dimensional individuals who not only have great careers, but strong interests outside of their careers."
In 2018, Sklarsky and his family made an endowed gift to RIT's Saunders College of Business to support costs associated with the Sklarsky Center for Business Analytics. The 800-square-foot space, with an electronic ticker streaming real-time market data, mounted flat-screen TVs, wireless connections, and information services and research tools, supports collaborative and project-based learning.
Bloomberg terminals and associated software, in conjunction with a suite of analytics software, provide real-time data from every market, breaking news, in-depth programming and research capabilities, and powerful analytics and data-visualization applications that equip students with industry-standard tools.
In 2017, the Sklarskys funded an endowed scholarship that provides tuition support for undergraduate students in STEM disciplines. They are also founding members of RIT's Sentinel Society, a community of leadership donors who make meaningful annual investments that support the university's most pressing and immediate needs across campus.
Frank Sklarsky began his professional career as a certified public accountant for Ernst and Young before earning his MBA from Harvard Business School. He worked for Chrysler, where he was employed for nearly 20 years. Following a brief stint at Dell in Austin, Texas, he returned to DaimlerChrysler as vice president for finance. Following that, he spent two years as chief financial officer for ConAgra Foods in Omaha, Neb., and then returned to Rochester, N.Y., as Eastman Kodak's chief financial officer. He was also chief financial officer for Tyco International and completed his career as executive vice president and chief financial officer of PPG Industries in Pittsburgh, retiring in 2017.
"Frank and Ruth Sklarsky are keenly focused on enriching the RIT student experience and are the embodiment of what meaningful philanthropy looks like," said Phil Castleberry, vice president for University Advancement at RIT. "Their generous gift not only supports Transforming RIT: The Campaign for Greatness, but serves as a reminder that together we can enhance the way our students learn and grow by providing them with the tools to inspire creativity and innovation."
Virtual tours and naming opportunities for the SHED are available.
Transforming RIT: The Campaign for Greatness is a $1 billion university fundraising effort, the largest in university history. This blended campaign seeks support from a variety of investors, including alumni and friends, government and corporate partners, and research foundations and agencies. The campaign has raised $847 million to date.
Topics