Research Awards and Recognition

Research Awards and Recognition
RIT became recognized as a doctoral university by the Carnegie Classification of Institutions of Higher Education in 2016 because of its growing research activity.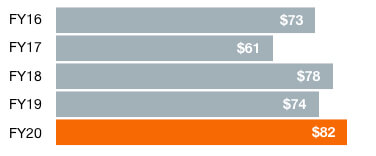 Sponsored Research Awards
In millions of dollars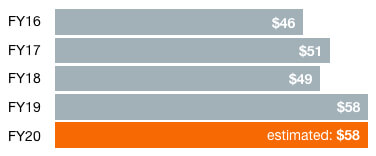 Research Expenditures
In millions of dollars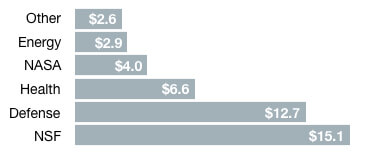 FY20 Federal Awards by Agency
In millions of dollars
Major Grants
March 5, 2021

RIT's Pratik Dholabhai earns NSF CAREER Award to study materials in solid oxide fuel cells

Assistant Professor Pratik Dholabhai from RIT's School of Physics and Astronomy received an NSF Faculty Early Career Development (CAREER) award and grant for his five-year project to conduct fundamental physics research on complex materials in solid oxide fuels cells.

January 27, 2021

RIT's Image Permanence Institute receives $350,000 grant from NEH

Research activities for the three-year, field-based research project will be organized and led by Kelly McCauley Krish, IPI preventive conservation specialist. The study will apply data from temperature, relative humidity, and pollutant monitoring to comprehensively balance these known risks to collections when implementing energy-saving mechanical system operations.

January 11, 2021

RIT Sponsored Research garners $82 million

RIT had its best year ever for sponsored research funding. For fiscal year 2020, which ended June 30, RIT received 382 new awards totaling $82 million. The record funding follows almost $58 million in research expenditures in fiscal year 2019, also a record.
Seed Funding
RIT awards researchers seed funding of $5,000 for proposals written during the fall semester and later refined over the course of a two-day Grant Writers' Boot Camp.
NIH Boot Camp Seed Funding
RIT also offers an advanced boot camp focused on the National Institutes of Health. Participants in the NIH Boot Camp submitted proposals for seed funding to help develop competitive proposals or revise proposals to specific NIH programs in the coming year. 2019 awardees will receive up to $10,000 and include: