Research Awards and Recognition

Research Awards and Recognition
RIT became recognized as a doctoral university by the Carnegie Classification of Institutions of Higher Education in 2016 because of its growing research activity.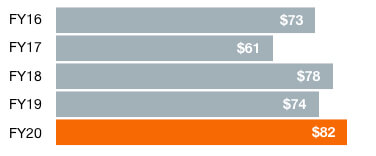 Sponsored Research Awards
In millions of dollars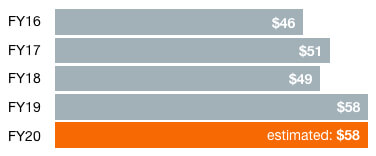 Research Expenditures
In millions of dollars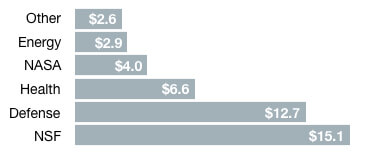 FY20 Federal Awards by Agency
In millions of dollars
Major Grants
February 11, 2022

James Hammer donates $1 million to establish Hammer Family Packaging and Graphic Media Center at RIT

The Hammer Family Packaging and Graphic Media Center will consist of several laboratories focused on materials testing, distribution, digital processing, and workflow analysis for packaging and commercial printing. 

January 17, 2022

RIT professor Poornima Padmanabhan honored with NSF CAREER Award

Scientists look to space for origins of the solar system; chemical engineers like Poornima Padmanabhan are searching for the origins of life based on minute systems of molecules. Padmanabhan recently received a National Science Foundation Faculty Early Career Development (CAREER) award for "Chirality and polymer thermodynamics: frustration and amplification."

October 22, 2021

RIT's Image Permanence Institute receives $375,543 federal grant from IMLS

The Image Permanence Institute at RIT has received a National Leadership Grant award from the Institute of Museum and Library Services that will identify critical preservation challenges associated with 3D printed materials and technologies found in museums and develop resources that will support 3D printed object preservation.
NSF CAREER Awards
For "Interface-mediated Ionic Transport in Mismatched Complex Oxide Heterostructures: Role of Misfit Dislocations"
For "Brain-inspired Methods for Continual Learning of Large-scale Vision and Language Tasks"
For "Co-evolution of Machine Intelligence and Continuous Information"
For "Synthesizing Architectural Tactics"
For "Computational Model of Perceived Color and Appearance in Augmented Reality"
For "A Computational Approach to the Study of Behavior and Social Interaction"
For "Learning to Solve Problems in context-rich environments: A Naturalistic study in STEM Workplaces, research labs, project-based and lab courses"
For "Development of High-Efficiency Ultraviolet Optoelectronics"
For "Energy-Efficient Datacenters with Wireless Interconnection Networks"
For "Magnetocaloric Effect in Metallic Nanostructures"
For "Theory of Optomechanical Nanorotation Sensing – Approaching the Quantum Regime"
For "Integrating Physical Models into Data-Driven Inference"
For "Environmental impacts of reusing, recycling and disposing of lithium-ion batteries after they have been used in electric vehicles"
For "Strain Balanced Quantum Dots for high Concentration Photovoltaics"
For "Graphics: Gaze Manipulation"
For "Deaf Children and Young Adults: Predicting School, College and Labor Success"
Seed Funding
RIT awards researchers seed funding of $5,000 for proposals written during the fall semester and later refined over the course of a two-day Grant Writers' Boot Camp.
For "Creating Informed and Engaged End Users in High-Performance Campus Buildings for Improved Energy Efficiency and Enhanced Comfort"
For "Wearable Technologies and Consumer Engagement in Social Media"
For "Monitoring and Improving Length of Stay and Readmission Rates Using Learn Management Techniques"
For "Advancing Culturally Relevant STEM Learning Experiences for Underrepresented Students"
For "The Use of Keyword Error Rate to Determine the Quality of Automated Speech Recognition Systems"
For "Highly Efficient Capture and Detection of Deadly Zaire Ebola virus (EBOV) via Polydimethylsiloxane (PDMS) Hierarchical Nanostructures"
For "Development of Bioplastic Packaging Solution for the Transport of Apples"
For "Learning to Sign Before Birth"
For "Chasing Ancestors, Part 2: Searching for the origins of American Sign Language in East Anglia, 1620-1851"
For "Vision-based Few-Shot Prediction via Adversarial Similarity Networks"
For "A Principled Model Selection Method for Deep Learning in Protein Function Analysis"
For "Robotic Collaborative Perception and object Manipulation for Effective and Affordable Elder Care"
For "Arctic Sea Ice Image Reconstruction and Localization"
For "Integrating dynamical systems and machine learning to study paleoclimate data"
For "Benchmarking Integration of Relational and Non-Relational Data Systems"
For "Neurocognitively-Motivated Conversational Assistants Based on Distribution Representations"
NIH Boot Camp Seed Funding
RIT also offers an advanced boot camp focused on the National Institutes of Health. Participants in the NIH Boot Camp submitted proposals for seed funding to help develop competitive proposals or revise proposals to specific NIH programs in the coming year. 2019 awardees will receive up to $10,000 and include:
Kate Gleason College of Engineering
College of Health Sciences and Technology
Kate Gleason College of Engineering
College of Health Sciences and Technology