Research Awards and Recognition

Research Awards and Recognition
RIT became recognized as a doctoral university by the Carnegie Classification of Institutions of Higher Education in 2016 because of its growing research activity.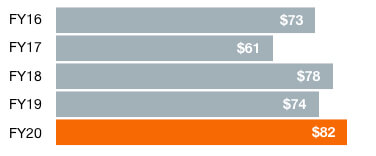 Sponsored Research Awards
In millions of dollars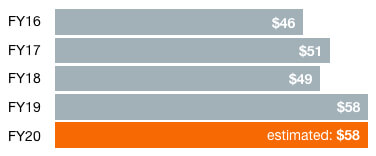 Research Expenditures
In millions of dollars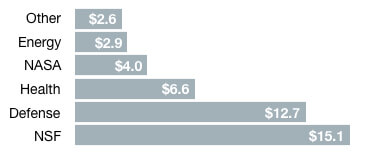 FY20 Federal Awards by Agency
In millions of dollars
Major Grants
January 11, 2021

RIT Sponsored Research garners $82 million

RIT had its best year ever for sponsored research funding. For fiscal year 2020, which ended June 30, RIT received 382 new awards totaling $82 million. The record funding follows almost $58 million in research expenditures in fiscal year 2019, also a record.

October 14, 2020

RIT, URMC receive grant to study benefits of AI-enabled toilet seat technology

Toilet seats with high-tech sensors might be the non-invasive technology of the future that could help reduce hospital return rates of individuals with heart disease. A joint project by researchers at RIT and the University of Rochester Medical Center will determine if in-home monitoring can successfully record vital signs and reduce risk and costly re-hospitalization rates for people with heart failure. The five-year, $2.9 million venture is funded by the National Institutes of Health.

October 14, 2020

National Science Foundation Convergence Accelerator awards $1 million grant to team

Matt Huenerfauth, professor and expert in computing accessibility research, is part of a team that has been awarded a National Science Foundation grant to use artificial intelligence to better understand the role of facial expressions in signed and spoken languages.
Seed Funding
RIT awards researchers seed funding of $5,000 for proposals written during the fall semester and later refined over the course of a two-day Grant Writers' Boot Camp.
NIH Boot Camp Seed Funding
RIT also offers an advanced boot camp focused on the National Institutes of Health. Participants in the NIH Boot Camp submitted proposals for seed funding to help develop competitive proposals or revise proposals to specific NIH programs in the coming year. 2019 awardees will receive up to $10,000 and include: