Transfer Admission
Join Us for Spring 2023
Applications are being reviewed on a rolling, space-available basis. Merit and need-based financial aid is still available.
Visit and Events
Whether you can visit in person or want to experience virtually, we offer opportunities every day for you to get to know RIT, meet our students and staff, and ask questions. View all the ways you can experience RIT 
Daily Tours and Information Sessions 
Visit campus six days a week or explore other ways to experience RIT.
Applying for Admission
Statement on Ethical and Fair Admissions Practices
The Office of Undergraduate Admissions continues to put students first in the admissions process. We continue to use fair and ethical practices as we recruit, review applications and counsel our prospective students and their families. Our admissions officers support and promote ethical responsibility with our colleagues in the admission profession.
There's Still Time to Apply - Spring 2023 Transfer Applications Accepted
Applications are being reviewed on a rolling, space-available basis. Merit and need-based financial aid are still available.
Ways to Apply
Ways to Apply
Admission to RIT is competitive, but our admission process is a personal one. Each application is reviewed holistically for strength of academic preparation and your personal career interests. We seek applicants from a variety of geographic, social, cultural, economic, and ethnic backgrounds.
Phi Theta Kappa members are eligible to receive a $5000 a year scholarship. Learn more
Whichever method you choose to apply, we invite you to create an RIT Admissions account to monitor your application, track the status of your application credentials, receive your admissions decision, and more.
Transfer Application Checklist
Complete the Common Application or RIT Application

Request official academic transcripts from all colleges you have attended (even if only one class).

 

Transcripts may be sent electronically to admissions@rit.edu.

 

If you or your school would prefer to mail them, please send to:
Undergraduate Admissions Office
60 Lomb Memorial Drive
Rochester, NY 14623-5608

If you have completed fewer than 30 semester hours (45 quarter hours) at the time of your application, high school transcripts are required and SAT/ACT scores are optional.

International Applicants Only - Students whose native language is not English must submit results of the TOEFL, IELTS or PTE Academic examination. Testing can be self-reported. Frequently Asked Questions for International Applicants

An Art Portfolio is required for admission to the School of Art, School of Design, and School of Film and Animation. (A portfolio is not required for admission to our School of Photographic Arts and Sciences unless an applicant is seeking transfer credit for completed coursework in photography.)
* Please note that if you are age 25 or older or applying to a program in the College of Liberal Arts, the SAT/ACT requirement is optional.
| Timelines | Fall | Spring | Summer |
| --- | --- | --- | --- |
| Application Priority Deadline  | February 1 | November 1 | February 1 |
| Recommended FAFSA Submission Deadline | February 1 | November 1 | February 1 |
| Decision Notification ** | Rolling | Rolling | Rolling |
| Deposit Deadline | May 1 | December 1 | May 1 |
Applications will be accepted after those dates and reviewed on a rolling, space-available basis. 
Fall applicants to the Physician Assistant (BS/MS) program must have all application material in by December 1.
** Fall applicants to Biomedical Engineering, Chemical Engineering, and Mechanical Engineering, Film & Animation, Diagnostic Medical Sonography, Physician Assistant (BS/MS), or Game Design, Development, and Arts will receive admission decisions starting in mid-March.
Transferring Credits to RIT
A transfer credit evaluation is completed as part of the application process.
Credit is granted by the academic departments for coursework that is related to your intended program.
A grade of "C" or better is required for transfer credit to be awarded. 
For a complete listing of transfer credit policies, please refer to information provided by the RIT Registrar.
Transfer Credit Equivalency Tool
You can get a general sense of how transfer credits may be awarded by checking the Transfer Credit Equivalencies.
Determining Year Level
A matriculated undergraduate student's year level is determined by the number of credit hours the student has earned according to the scale below. (This does not include course work in progress).
| YEAR LEVEL | 1-4-YEAR PROGRAMS | 5-YEAR PROGRAMS |
| --- | --- | --- |
| 1 | 0-26 | 0-26 |
| 2 | 27-55 | 27-55 |
| 3 | 56-84 | 56-75 |
| 4 | 85-above | 76-95 |
| 5 |   | 96-above |
Scholarships and Financial Aid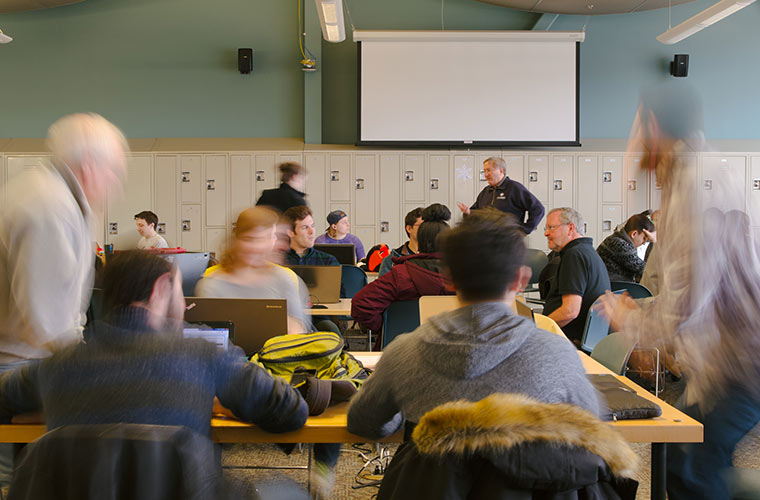 We're here to help make RIT financially within reach
We realize that you are taking an important step in your life-one that is exciting, yet challenging. We want to help make your financial aid experience as smooth as possible. Currently, more than 16,000 RIT undergraduate students receive over $550 million dollars in financial assistance from federal, state, and institutional resources, in the form of scholarships, grants, loans, and part-time employment.
International Students
RIT attracts students from every state and more than 100 countries
RIT hosts nearly 2,000 international students on the main Rochester, New York campus. The variety of backgrounds and perspectives represented in the RIT community enriches the living and learning experience for all. As students interact on team-based projects, in campus housing and in day-to-day activities, they become enriched and better prepared for the opportunities and challenges of global interdependence.
International Student Information  
Information for Parents and Families
Parents and families play a critical role in the college search process. Families are often involved in campus visits, financial planning, and helping to weigh the pros and cons of where their student will go to school. We are here to help your family navigate the process and provide the information you need to make the best decision.
Accepted Students
You've been accepted, now it's time to be on to something amazing. Your next steps are just a click, swipe, or tap away.
Pay your deposit
Connect with us
Review your enrollment checklist
Understand your financial aid
For international students, find your comprehensive arrival guide
and much more...