April 30, 2021
by Luke Auburn
RIT's newest high-tech workspaces and innovative tools to be housed in the SHED
Student Jonathan Dharmadi wins contest to name RIT's new maker and learning complex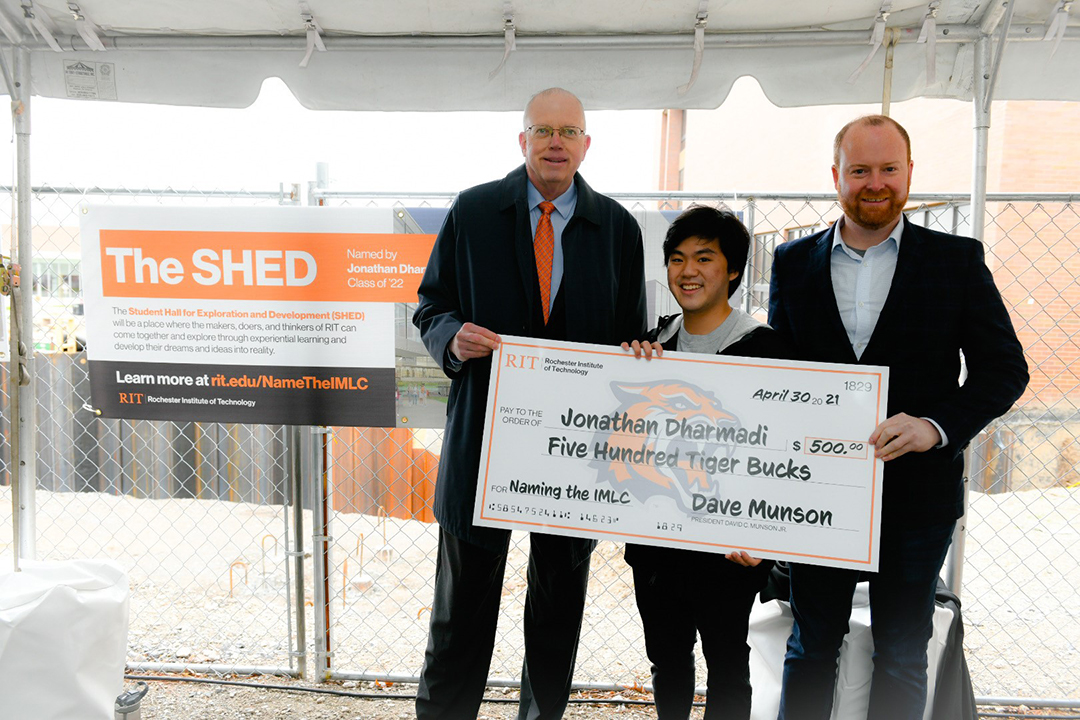 Rochester Institute of Technology has an understated new name for a high-tech complex that will soon centralize the university's makerspace and performing arts. RIT announced on Friday that the facility currently under construction will officially be called the Student Hall for Exploration and Development, or simply "the SHED."
The name is the winning entrant in a student contest that received 260 submissions and received more than 2,000 student votes.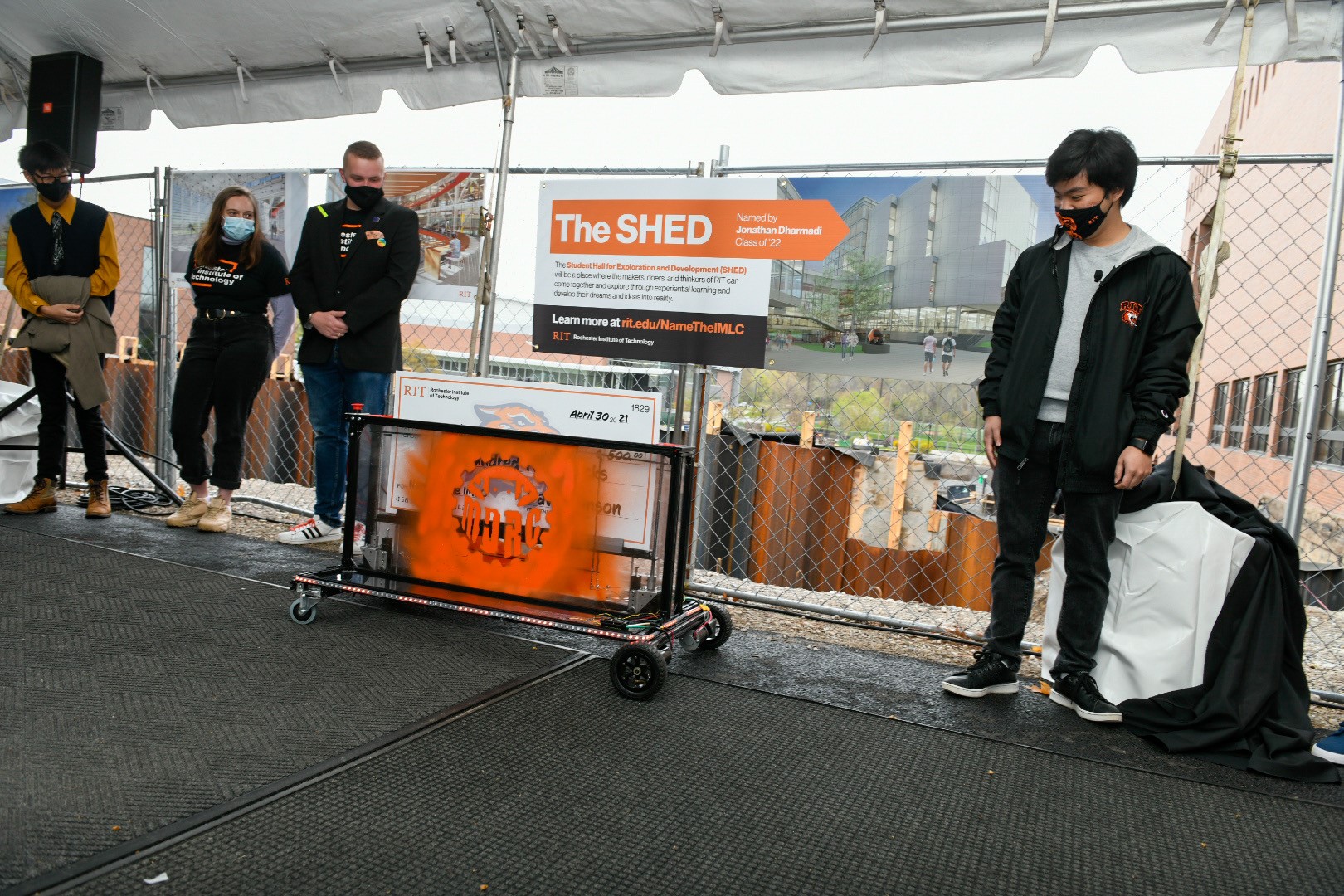 Elizabeth Lamark
Jonathan Dharmadi, a third-year new media design student from Elmhurst, N.Y., devised the winning name, which received the most votes out of the seven finalists selected by RIT Student Government. Dharmadi said he wanted to create a modest name because he thinks when people see the building they will be blown away.
"When you think about a shed, it's just this raggedy old place in your backyard, but when you come to campus you'll see this beautiful, 100,000-square-foot building filled with culture, innovation, and a lot of students collaborating together," said Dharmadi. "It's going to be an amazing place and it feels unreal that I named it.
The idea for the student naming contest was seeded by RIT trustee and alumnus Austin McChord, whose record $50 million gift to RIT in 2017 helped fund the complex.
"I wanted RIT's students to name this facility because I hope they will feel a sense of ownership of it," said McChord. "With all the college tours that will begin and end here, and campus visitors that will come here, a name chosen by RIT's students will be far more relevant than my own name or a name I could have come up with on my own."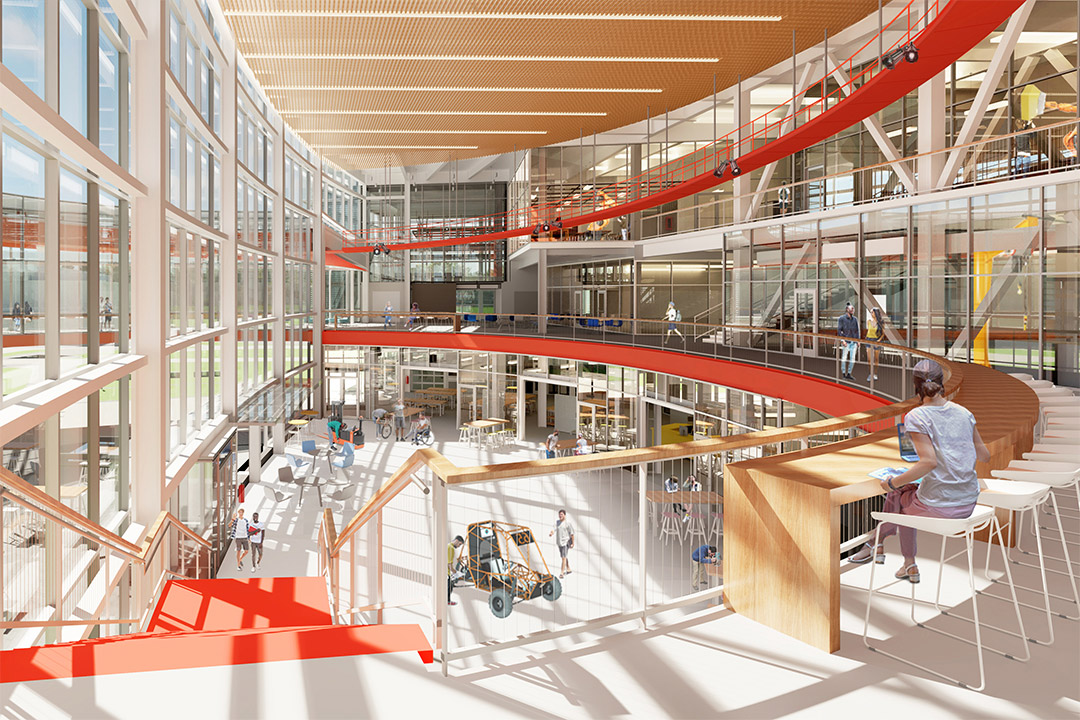 William Rawn Associates
RIT President David Munson noted that the SHED construction project is the largest undertaking since the campus originally opened in 1968. The SHED will connect to Monroe Hall and Wallace Library, bringing changes and renovations to those buildings as well. Total construction costs will exceed $100 million, funded in part by $17.5 million from McChord's gift, as well as financing through the Dormitory Authority of the State of New York.
"This project will transform RIT by creating a new epicenter on campus, where technology, the arts, and design will converge and ideas will percolate freely," Munson said. "Thank you Jonathan for giving us a name that is crystal clear on the mission of this facility."
As an RIT Admissions student ambassador who gives tours of the campus, Dharmadi said he wanted a name for the new building that rolls off the tongue. But he is excited to be named the winner for even bigger reasons.
When he was first accepted to the university, he initially had some financial issues. He wrote a letter to financial aid saying if RIT could give him a grant, he would promise to make his mark at RIT. "This helps me fulfill that promise," he said.
The SHED's large makerspace component and project team spaces will provide students new opportunities for collaboration. The building will house a performing arts component that includes individual rehearsal spaces, a large dance instruction studio, and a music rehearsal studio. A black-box/glass-box theater seating 180 can be reconfigured to allow for, or block, light into the space. And the facility will also add 1,500 classroom seats to the campus, with 22 standard-size flexible classrooms and five extra-large classrooms that can seat 150 students each.
Plans for the facility remain on schedule. Foundation work began earlier this spring and the building is set to open in fall 2023.
Topics