RIT Libraries moves to temporary home in Ritter Arena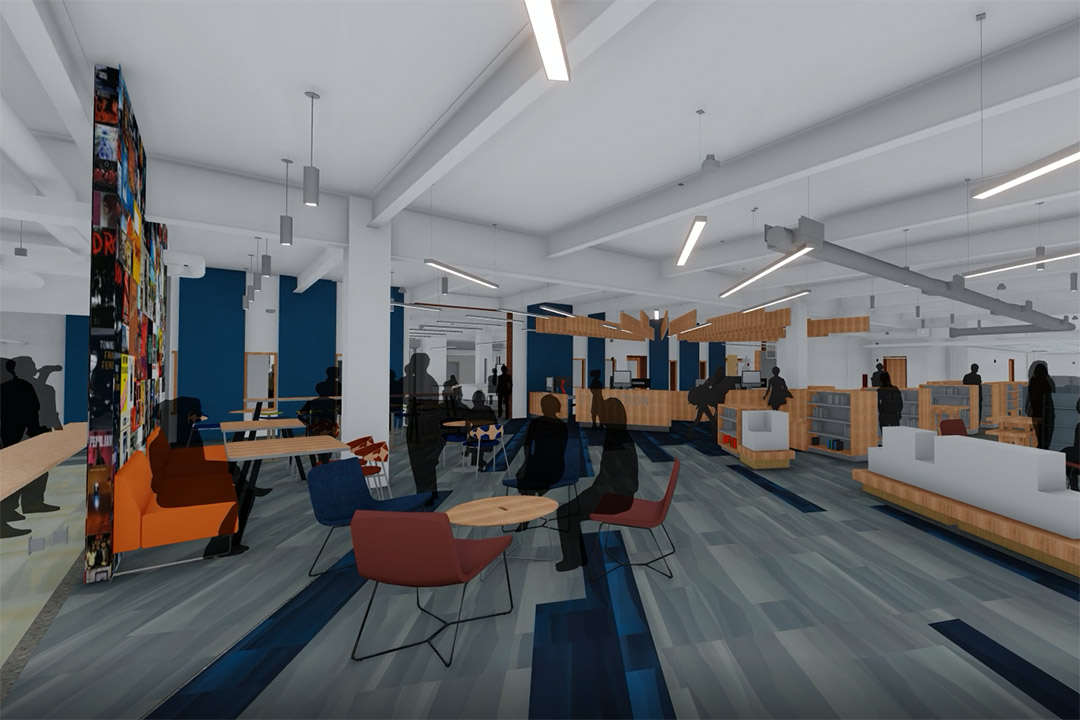 RIT Libraries will move to the Frank Ritter Ice Arena for the duration of construction on the Student Hall for Exploration and Development, or "the SHED." The multi-use space is expected to open in 2023 and will include extensive renovations to Wallace Library.
The library will close to patrons May 17 in preparation for the move. Relocating to Ritter Arena and setting up the library will take most of the summer, according to Marcia Trauernicht, director of RIT Libraries. She anticipates that the library will open in its temporary location in time for the fall semester. Until then, RIT Libraries will provide services and resources remotely, including curbside delivery of books borrowed from the library or through interlibrary loan. RIT Libraries will update patrons about the move and how to access library resources on its Move-to-Ritter webpage.
Moving to Ritter Arena is a good solution, Trauernicht said. "It's a little unusual being in an ice arena, but we'll have all the print circulating books, print-bound journals, and print magazines available in one location for browsing. We'll also have the circulation desk and the interlibrary loan department in Ritter."
The print collection will take up most of the rink. The arena includes enough room for student seating, computer workstations, photo copiers, and an area for college librarians to meet with students and hold library instruction classes.
The move to Ritter Arena will not include the Cary Graphic Arts Collection and the RIT Archive Collections due to the content of the special collections. They will remain in the Wallace building in temporary space with proper environmental controls and located away from the construction site occurring along the east wall. The east side of the building on all floors will flow into the SHED. After the renovation, the Cary and Archive collections will move into newly designed spaces on the second and third floors.
The return to Wallace in 2023 will surprise patrons, Trauernicht said, teasing a dramatic makeover. "It will be a more open and exciting space, and more flexible for future uses. It will be so different than what we have right now."
The Writing Commons and Expressive Communication Center will move to the Innovative Learning Institute, in Wallace Library, room A600, during the construction, Trauernicht added. The RIT ASL and Deaf Studies Community Center will relocate to another building on campus, yet to be determined.
Topics