Marie Golisano Graham Fund supports outreach efforts for Golisano Collection housed in RIT Archives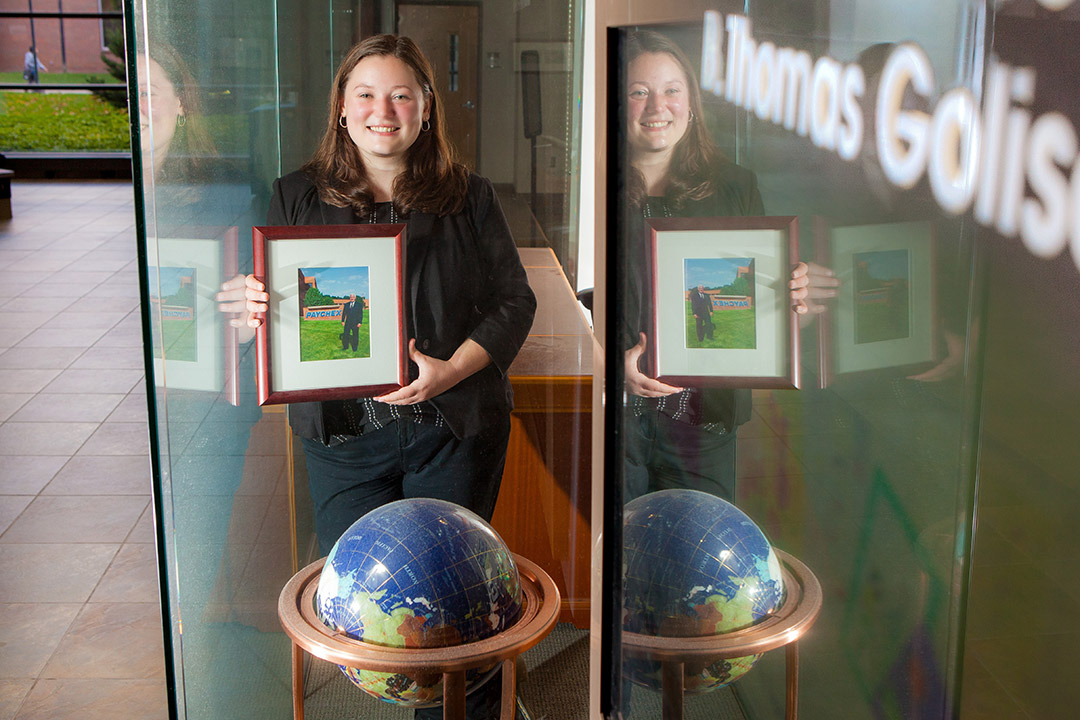 A gift from the Marie Golisano Graham Fund is supporting new ways for Rochester Institute of Technology to engage the public with the life and legacy of her brother, B. Thomas Golisano—Paychex founder, philanthropist, and civic leader.
A new position in the RIT Archives, made possible by the Graham Fund, is dedicated to sharing Golisano's story through the contents of the B. Thomas Golisano Collection. The Marie Golisano Graham Outreach Archivist Landyn Hatch will steward and expand the Golisano collection to include oral histories from people who have known the leader or benefited from his philanthropies.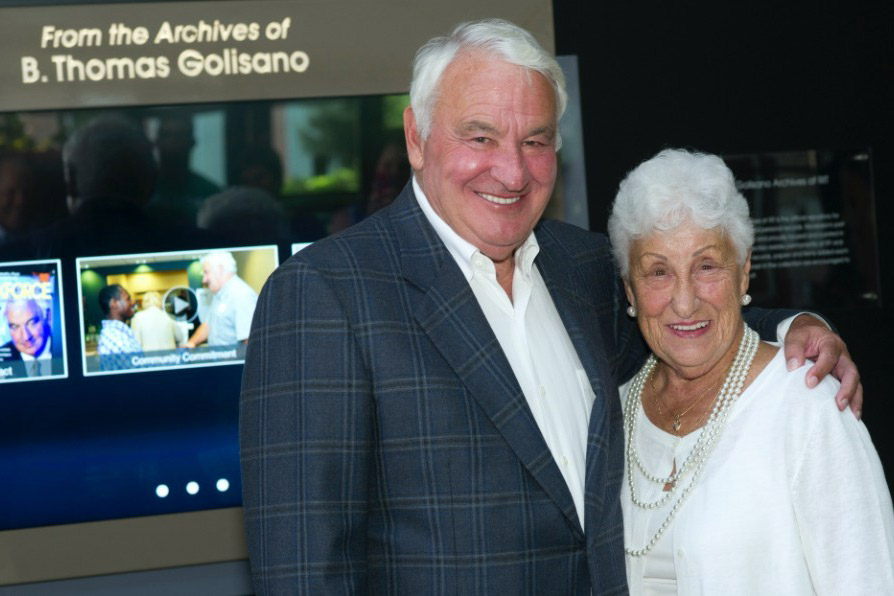 Elizabeth Lamark
Marie Golisano Graham documented her brother's achievements over the years and, in 2015, donated her extensive collection to the RIT Archives. The nearly 50 boxes containing photographs, newspaper clippings, and memorabilia also include donations from various other sources, Hatch said. The collection celebrates Golisano's entrepreneurial impact, political campaigns and reform efforts, and philanthropy, preserving records of his professional and public service experiences.
Personal testimonials from people within Golisano's orbit will fill in the narrative of his life, said Hatch, who graduated in 2020 from RIT's museum studies program and earned a master's degree in folk studies from Western Kentucky University.
"My goal is to do outreach projects that enhance what we already have in the Golisano collection and then add to it in interesting and dynamic ways, through oral histories—where people share experiences in their own words—and exhibits, websites, and travelling installations," Hatch said.
Hatch is planning a digital mapping project to show the scope of Golisano's influence. She is also updating the existing exhibition space, "Built not Born," in the atrium of Golisano Hall to celebrate the 20th anniversary of the B. Thomas Golisano College of Computing and Information Sciences, which opened in May 2003. The public exhibit replicates his Paychex office and features videos on major aspects of Golisano's contributions to business and the community.
Last year, a digital exhibit, "Transformative Impacts: Archives of an Entrepreneur," curated by RIT 2021 graduate Courtney Barber, used the collection to celebrate Golisano's personal and professional life and his relationship with RIT, which began more than 20 years ago. His philanthropic gifts to RIT, totaling $26 million, have supported the establishment of the B. Thomas Golisano College of Computing and Information Sciences, the Golisano Institute for Sustainability, and the Gene Polisseni Center.
Golisano launched the payroll processing company Paychex in 1971, which employs 16,000 and is a leading provider of integrated human capital management solutions for payroll, benefits, human resources, and insurance services. He also has supported a long list of companies such as Greenlight Networks, Kodak, Cognivue, PostProcess Technologies, and is the former owner of the Buffalo Sabres.
He is a founding member of the Independence Party of New York and ran on its ticket for governor of New York in 1994, 1998, and 2002.
He launched the Golisano Foundation in 1985 with an initial gift of $90,000. Today, the foundation has more than $60 million in gross assets and awards grants to nonprofit organizations in western New York and southwest Florida, serving people of all ages with intellectual disabilities.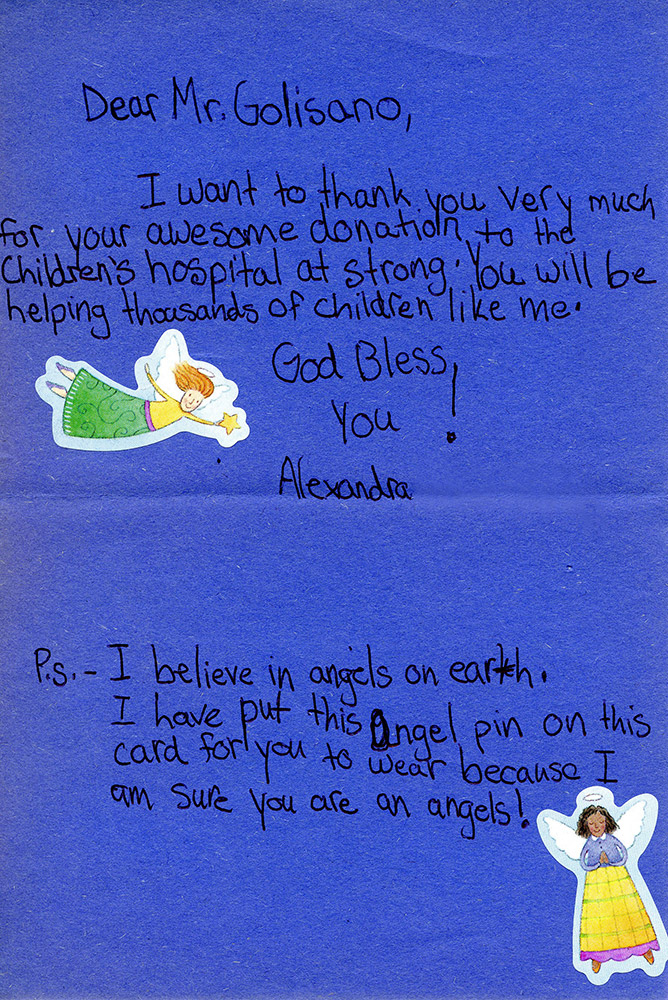 From the B. Thomas Golisano Collection in the RIT Archives
Golisano's philanthropic work has touched many lives and people have extended their gratitude through hundreds of thank-you cards, many written by children.
The cards represent Hatch's favorite parts of the collection. She will include digitized versions of the thank-you cards in the large-scale mapping project she will start next year. "I would like to show where all these different cards came from, and why it was important to archive them."
Hatch also plans to highlight Graham's role as one of the earliest supporters of Paychex and as her brother's lifelong champion. She is sensitive to Graham's foresight and careful documentation of Golisano's life.
"Marie Golisano Graham is part of the reason why we have the Golisano Collection in the RIT Archives," Hatch said. "She is her brother's legacy keeper, and I am interested in exploring that relationship."
Topics