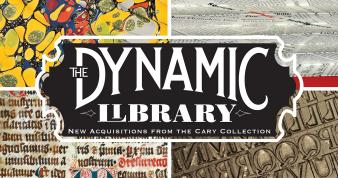 New Acquisitions from the Cary Collection
Date and Time
Location
Cary Graphic Arts Collection
Dynamism is a term applied in physics to describe energy, force, and motion. Something that is dynamic is active and effective. Although libraries have been historically perceived in quite opposite terms, like quiet and sedate, this paradigm has shifted in the 21st century: certainly here at the RIT Wallace Center, and absolutely at its rare book library, the Cary Graphic Arts Collection.
Over the past five years, the Cary Collection has welcomed thousands of visitors through classes, lectures, printing workshops, and research projects. Our employees publish articles and books about our holdings and they participate in international conferences in the fields of librarianship, design, and history. We educate students every day, and this is the absolute embodiment of dynamism, where knowledge is put into motion as the raw material for endless possibilities in creative efforts.
The Cary relies on the energy of our staff, as the books themselves do not call out from the shelves to be opened. But it is the Cary's unique collection of materials and its breadth that stimulate us to action. All told, we maintain over 45,000 books, hundreds of primary source archives, and thousands of artifacts encompassing the subjects of printing history, graphic design, typography, calligraphy, and the book arts.
Remarkably, the Cary is still growing. We curators have the charge of not only acquiring new objects for preservation, but we also add to our collection so our patrons can access more materials to facilitate dynamic scholarly connections. This exhibition showcases some of our recent acquisitions, which are surprisingly diverse in format and subject. Our commentary provides insight into how these items are the foundation of the idea that the Cary Graphic Arts Collection is RIT's dynamic library.
Amelia Fontanel, Associate Curator
Exhibition Events
The Uncommon Press: Reconstructing an Eighteenth-Century Printing Press
by Seth Gottlieb, Wednesday, March 30, 2017, 6 p.m.
Free & open to the public. Refreshments and printing to follow.
In 2016, an ambitious team of engineering students were commissioned by the Cary to design & build a historically-accurate wooden printing press. Join us as the story of its construction is recounted by a member of the team. Historic and high-tech manufacturing technology merged to create a working press which will be used to print after the talk!
Richard Minsky: Material Meets Metaphor 
Thursday, April 27, 2017, 6 p.m.
This is an illustrated talk about the relationship between image, material and metaphor. A methodology is presented that is useful in creating, critiquing, and collecting works of fine art, decorative art, and illustration. In 2010 Yale University, repository of the Richard Minsky Archive, presented a 50-year retrospective. This developed into The Book Art of Richard Minsky, published by George Braziller in 2011. Minsky will show how his own works of book art employ this analytical process, which includes the manipulation of emotion, intellect, and consciousness through visual and haptic stimuli.
Dafi Kühne: True Print
A talk and interview at the RIT Cary Graphic Arts Collection, Wednesday, May 3, 5:30 p.m.
Free and open to the public, refreshments to follow.
Fusing modern means with the century-old tradition of letterpress, Dafi Kühne forms a new vocabulary for how to communicate through type and form in a truly contemporary way. Not retro, his work is a clever response to the search for new possibilities of graphic expression: true print.
Image Gallery