Ed Benguiat & The Cold Type Revolution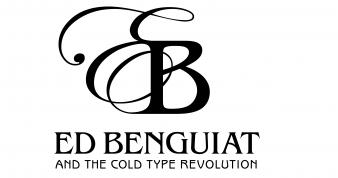 Date and Time
Location
RIT Cary Graphic Arts Collection
Ed Benguiat has seen monumental transitions of the typography industry. From photo-lettering to desktop publishing, Benguiat knows it all comes from the same place—the hand.
The decades after World War II were a time of booming innovation and change, and the world of type would follow accordingly. Since around 1450, when Johannes Gutenberg invented his system for casting metal printing type from a mold, little had changed in the laborious process of setting type by hand. This would all begin to change, however, in the 1880s with the invention of the Linotype and Monotype: automated machines that could cast lead type as specified by a keyboard operator. This first major change in typesetting in over four hundred years would be the impetus of modernization. While these typecasting systems were a vast improvement, they still relied on the "hot type" process of casting type from a molten lead alloy.
The first cold-type process, phototypesetting was responsible for the ease and quick gratification that graphic design and advertising experienced in the 1950s–1970s. Phototypesetting marked the departure from lead type, and with it ushered in a whole new world of type design that was never before possible.
Ed Benguiat pushed the freedom of phototypesetting to the limit with his designs; he created typefaces that were elastic, fluid, effortless, and at the same time, exacting. He breathed life into old faces, and gave them new meaning in a new age. The hand behind over 600 typefaces, Ed Benguiat was prolific in shaping a design aesthetic that used technology to its advantage, without being eclipsed by the impending digital age. The Cary Collection is grateful to Mr. Benguiat for his recent donation of sketches, films, and type specimens. Together, they illustrate his mastery of the "cold type," or photo type design process.
—Lauren Alberque, Guest Curator
Special Event! A Conversation with Ed Benguiat, Facilitated by Kris Holmes
Thursday, April 7, 2016, 3:30 p.m., RIT Cary Graphic Arts Collection
Join legendary type designer Ed Benguiat, as he talks about his impressive career in hand-lettering, logo design, and typography. He will be joined by his former student, and master type designer in her own right, Kris Holmes, in an informal chat about all things letterform. Benguiat and Holmes are both recipients of the esteemed RIT Goudy Award for Excellence in Typography.
Refreshments to follow, all are welcome to attend.
Lecture— Benguiat Buffalo: From Photolettering to Wood Type
By Geri McCormick of Virgin Wood Type
Wednesday, March 2, 6 p.m.
RIT Cary Graphic Arts Collection, 2nd floor the Wallace Center
From film to pixels to WOOD?
The Western-inspired Buffalo typeface was first designed by Ed Benguiat in the 1960s as a film font for Photo-Lettering Inc., and then digitized in the new millennium by House Industries. In 2013 Rochester's own Virgin Wood Type revived Buffalo as analog type for letterpress. Join us to hear the exciting tale of its design metamorphosis.
Reception to follow, all are welcome to attend.
Image Gallery