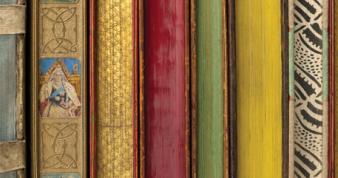 Discover what hides beneath the edge
Date and Time
Location
Cary Collection
From gilt edges to fore-edge paintings, the Cary Graphic Arts Collection's fall exhibition, "Edges of Books," examines the centuries-old tradition of edge decoration. A selection of artifacts from 1518 to the present will inspire visitors to view books in new and exciting ways. the exhibition is on view from October 1 to December 14, 2012.
Purchase the Exhibition Catalog by curator, Steven Galbraith
Opening Reception
Join us at the Cary Collection for the "Edges of Books" opening reception on Thursday, October 4, 5-7:30 p.m. with a lecture at 5 p.m. by renowned bookbinder, Deborah Evetts. Free and open to the public.
Lecture
Also in conjunction with the exhibition, practicing fore-edge painter Martin Frost will give a lecture on the intricacies of his artform on Tuesday, October 16, 6 p.m., Carlson Auditorium, RIT Center for Imaging Science. Free and open to the public.
Workshop
A limited number of seats are available for a day-long fore-edge painting workshop with Martin Frost on Wednesday, October 17. Register online. First come, first served.
Image Gallery