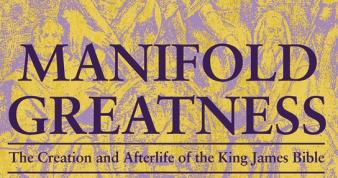 The Creation and Afterlife of the King James Bible
Date and Time
Location
RIT Cary Graphic Arts Collection
New Lectures planned! Open to the public.
"Four Centuries of the King James Bible: Its Remarkable Influence in the English Speaking World"
Dane Gordon, RIT Professor Emeritus
October 22, 2013, 6 – 8 p.m.
Please comes to the Cary Collection as we continue to commemorate the 400th anniversary of the King James Bible with a talk by Dane R. Gordon, Professor Emeritus from RIT's Department of Philosophy. Professor Gordon will consider the undertaking of the King James Bible translators, their own respectful approach to their task, and the impact of their work on authors from John Bunyan to Wilfred Owen.
Dane Gordon is a graduate of Trinity College Cambridge, London University, and the University of Rochester, receiving degrees in history, theology, and philosophy. Among his numerous publications are The Old Testament in its Cultural, Historical and Religious Context, and Rochester Institute of Technology: Industrial Development and Educational Innovation in an American City, 1829–2006.
The Exhibition
Join the Cary Graphic Arts Collection in commemorating the 400th anniversary of the King James Bible. Originally intended as a revision of translations used by the Church of England, the King James Bible, or Authorized Version, became the most influential English translation of the Bible and one of the most read books in the world. First printing in 1611, this landmark publication was the culmination of a long and often unquiet history dating back as far as 1000 CE, when portions of the Bible appeared in Old English. It built upon the struggles of religious reformers who risked their lives by committing the heresy of translating the Bible into English. It borrowed freely from the labors of scholars who produced translations once the religious and political tides had changed. About four dozen men chosen to work on the King James Bible revised the translations of their predecessors with no idea of how influential and long lasting their results would be.
One can hear the language of the King James Bible echoing from English cathedrals to rural American churches, from traditional Anglican hymns to Jamaican reggae music, from John Milton to Toni Morrison. For over two centuries, it was the predominant English-language Bible in the United States, where it is still widely used, owned, and read today. The total number of editions printed worldwide since 1611 would be impossible to tally. Similarly, it would be impossible to track and measure its entire social, cultural, literary, and religious influence over four centuries.
Manifold Greatness chronicles the conception and creation of the King James Bible and explores its far-ranging influence. At the center of the exhibition is a national traveling panel exhibition sponsored by the National Endowment for the Humanities, the American Library Association, the Folger Shakespeare Library, and the Bodleian Library of the University of Oxford.
For more information on the national exhibition go to the Manifold Greatness site.
Image Gallery