The Printed Poem, The Poem as Print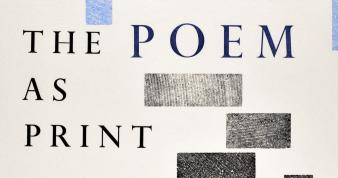 Twenty-four Broadsides of American Poetry
Date and Time
Location
Cary Graphic Arts Collection, The Wallace Center
Events for the Exhibition, free and open to the public
Valentines Poetry Reading, 2/14, 2-3 p.m. at the Cary Collection
RIT English Department Reader's Series, 2/20, 5-6:30 p.m. at the Cary Collection
Students and Faculty from RIT English will be reading selections of their own work.
LETTERpressworkBOOK lecture by Ben Trissel, 2/25, 5-7 p.m. at the Cary Collection
Ben will give a talk about the printer of the poetry broadsides.
Book Spine Poetry reception, 3/7, 2-3 p.m. in the Cary Collection
 
The Printed Poem, The Poem as Print; Twenty-Four Broadsides of American Poetry
This collection was printed between 1983 and 1985 by James Trissel of The Press at Colorado College in Colorado Springs. Alastair Reid, an editor for The New Yorker, and Dana Gioia, a former director of the National Endowment for the Arts, served as editors for the collection. Trissel designed the broadsides in response to each poem and printed them with the aid of his students in an edition of one hundred fifty. They have been exhibited at universities and libraries across the United States. Books from The Press at Colorado College are in the collections of Columbia University, The Getty Center of Los Angeles, Harvard University, New York Public Library, the Victoria and Albert Museum of London, and Yale University, among others.
Curator's Note
This collection of letterpress poetry broadsides has sat quietly in the Cary Collection stacks for several years. I knew they were beautiful, imaginative, and well-printed, but I admit I did not take the time to read all of them until my interest was piqued in August 2013 at TypeCon, a national conference dedicated to typography. There I heard Ben Trissel deliver a funny and moving tribute to his father, Jim Trissel – the printer of these poems and scores of other projects during his tenure at the Press at Colorado College in Colorado Springs, Co. from 1978 to 1999.
When I returned to Rochester and dove into the collection, I found these prints were anything but quiet: riots of printed color, sumptuously tactile papers, and the assertive indentation of relief printing. And the words! These poems of poignant experience were written by some of the best talents of a generation of American poets. At once my direction became very clear, that these broadsides needed to be on view in our community to shout, whisper, or sing their messages. I know The Printed Poem/The Poem as Print will resonate in our minds long after it returns to the shelf, as an example of the perfect fusion of words, images, and printing precision.
Amelia Hugill-Fontanel
Assistant Curator, RIT Cary Collection
Image Gallery