Shakespeare in Fine Press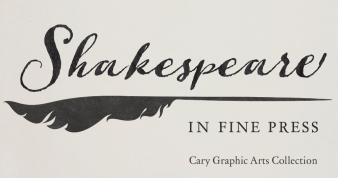 Date and Time
Location
RIT Cary Graphic Arts Collection
Shakespeare in Fine Press commemorates the 400th anniversary of the death of William Shakespeare with a selection of fine press editions held in the Cary Graphic Arts Collection. Ranging from the late 18th century to the present, these books demonstrate the creative ways that printers have moved Shakespeare's plays from the stage to the page, and how the act of printing his plays becomes a performance unto itself. On display are examples from some the most famous fine presses including: the Kelmscott Press, Doves Press, Officina Bodoni, Golden Cockerel, and Gehenna Press.
Lecture "Collecting Shakespeare's First Folio," Thursday, September 22, 2016 6:00 p.m.
Please join us for a talk by Cary Curator Steven Galbraith on the history of Shakespeare's First Folio of 1623. Dr. Galbraith will examine the production of the first collected edition of Shakespeare's plays and how in the centuries that followed it grew to become one of the most valuable books in the world.
Image Gallery