REU Students: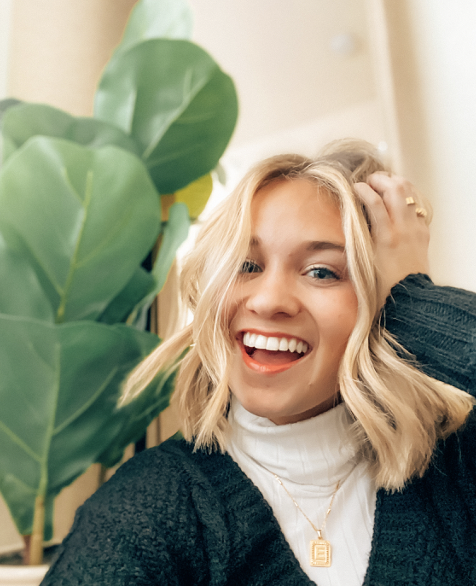 Ella Bahr - Kansas State University, Manhattan, KS
Ella's parents both graduated from Kansas State University, and she is following in their footsteps. She grew up going to the Kansas State football games, and feels like it is a second home. Her dad is a lawyer, her mom was a teacher and is now a counselor, and she has two younger sisters. Ella loves to read, go on long walks, and listen to podcasts. 
 
Her Anatomy and Physiology teacher in high school was extremely passionate about teaching, and that is what she remembers most that sparked her interest in science. The class went on an eight-week field trip to do stream studies, fauna exploration, and camping. Half of the time they were in Kansas, and the other half of the time in Colorado, visiting national parks. They drew species and held Q&A sessions. It was then that she became interested in research, as she was drawn to the open-ended questions. 
 
One of the listservs for her major sent out NSF research opportunities, and the RIT experience sounded perfect. Since she always loved education and the study of how people learn, the RIT REU fit both the science research and education aspects of her interests. 
 
Her project this summer with Drs. Dina Newman and Kate Wright is to create an activity to teach biology students about dominance in genetics. After examining student written responses to survey questions asking about dominance, she realized that many students have big gaps in their understanding. Thus, she set about developing a new activity that she hypothesizes will improve their understanding, by focusing on the processes (molecular details) rather than the outcomes (physical traits). To test this, Ella is creating two versions of a case study: one that will discuss simple outcomes in physical characteristics first and the underlying molecular details second. The second version will have the content in reverse order. By administering these through an online platform, she will gather accurate information, whereby the person taking the test won't be able to go back and change anything.
 
Dr. Newman plans to use this activity in her Genetics class this fall, with the two recitation sections assigned the different versions. To determine learning gains after the two versions of the activity, students will take the Dominance Concept Inventory (DCI), a research instrument that focuses on common misconceptions about genetics.  Ella hopes to also use the activity in her classroom as a TA at Kansas State.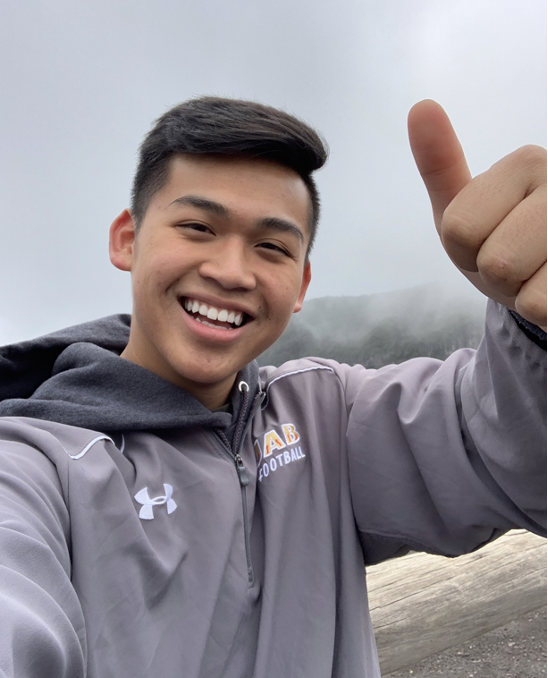 Derek Dang - University of Alabama at Birmingham, AL
Derek is originally from Mobile, Alabama. He is of Vietnamese decent, with both grandparents and parents born there. He enjoys cooking and baking Vietnamese dishes as a way to preserve his heritage and culture.
Derek grew up speaking both English and Vietnamese, but eventually developed a new passion, the Spanish language. Since then, his love for people and culture has grown into an interest in the humanities, which he hoped to pursue along with his path in STEM. 
 
"I have crafted my education around what I enjoy learning the most: what makes each of us unique and how our brains interact with the world around us," Derek said. Early on, he volunteered at a summer camp for those with disabilities (mental and physical) where he first recognized the importance of inclusivity in different areas of life. "I'm interested in using science to better understand how the brain works, but I've come to realize that there are great disparities among different groups of people, especially in the classroom," he concludes. 
 
During his STEM courses, and despite his A grades and successes, Derek found a disconnect between classroom instruction and the research field. It was then that he sought to diversify his research interests, venturing into STEM education to investigate how to improve the student experience in STEM.  
 
He was grateful to find the RIT REU research experience working with Dr. Dina Newman and Dr. Kate Wright, who are interested in student understanding of molecular biology and genetics concepts. 
 
Together, they developed a project to examine undergraduate responses on tests and surveys, as well as textbook materials to see whether the focus is on processes or outcomes. Preliminary results suggest that students focus on outcomes ("what" happens) rather than on the underlying processes ("how" and "why" it happens). This work can be applied to help instructors understand why their students often miss the mark during discussion and on exams and to design better lessons and assessments that encourage students to focus on the deeper concepts.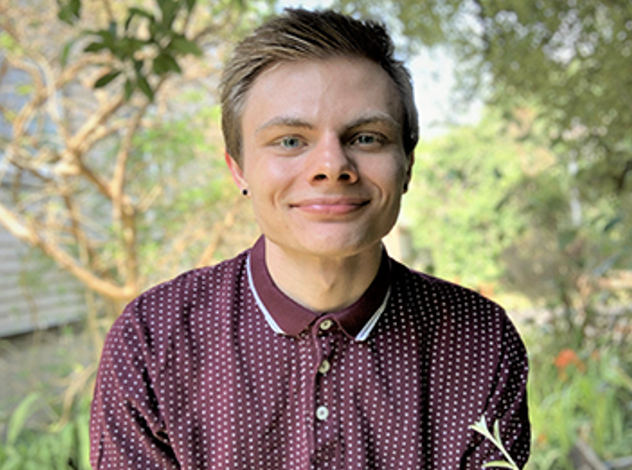 Matthew Dunham - California State University, Monterey Bay, CA
Matthew is from Bakersfield, in the central valley of California. Unlike what most think of California to be like – it is desert-like with an average temperature of 105 Fahrenheit.  He comments that they experience 111 or higher degree temperatures frequently, it's fortunately a dry heat. Matthew has a big family, with more than 60 people at his family home for this year's 4th of July celebration. He has 15 cousins, 6 nephews, and a niece on the way – to name a few of his relatives. He is the youngest in his nuclear family at home. Matthew has an artistic side to him, as he plays electric guitar, and enjoys pencil sketches and realism in art. 
 
He became interested in science in the 6th grade, when he remembers watching YouTube videos on science experiments, buying kits and doing experiments at home. He was in an AP statistics course in high school that influenced his decision to major in statistics. He also has a brother with a master's degree in mathematics, who influenced him as well.
 
"I've participated in two different REUs, and at home I'm in a 2-year research program that prepares students for graduate school, primarily for PhD degrees. This seemed to Matthew to be a good pre-requisite for the RIT REU research work this summer, as he is interested in educational skill sets for improved learning.
 
His research this summer at RIT (virtually) is in the development of framework for characterizing and assessing computational literacy in different scientific disciplines. He is using analyses of student work and interviews in order to gain a deeper understanding of how the course material is learned. "The best way to do that is to make a model (prediction of outcomes)," Matthew explained. This is an effective tool for solving problems, and assists in learning more about what it means to be literate in computation, what skills are needed, and what social aspects are helpful in communicating to others, etc.
From this framework, Matthew developed a survey to administer to students to see how to improve learning computational skills across disciplines.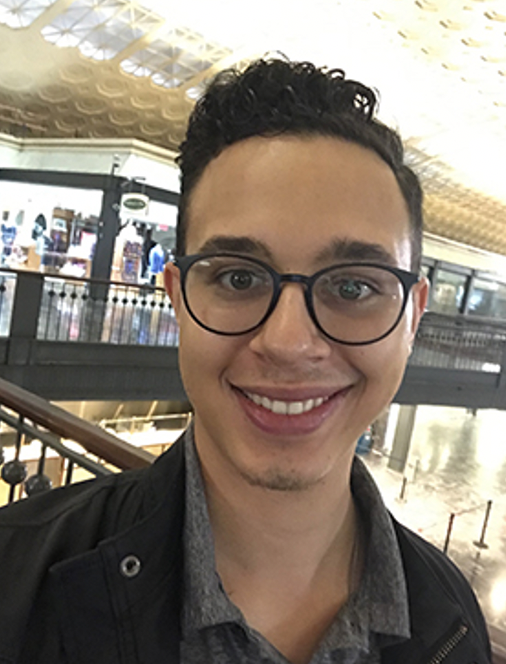 Mark Flores - McDaniel College, Westminster, MD
Mark's introduction to the sciences began early, as his mom is an environmental sciences high school teacher. He visited national parks, and did hands-on trial experiments at home to help her prepare for her class activities. His dad traveled frequently for his government job. Due to his dad's job, Mark  grew up in Ecuador, attending elementary school there. During high school he became interested in studying chemistry and kinesiology. 
 
While attending McDaniel College he began looking at graduate schools, and it was then that he decided he wanted more research experience to learn more about laboratory work. In his search he came across educational research, which he wasn't familiar with and wanted to try that out. His REU search found RIT's program to be an opportunity.
 
Working with Dr. Zwickl, Mark's long term goal for the summer REU experience is to develop an assessment tool to better examine factors contributing to why undergraduates remain within a department or major or why they chose to leave or switch to something else. Mark's specific areas of interest are examining students' help-seeking behaviors and self-efficacy, both of which are linked to retention and dropout rates.
 
Mark is using interviews of undergraduate STEM majors to obtain a deeper understanding of students' experiences in order to develop measurement tools (surveys) that can be used by departments or colleges. The tools will help faculty and administrators understand aspects of the student experience that are typically hidden and help improve the culture, support, and programs to support student success. 
 
This is Mark's first REU. He commented that he thrives on social interactions, and the REUs are all trying their best to interact virtually with each other. He says it's interesting to learn about the other disciplines and perspectives from other REU students. "The common factor that binds us all is that we all love the sciences," commented Mark.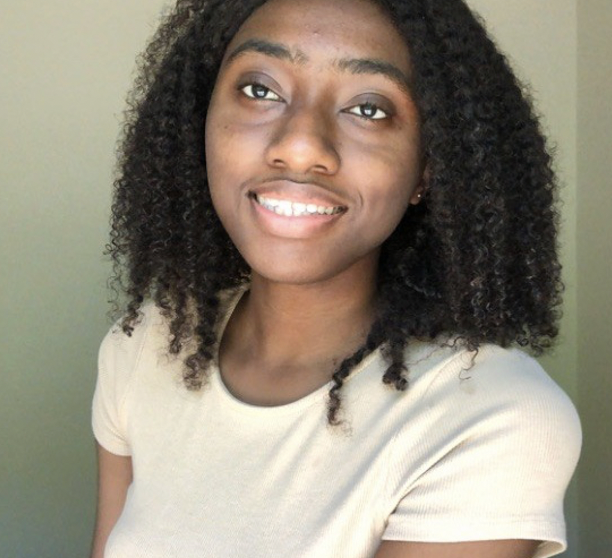 Lydie Guercin - Emory University, Atlanta, GA
Lydie was born in Haiti and came to the US when she was 4 years old. She has two younger siblings. She is very interested in dance and the science of dance. "The two mix well together," she commented. "Biology is like learning another language, because there are so many terms. In dance there also are many types of movement and ways you can move your body within a space." She is extremely interested in the anatomy and physiology of how the body moves kinetically. 
Lydie had a high school chemistry teacher who reminded her of Miss Frizzle (from The Magic School Bus show). In that show the kids would go on adventures with their science teacher, Miss Frizzle. Lydie was a freshman at that time, but loved the parallels to the Miss Frizzle show, as she did many experiments in her class and found she loved to work with her hands. Her chemistry teacher always broke things down to make them easy and not scary! 
This is her first REU. In high school, during summers, she taught at a summer camp and became interested in education. This summer she gets to combine her love of education with research. 
Lydie is working on understanding the different representations of proteins. Textbooks represent proteins in numerous ways. Again, similar to dance! For example, doing a plié, is very different depending upon whether you are taking a modern or jazz class. The research is looking at figures, categorizing them, and creating a map called the Protein Landscape. The Protein Landscape maps images according to scale (subunit and macromolecule) and realism (literal shape to abstract). Eventually she will use this data from the landscape to assess student understanding, such as whether or not students need more help linking the concepts shown by different drawings. By doing that, she can see how various concepts in biology and biochemistry are represented to students. 
"Every day we have at least one meeting, to assure you are seeing others and not going all day strictly online," comments Lydie. "Students meet alone on Friday, when we chill, talk, discuss research, and check in on how we are doing. It has been an effective way of building a sense of community."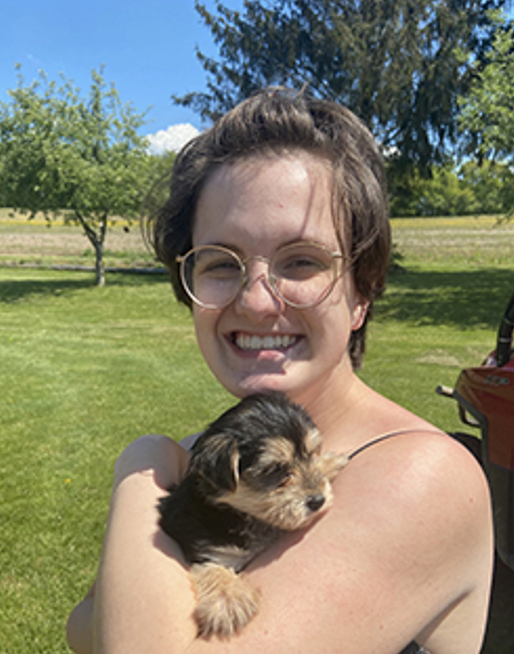 Emma Krofcheck - University of Pittsburgh, Pittsburgh, PA
Emma grew up an hour south of Pittsburgh, PA, and has lived there all her life, currently attending college at the University of Pittsburgh. She enjoys art, paints in acrylics, and most recently has begun sewing projects in her free time. Emma's younger sister is an architecture student who is extremely artistic. Perhaps their creativity can be credited to growing up around a grandmother who is an artists. The curious and inquisitive side of Emma comes out in her love for science, as she has as long as she can remember wanted to be a scientist. 
 
"I had a rock collection with my mom as a little girl," Emma shared. "And in elementary school I wanted to be a scientist because I thought those were the "smart" people." She discovered astronomy during that time after watching a television special that left a huge impact on her.
 
This is Emma's first REU. When she started college she noticed that science courses felt disconnected from people. She has long been interested in science education and how people interact, learn, self-identify, and reflect. The RIT REU work with Dr. Scott Franklin was of interest to her as it explored ought self, the sense of one should ("ought to") do. 
 
Emma noted that other physics REUs were focusing on astronomy or physics only, and she was interested in how physics students think they should be, or what they should be doing in coursework and teaching structures. To carry it a step further, she is interested in whether or not students are aware of the influencers that shape their way of thinking.
 
Her research this summer in large is spent reflecting on her own experiences, pressures around her, influences on decisions she's made, and what she learns by talking with other physics students and peers both during this REU and with classmates at Pittsburgh.
 
Through interview transcripts, supplied by Kansas State University, Emma is identifying relevant phrases or quotes from students. She is pulling data together on what students think they should do in their career choices, college courses they should take and pertinent research based on ought self. She is also gathering data on the power of  comparison of one's self to one's physics peers.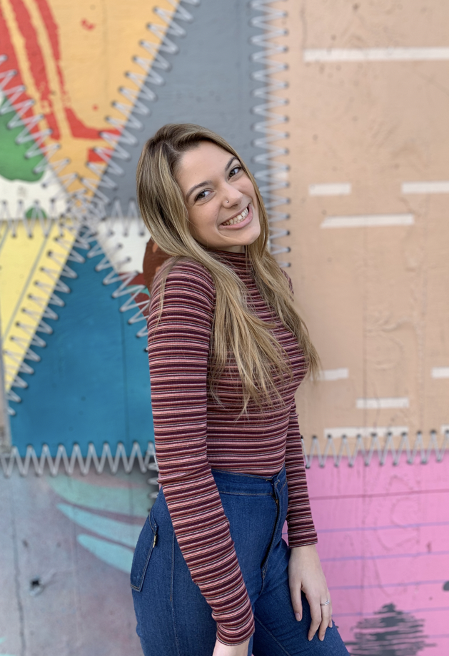 Téa Pusey - University of California, Merced
Téa, (with the accent over the e, "just like in Beyoncé," she commented, has a deep love for music. In high school she loved theater and choir. Although neither are available at the UC Merced where she is now a rising senior, she would love to do theater again sometime in the near future. 
 
Téa remembers becoming interested in science in the seventh grade, and loved doing dissections, learning about heritage through family trees, and genetics. During her sophomore to senior years at Carlmont high school she was part of the biotechnology institute (BTI), where she learned advanced lab skills like PCR. Today, she plans to go to graduate school to earn a PhD in science education.
 
In 2020 she took part in UC Merced's Summer Undergraduate Research Institute as a Summer Undergraduate Research Fellow, where she was able to analyze the classroom observation data. She enjoyed working with STEM faculty and co-authored "Look who's talking: teaching and discourse practices across discipline, position, experience, and class size in STEM college classrooms", which is in preparation with Bioscience. 
 
This summer she is working on a couple of projects with Dr. Martin and Grace States; currently she is conducting and analyzing interview data on deaf and hard of hearing students' experiences presenting in classroom consisting of mostly hearing students. The partner team works together conducting interviews and coding qualitative data. The interview results will hopefully reveal recommendations to provide faculty, interpreters, hearing students how to support deaf and hard of hearing students when giving presentations. 
 
Additionally, Dr. Martin, Téa, and Grace are working on a paper written on communication physics education alongside Dr. Zwickl. They are particularly focused on the skills that go beyond the technical skills—the way in which physics graduates are able to communicate to industry and not just academia. The goal is that Téa and her summer research partner will provide a paper to share, which will help future physics communication assignments become more applicable.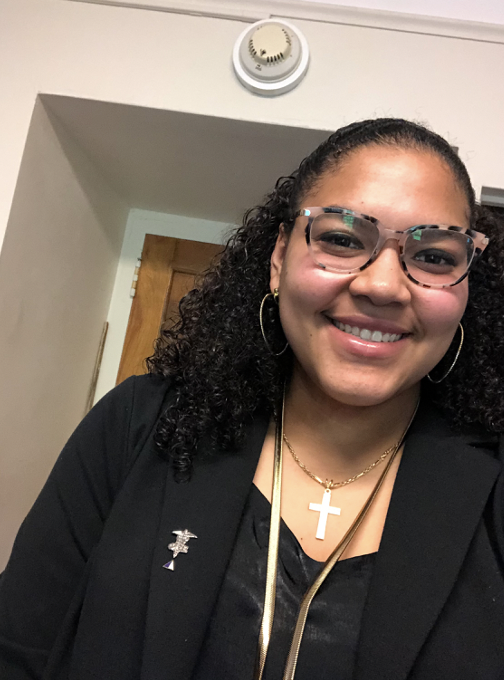 Grace Staes - Cornell University, Cornell, NY
Grace was born and raised in Atlanta, Georgia. She has two brothers, one younger, the other older. Both her parents are attorneys. 
 
Grace went to the same school from kindergarten through grade 12. She first became interested in science and medicine during middle school. Grace was especially Interested in sports, sports injuries, and sports medicine. "Being a doc would be super cool," Grace stated. "And I also liked working with my hands at an early age, engaged in robotics and helping my dad with stuff around the house."
 
In high school she continued to like science and realized she was pretty good at it. She was admitted to Cornell University majoring in anthropology. That experience grew to an interest in educational STEM equity, still leaning toward combining those skills with medical school. Her past year at Cornell afforded her the opportunity to work as an undergrad TA for an intro to bio course, with experience teaching STEM equity. The lead professor of the course recommended the RIT REU experience.
 
Grace is thrilled to be working with Dr. Kelly Martin, doing a study with deaf and hard-of-hearing students. She is looking at experiences students are encountering, particularly those taking courses where students are asked to give presentations. Through interviews Grace is gathering feedback from deaf and hard of hearing students, interpreters and professors who assign presentations in their courses to assess if there are gaps in RIT supporting and evaluating the deaf and hard-of-hearing. Typical questions address the resources both faculty and students would like to have which they currently don't have.
 
Grace and her research partner Téa Pusey are looking at interview data from the REU 2020 session as well as implementing new interviews this summer. The goal will be to write a paper that will be submitted for publication.
 
Grace stated that this summer has been a great experience and she loves the student reflection sessions.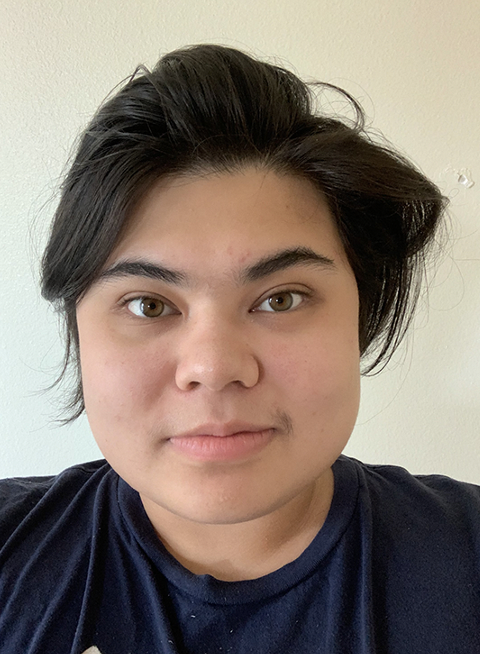 Beck Tedeschi - New College of Florida (public honors college of Florida)
Beck's major (Neurodiversity Studies) was developed together with their professor, a neuroscientist. They were most interested in disability rights of students with learning disabilities. Beck is gathering information on the effects these disabilities have on cognition and learning. Under the mentorship of Drs. Scott Franklin and Tony Wong, they are searching for data showing the socio-cultural lens being used to determine how people are viewed when discussing normality or neuro typical, as opposed to those within the range of neuro-diversity (outside what is considered the norm).
 
When asked how Beck first become interested in science, they answered that their grandparents on their dad's side were both biologists. As early as age seven, they became interested in reading—especially looking at drawings and scientific concepts. Beck recalls liking the scholastic book fair at school, science classes, and experiential aspects of building things. Their mom is a medical doctor, so they grew up with a familiarity of scientific fields, specifically medicine, which Beck is now interested in and ultimately looking at medical school.
 
Beck has a strong concern for the way education is carried out in middle schools, disliking the focus on grades, requirements, and performance and less on the actual learning and exploration. They feel students don't have the opportunity to grow. Although Beck sees the good in education, they do feel frustrated with some of the ways in which learning is measured. They were a peer tutor for math and writing in high school, and often felt pep talks were a huge part of their role.Beck's interest in metacognition and understanding student perspectives on their learning experiences led to the research opportunity at RIT this summer. Their college advisor helped them look into options of combining science with education/education policy. When Beck met the mentors, they got the sense they would be people they would enjoy working alongside.
 
Their summer research focuses on quantitative data focusing on student success and persistence of RIT undergraduates over the years. Data such as GPAs, demographics, course enrollment, student retention, and graduation rates are all considered. Additional contributing factors are examined, such as pathways for taking courses required first, later, or a combo of those courses, and flexibility of courses outside one's major. Beck is interested in assessing whether the order affects success rates. 
 "Working remotely has challenges in our social connection and understanding of the research each person is doing. However, Dr. Franklin does a good job at connecting us."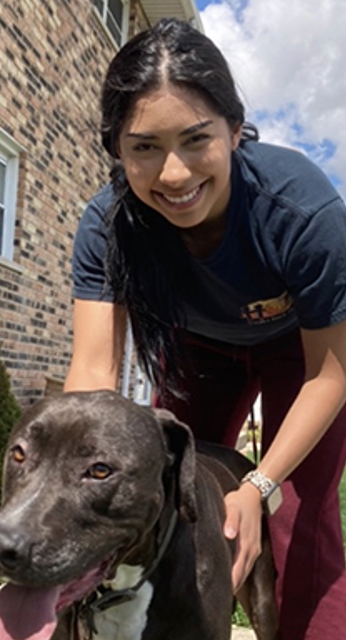 Liliana Tinoco - Lewis University, Romeoville, IL
Liliana will graduate from Lewis University in December with a degree in Biology. She is a first generation college student, both parents immigrating from Mexico. After her parents immigrated, her dad began working as a landscaper and her mom as a janitor in Chicago public schools. Her mom as just recently gone back to school to get her associate's degree and is now a respiratory therapist.  For Liliana, it was the hardships her parents endured that motivated her from a young age to want to pursue medicine and become a doctor.
 
She remembers having a book about doctors when she was five years old, and ever since then she has wanted to be a doctor. In seventh grade when her teacher introduced a chapter about the earth, the earth's layers, and the sun, she developed an interest in all areas of science after that. At an early age she thought Einstein was " a cool dude".
 
Liliana says she loves to socialize as an extrovert, and loves getting to know people on a personal level. While she wants to attend medical school, Liliana's passions lie in mending the gaps in racial and social justice through developing methods to reach equity. While she is looking forward to becoming part of a research project centered around policing at her home institution, she likes to integrate social justice into her everyday hobbies. Besides racial justice, Liliana loves being outdoors and working out at the gym. She looks forward to getting more into yoga and Pilates. She also would like to start playing the piano again as a hobby, her favorite composer being Beethoven. Liliana is fluent in Spanish, and has tutored kids ranging from preschool (teaching Spanish) to 6th graders.
 
During the REU summer program at RIT, Liliana is working with Drs. Kate Wright and Dina Newman on exploring how biologists and biology students conceptualize race versus ancestry.  Liliana is interviewing experts and students from a variety of institutions and is gathering information on how experts and students discuss topics of race and ancestry. Liliana admits that before doing research on the topic she was unaware that race was a social construct and not a biological variable. She wants more individuals to realize this, as she feels it will change biases and the quality of medical care and educational instruction. 
 
Unlike race, "ancestry is a biological variable and it is dictated by lineage, roots, and therefore you can link it to genetics with biological merit," stated Liliana. "I hope people reading this excerpt (especially future REU students) will be inspired to do more research around diversity and inclusion for biology. Race is a book cover, ancestry is the contents within the book," an analogy she says came to her during this interview.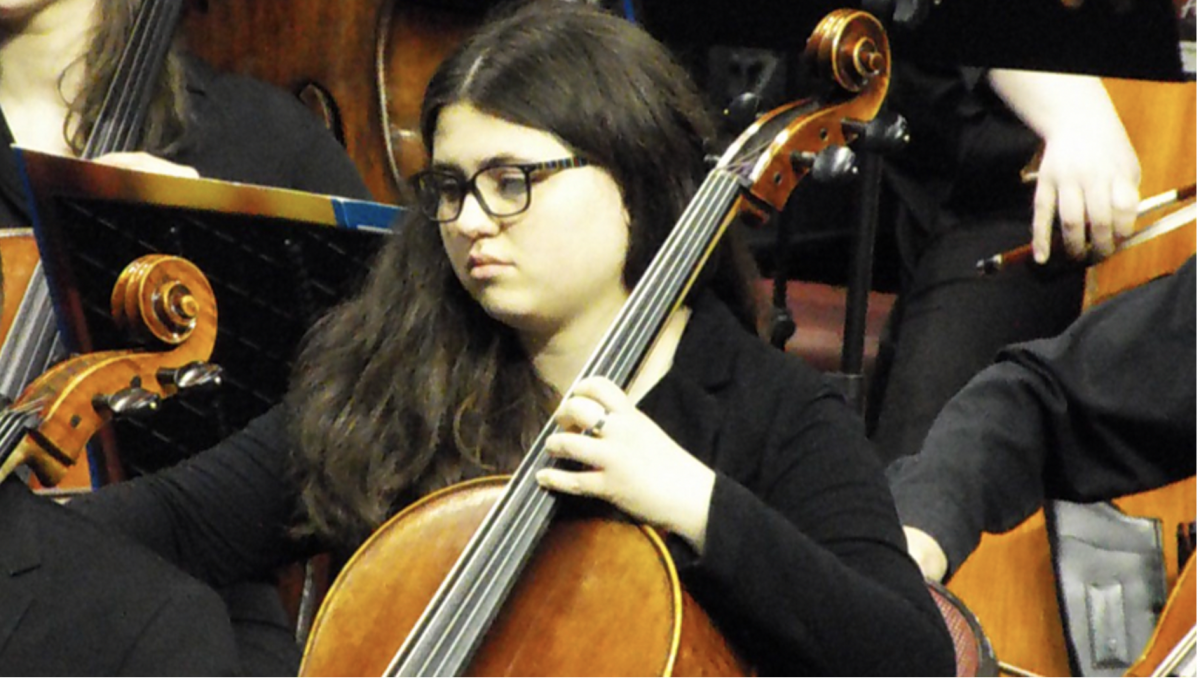 Rebecca Verchimak - Coe College, Cedar Rapids, IA
Rebecca grew up in a household of music, as her mother is a violinist, and often played gigs at churches and weddings. Rebecca learned to play the violin as a toddler, and later went on to play the cello in elementary school. She currently plays the cello in her school's symphony orchestra. Rebecca also can play the guitar, ukulele, and viola. As an only child, Rebecca spent quality alone time with her mom on visits to the local library, starting when she was an infant. Her first recollection of being interested in science dates back to when she was in first grade. She would frequently take out the same book on astronomy, checking it out of the library almost weekly! She loved to learn about the planets. 
 
In high school she had a phenomenal physics teacher and gravitated toward astrophysics at that time. As of recently, she has become interested in exploring psychology and its intersection with physics. She was encouraged to find an REU program with research opportunities addressing that. RIT was the best choice for education research in STEM.
Rebecca's research, under the mentorship of Dr. Ben Zwickl, Associate Professor, School of Physics and Astronomy, is looking at key factors (aside from academic factors) that may influence the retention of undergraduates within the STEM disciplines. These factors include students' help- seeking behaviors, their perception of career support from their department or college, their confidence in their ability to succeed and their sense of belonging within their program or college. She is helping to develop a survey to be administered to undergrad STEM majors at a variety of colleges and universities. The hope is the responses will, as she put it, "touch the invisible factors" that cause students to think about  leaving their STEM major. This will help faculty and administrators better understand and support students' success and career goals. 
 
Rebecca enjoys social activities via Zoom with the other REU student, and learning all of the different academic backgrounds each bring to this REU experience.