September 14, 2021
by Luke Auburn
Diverse prospective faculty kick-start career searches through long-running RIT program
Twenty-one scholars from across the U.S. to participate in Future Faculty Career Exploration Program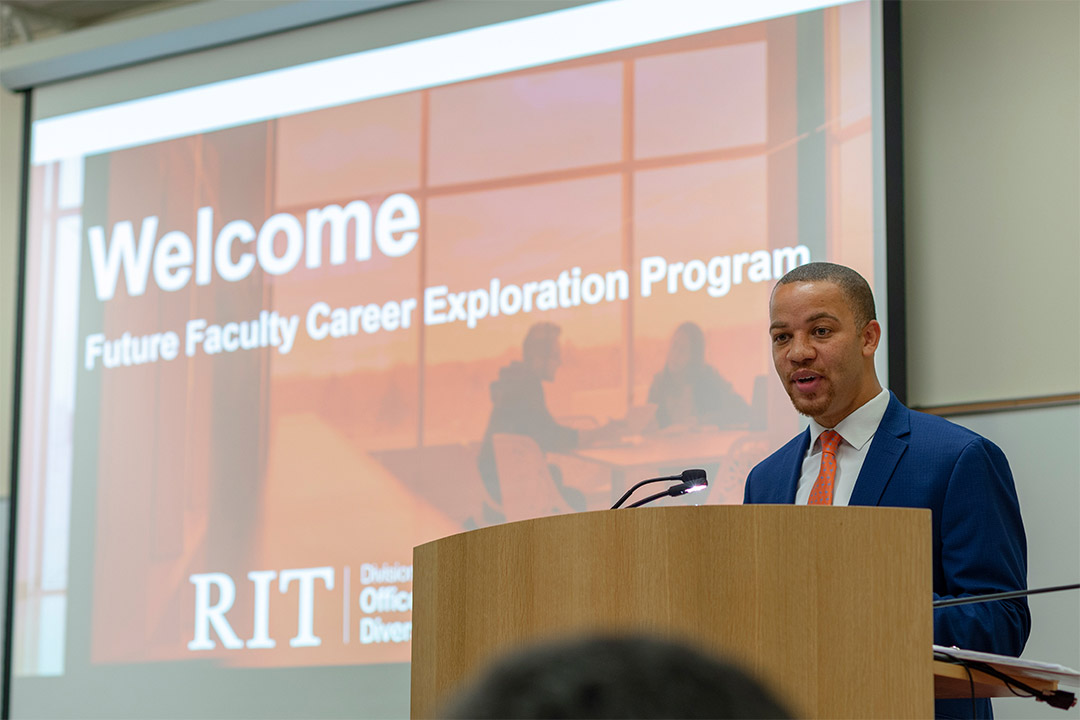 Rochester Institute of Technology is hosting African American, Latino/a American, and Native American scholars and artists from across the U.S. for a three-day virtual program to help them successfully navigate their career search process while getting a "behind-the-scenes" glimpse into life as an RIT faculty member. RIT's Future Faculty Career Exploration Program (FFCEP) will welcome its 18th cohort from Sept. 22 to 24, inviting 21 scholars from universities ranging from Jackson State University to MIT to Howard University.
The program will be virtual for the second year in a row and grew from last year's two-day program to allow participants more time with host departments. Participants get an opportunity to learn from and network with RIT administration, faculty, and students; practice their interview and presentation skills; and explore the research, teaching, and service expectations RIT has of its faculty. The program is for scholars and artists nearing the completion of the highest academic degree in their field, as well as junior faculty and those on post-doctoral assignments.
Donathan Brown, assistant provost and assistant vice president for faculty diversity and recruitment, said the Office of Faculty Diversity and Recruitment (OFDR) works hard to prepare program participants for their next step—whether it is at RIT or somewhere else.
"Our conversation is not only about RIT, who we are, what we do, and our current faculty and fellowship opportunities," said Brown. "We also discuss how these artists and scholars can create competitive faculty applications." 
The competitive program draws more than 100 applicants each year and has hosted hundreds of AALANA scholars since its inception, 23 of whom who joined RIT's faculty ranks. Brown said OFDR is placing an increasing emphasis on engaging diverse prospective faculty on college campuses, and that nine participants are a direct result of recent campus visits or outreach efforts through the Southern Regional Education Board's Institute on Teaching and Mentoring.
Below is a list of participants this year:
Stephanie Carr, DrPH candidate, Jackson State (public health)
Deisy Cristina Carvalho Fernandes, Ph.D., Presidential Diversity Postdoctoral Fellow, Brown University (chemical engineering)
Houston Claure, Ph.D. candidate, Cornell University (mechanical engineering/human-computer interaction/robotics)
Brendan David-John '17 (computational mathematics), '17 MS (computer science), Ph.D. candidate, University of Florida (computer science)
Dennis Delgado, MFA, adjunct professor (sculpture/photography)
Cristina Espinosa-Diez, Ph.D., postdoctoral associate, University of Pittsburgh  (biochemistry and molecular biology)
Christopher Lane, IRB manager and research compliance officer, Jackson State University (public health)
Alexander Leder, Ph.D., California Alliance Post-Doctoral Researcher, University of California - Berkeley (particle physics)
Maretta McDonald, Ph.D. candidate, Louisiana State University (sociology, race and ethnicity)
George Moore, Ph.D. candidate, University of California - Berkeley (mechanical engineering)
Ana Mosquera, MFA, multidisciplinary artist and creative designer, Common Ground Management (sculpture/textile/digital)
Maximilian Ororbia, Ph.D. candidate, Penn State University (civil and environmental engineering)
Joshua Peeples, Ph.D. candidate, University of Florida (electrical and computer engineering)
Melanie Plasencia, Ph.D. candidate, University of California – Berkeley; César Chávez Fellow, Dartmouth College (ethnic studies)
DJ Polite, Ph.D., visiting assistant professor in African American Studies, College of Charleston, (history)
Mercy Shenge, Ph.D., student engagement coordinator, American Planning Association; historic district commissioner, City of Rockville, Maryland (urban and regional planning)
Javier Stober, Ph.D., research engineer, MIT (aeronautics and astronautics)
Katlyn Turner, Ph.D., research scientist, MIT Media Lab (earth, energy and environmental sciences)
Denetra Walker, Ph.D. candidate, University of South Carolina (journalism and mass communications)
Mesi Walton, Ph.D., adjunct lecturer, Howard University (African studies)
Kinde Wubneh, Ph.D. candidate, University of Texas at Austin (management)
To learn more about FFCEP, go to the Office of Faculty Diversity and Recruitment website.
Topics